Grassroot advocates look for role in Banktown
March 15, 2011
Three staffers from Washington-D.C.-based Center for Community Change discussed with the Forum Tuesday the Center's reasons for targeting Charlotte for their brand of grassroots activism to promote economic change.
Their assertion that the nation's big banks were responsible for the Great Recession of 2008 brought skeptical questions from participants. The mood in the room was captured by QcityMetro Editor Glenn Burkins in his report on the meeting on qcitymetro.com
Representing the Center were, above from left, Evonne Tisdale, economic justice coordinator based in Washington; Tammy Greaton, senior organizer based in Maine; and Deirdra Reed, senior field organizer based in Nashville. Tisdale said that she and Reed might establish residency in Charlotte this summer.
Among the handouts was a single page of data on the N.C. and U.S. economy. Download the PDF here.
The group asked to meet with the Forum on the recommendation of Mary McCray from the Charlotte-Mecklenburg Association of Educators.
Below is the text of Burkins' report:
● ● ●
Liberal group seeks to establish a Charlotte beachhead
By Qcity Staff – March 15, 2011
A liberal activist group based in Washington, D.C., is working to establish a beachhead in Charlotte.
Members of the Center for Community Change have been meeting with local pastors, community leaders and grass-roots organizations since January, they told an audience at the Tuesday Morning Breakfast Forum.
The goal, CCC members said, is to mobilize Charlotte's low- and middle-income families in a push for economic change, including a political drive for more regulation of big banks.
"We've been having a number of conversations in Charlotte," Evonne Tisdale, the group's economic justice coordinator, told Qcitymetro.com. "We've been trying to identify groups and organizations within the community, trying to set up meetings. We want to have an understanding of whether there is an interest among the citizens of Charlotte to call for and demand the change that is needed."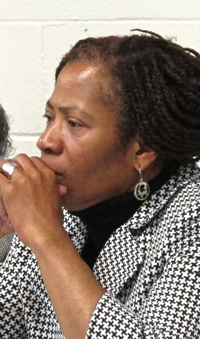 Tisdale said the group's efforts would include voter registration as well as community organizing and political lobbying.
Tisdale said the group is "firmly committed" to establishing operations in Charlotte, primarily because of the city's status as a financial center.
Founded in 1968 to honor Robert F. Kennedy, the group has about 77 staffers in eight cities, including Philadelphia; Chicago; Charlottesville, Va.; Butte, Mont.; New York; Los Angeles and San Francisco. The group has previously done community organizing in Raleigh and Wilmington.
At the Tuesday breakfast forum, some in the audience bristled when CCC members suggested that big banks were to blame for the 2008 financial crisis that led to the worst recession since the Great Depression.
"All of us created this problem," Ken Koontz, a former WBTV news anchor, responded. "There was greed on all of our parts."
Others cautioned the group to work with local organizations already in place.
"Soft-peddle if you just got here and you don't know who's who yet," said David Belton, Piedmont regional director in Gov. Bev Perdue's office.
Belton later told Qcitymetro he believes the group can succeed so long as members "recognize the fact that there were people here before they got here. As long as they are doing that," he said, "I think they will be OK."
Below is an edited Q&A based on a Qcitymetro.com interview with Tisdale:
Q. Tell me in simple terms what you organization seeks to do in Charlotte.
A. We will be organizing the community to stand up and resist the powers that be, those who control our destiny, our ability to sustain ourselves economically. We need people to have a voice in decisions that actually impact their lives. The reason we have high unemployment here is that … there are those who have begun to put profit over people.
Q. So who are these "powers that be?"
A. If you look at how this current recession started, it started because the banking industry in this county decided they wanted to be greedy. They decided they were going to create what we call "asset bubbles," which really is a smoke-and-mirror game where they were transferring people's mortgages – basically, people's lives – from bank to bank to bank to bank. And as a result of that, they crashed the financial system in this country when they were unable to pay out on these mortgages.
Q. So you're going to organize people against the banks?
A. I would say the banks are the root cause of the problem, but it's a little bit bigger than that. It's about how the entire financial system is structured in this county; it's the way businesses and corporations have been allowed to operate in this country. So what we're really looking to do is change how businesses operate, how they are regulated. They have been allowed to just come into our communities and cities and decide how people are able to sustain themselves.
Q. These are complex topics. How can your organization change how banks and businesses are regulated?
A. The way anything in this country is regulated is through legislation and policy. We have to demand that our legislators and politicians regulate the system. There is a role for government in this, and there is a role for us in this. Our role is ensuring that our government invests in us and makes sure companies and businesses in our communities invest in us.
Q. For people on the ground who are watching your organization, what are they likely to see?
A. They are going to see a movement building in their community. They are going to see people volunteering, people organizing – just like they saw in 2008 when people were really engaged, when people really had that hope and that drive to change things. We want to create that same drive and hope around changing the economy.
Q. So is this really about voter registration?A. It includes voter registration. But it includes us as a community becoming knowledgeable and educated about how systems work in this country. We're going to be at school board meetings, we're going to be at churches, we going to be at association meetings, we're going to be knocking on your door, we're going to be canvassing in each and every neighborhood in Charlotte.
Q. You got a little pushback here today when you talked about the big banks. Did that surprise you?
A. No, because I do believe it is about us beginning with a conversation, about us understanding and developing trust with each other.
Q. There's something here that some locals called "the Charlotte way." Have you heard of it?
A. No. What is it?
Q. It's a popular assumption, whether true or not, that problems and issues in Charlotte are handled quietly and diplomatically, usually through negotiation and behind closed doors.
A. The Charlotte way, if it had worked, we wouldn't see 10 percent unemployment in Charlotte. I don't knock "the Charlotte way," because I do think there are times and instances where we need to be able to negotiate and sit down at the table and come to a consensus. But I do understand that we can silently rebel, where we sit by and let things happen, or we can man and mount a resistance, and I think that's what needs to happen.
Q. Why did you pick Charlotte?
This is a financial epicenter. This is where some of the largest companies and banks are located. And amidst all of this wealth, why do we have such disparity? Why do we see such high unemployment? Why do we see so many homes abandoned? That's part of the reason we chose Charlotte.
r