Robert Dawkins from Democracy NC was joined by Robin Bradford, who has been appointed to the county's advisory committee on redistricting.
March 8, 2011
Robert Dawkins of Democracy NC on Tuesday outlined some of the procedures that will be used as local and state governments adjust their electoral districts to come in line with the results of Census 2010.
Click arrow at left to hear Dawkins' introductory statement about redistricting at state and local levels.
Dawkins also distributed a number of documents during the Forum. Click the links below to download those documents: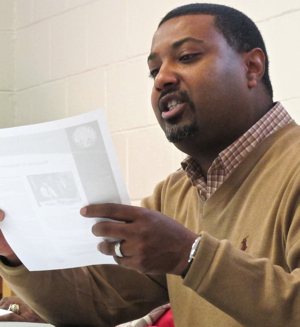 Census data: A one-page summary of Census totals for N.C. and Mecklenburg, then the details about how Mecklenburg House districts have become imbalanced by growth since 2000.
Democracy NC Statement: The advocacy group's statement of objectives for redistricting, along with a mission and principles statement of the Alliance for Fair Redistricting and Minority Voting Rights (AFRAM).
Glossary: Definition of terms used in Census and redistricting work, provided by Philadelphia-based Azavea, a GIS web-based software and development firm.
County timeline: A summary of dates when Mecklenburg County will make decisions leading to redistricting, along with some of the commissioners' preliminary decisions on how to guide its advisory committee as it creates alternative plans for consideration.
Resources: A Southern Coalition for Social Justice flyer listing online resources on redistricting.
From the Q&A
In the video below, Dawkins outlines next steps in the process.