Feb. 8, 2011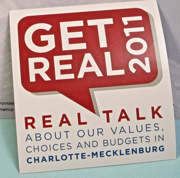 Crossroads Charlotte Executive Director Tracy Russ on Tuesday explained his organization's upcoming effort to encourage residents to define their public priorities so they can influence decisions to be made in coming months by elected officials.
The project's name is "Get Real 2011: Real talk about our values, choices and budgets in Charlotte-Mecklenburg." Its aim is to involve hundreds of residents between Feb. 21 and March 7 in facilitated small group workshops, then have three public sessions during the week of March 7 to present the "results" of the smaller sessions, and culminating in a live WTVI event.
On its face, the message sounds like the old Charlotte way – calm, orderly discussion among groups across town aiming for action on issues about which consensus is achievable.
But give a listen below to excerpts from Russ's answers to questions from Forum participants. Residents long bypassed by Charlotte decision-makers may hear some power-to-the-people content, as well as a call for leveling the playing field so that all residents can take ownership of community decision-making.
More information is at the effort's website.
▬ ▬