Feb. 1, 2011
Terry Ellington, executive director of Carolinas CARE Partnership, reviewed some grim statistics Tuesday about a disease that hits deep and often in silence in the black community.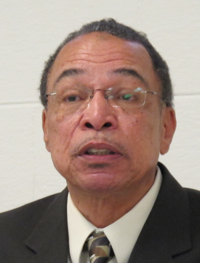 There's one new case of AIDS each day in Mecklenburg, he asserted.
Click at left to hear Ellington's introductory presentation (about 22 minutes). At the bottom of this page are links to the materials Ellington distributed during the presentation.
Excerpts from the Q&A
1. In the video below, Ellington responds to an observation that the fear of AIDS that helped prevent the spread of the disease has been dissipated by the drug therapies that are allowing patients to live longer with the disease.
2. In the video below, Ellington responds to a question about Ryan White funding.
3. In the video below, Shannon Warren, programs director for the Carolinas CARE Partnership, addressed social media as a factor in encouraging unsafe sex, and described the D-Up! HIV awareness program targeting young men of color ages 13-24 who have sex with men.

Materials distributed during the meeting
Among Ellington's handouts Tuesday were the following:
1. Fact sheet from the Kaiser Family Foundation on Black Americans and HIV/AIDS, dated Nobember 2010.
2. Mecklenburg County Reported HIV Disease Cases, for years 2004 through 2008, prepared by Mecklenburg County Health Department dated July 2008.
3. Mecklenburg County Health Department Reportable Communicable Diseases, a compilation of everything from AIDS to tetanus, including monthly and 2010 annual totals by disease, compiled by the Mecklenburg County Health Department.
4. Programs in 2011 operated by Carolinas CARE Partnership, undated.
5. National AIDS Strategy Highlights 2010, unsourced and undated.
For further information
Carolinas CARE Partnership operates a website.
The Partnership has a modest presence on Facebook, but its D-Up Charlotte Facebook page has more than 700 friends.