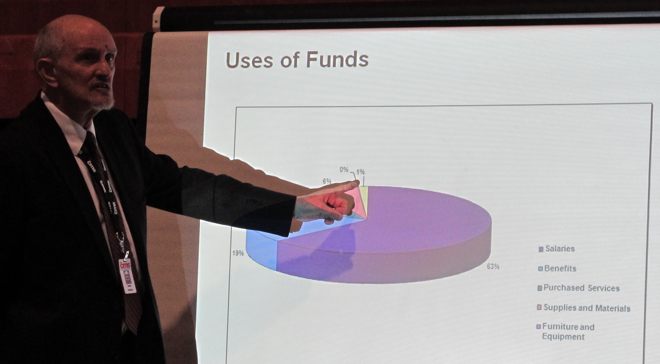 CMS officials field 32 questions
Jan. 25, 2011
Mike Raible, above and right, fielded some questions, and three other CMS officials fielded the rest as Forum participants lobbed question after question at Tuesday's Forum over small and large parts of the current budget-cutting process affecting the community's public schools.
The session began a day that will likely end with the school board proceeding with deep cuts to successful programs and personnel that, according to CMS officials, may erode the prospects for learning among minority and poor children throughout the district.
Raible, CMS Executive Director for Planning and Project Management, ran through slides in an "Understanding the CMS Budget 2011-2012" presentation (download it here). He was joined during the Q&A by LaTarzja Henry, executive director of communications; Denise Watts, area superintendent for Central Zone secondary schools; and Tyler Ream, area superintendent for Central Zone elementaries. School board members Dr. Joyce Waddell and Richard McElrath were in the room, as was Parent University's Carlenia Ivory and former school board chair Wilhelmenia Rembert.
Among the issues discussed:
-- Sales of vacant land parcels owned by CMS are being delayed in part because of low prices. Example: Raible said developers have offered to buy subdivision plots around Ballantyne Elementary, but their offers are less than the price CMS paid for the land. Another factor about land sales: Proceeds by state law would go to construction or debt service, not to cover part of the $100 million operating budget shortfall.
-- McElrath said he had asked the teachers association to support pay cuts, but they declined. When a questioner wanted a follow-up question and didn't get the opportunity, what he reportedly wanted to assert was that Supt. Peter Gorman had said that his administrative staff members did not want their pay reduced, and when teachers found that out, they refused to take pay cuts alone.
-- About the possibility of putting more CMS children on CATS buses (there are already a few taking the bus), Raible said CATS was prohibited from changing routes in order to pick up children.
-- There was considerable discussion of teachers taking pay cuts. Raible said state law defined any dollar reduction in teacher pay as a "demotion," which would allow such teachers to initiate a lengthy appeals process. When a Forum participant suggested that teachers would waive their right to hearings if it meant jobs rather than layoffs, Raible suggested that such voluntary cooperation was unlikely to avoid lots of hearings. Watts said her informal discussions with teachers told her that teachers felt they've done their share already: They're paying a larger portion of their insurance costs, the cost of living is up and they have not had a raise in three years, Watts said.
-- The CMS-TV channel doesn't cost CMS to keep, except that it must air programs during a specified portion of the day to keep the license. Hence, said Raible, that is why old programming continues to be repeated. McElrath added that board members have diverted travel money earmarked for them to cover the cost of airing CMS board meetings.
-- CMS officials said a lot of key procedures have yet to be put in place. One is how CMS will decide to lease or re-use the roughly 10 school buildings slated to go out of use this fall. He said a public invitation to area charter schools and other groups for proposals will follow this spring. Henry said the process for how the possibly 600 or more teachers will be chosen for layoffs at the end of this school year are also still in development.
-- Some of the Title 1 schools that have not had pre-kindergarten classes may decide to divert their Title 1 funds to cover such classes for students in their attendance area, Raible said. That is why the precise number of classrooms to be cut this fall is not available. But Ream noted that all such schools have been using their Title 1 funds for another purpose and won't get more, so to open pre-K classrooms will mean cutting something else.
More information from the Forum will be posted as available, as will links to other information.
The school board meets at 6 p.m. tonight, Tuesday, Jan. 25, at the Government Center. Early in the meeting is time set aside for public comment on budget issues. Decisions by the board are expected late Tuesday on saving about $10.4 million by cutting Bright Beginnings; saving about $4 million by juggling bell schedules to make more use of buses; and saving about $8 million by reducing weighted student staffing at high-needs schools.
▬ ▬
What's on CMS chopping block
Jan. 23, 2011
Tuesday's speaker is Mike Raible, CMS Executive Director for Planning and Project Management. His topic is the issues that school system staff will ask the Board of Education to resolve later in the day at a regularly scheduled board meeting.
Those issues reportedly include reducing the number of children served in Bright Beginnings; lengthening the elementary school day to reduce busing costs; and reducing support in high-poverty, low-achieving classrooms.
Those three issues are part of a broader plan to cut up to $100 million out of the current budget. On Jan. 17, CMS released a list that suggests what would be cut first, what middle and what last as the district prepares for a revenue shortfall of uncertain size.
The Jan. 17 list, which is reproduced below, may be updated before Tuesday night's school board meeting. Many of the terms used are not explained in the document. The list begins with what's already been decided -- "operationalized" -- and moves through four tiers. Items in the first two tiers are almost certainly going to be cut. Note that many of the 600-plus teacher positions on the chopping block are in tier four, and are least likely to be cut.
If Raible brings to the Tuesday meeting or provides in advance of it any updated material, that will be posted here as soon as possible.
– – –