The Annual Holiday Party
Dec. 14, 2010
Members of the Tuned In Community Choir, above, led by Dr. Thomas Moore at left, entertained Tuesday as part of the Forum's holiday party.
Natheley McElrath presided over Tuesday's event, which included a full breakfast prepared by Friendship Trays and the meals-on-wheels program's kitchen manager, Sibyl Durant.
As usual, the highlight of the annual event was a game called "Take a Gift," in which every participant first picks a gift off the head table. After that first round, cards are drawn and the person with that card gets to "take a gift" already chosen by someone else. The hilarity began quickly this year as one gift, a door wreath, proved to be the audience favorite and became the "most taken." The wreath changed hands nearly a dozen times during the game.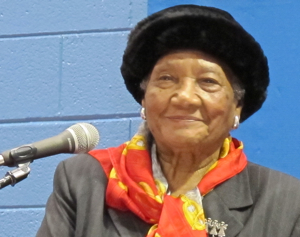 In a short speech closing the party, Forum co-founder Sarah Stevenson, right, brought the Forum back to its public policy focus.
Stevenson reported on recent conversations among community leaders to pressure Charlotte-Mecklenburg's public school system to change, during the coming year, much about the way it makes decisions and how it communicates with the public.
Stevenson described an agenda of more transparency from CMS officials, more truthfulness, more discussion of school issues in laymen's terms, and more explicit efforts to "stop perpetuating" the racism that she said has become institutionalized.
Education is not the only issue facing the community, but education is "the basis of everything we have to do," she said.
Click on the green arrow at right to listen to some fiery words from the usually mild-mannered former school board member. Her speech concluded with the words, "We're going to have a revolution."
The Forum will now be in holiday recess for three weeks. The next meeting will be Tuesday, Jan. 11.
Links to more material on the annual holiday party will be posted here in the coming days.