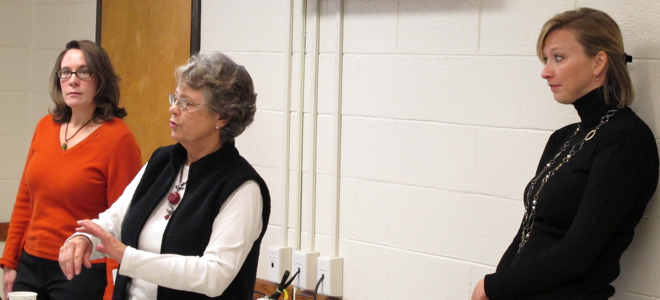 Ensuring nutrition in city's food 'deserts'
Dec. 7, 2010
Three of the leaders who instigated the study that produced headlines last summer about "food deserts" in Charlotte spoke Tuesday to the Forum about that study, about its findings and about their anticipated next steps toward the goal of making nutritious food available to all.
They talked about putting produce on a truck to take good food into the neighborhoods. About pushing farmers markets to accept vouchers from participants in the federal WIC program that helps pregnant women and new mothers to buy nutritious food. About obtaining federal grant dollars to train young people about preparing fresh vegetables for the table. About rewriting zoning laws to allow community gardens on vacant lots.
Speakers were, above from left, Elizabeth Racine, assistant professor in Public Health Sciences at UNC Charlotte; Marilyn Marks, head of the Charlotte-Mecklenburg Food Policy Council; and Alison Mignery, Mecklenburg County Health Department nutritionist.
Racine's research formed the basis of the material presented Tuesday. Click here to view those slides, which include a map showing the locations of Charlotte's food deserts.
Below is material from another of those slides. The map shows how many full-service grocery stores are in each Census block in Mecklenburg County.