CMS board members, superintendent answer
questions about Comprehensive Review

Oct. 12, 2010
CMS Board Chair Eric Davis asked to meet with Forum participants. Speakers attending included Davis, District 3 board member Dr. Joyce Waddell, District 2 board member Richard McElrath, and Supt. Peter Gorman.
The material below represents most of the questions asked. For each question, all of the answers offered by the speakers have been included.

1. Opening statements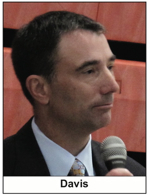 Davis
White


2. How does movie "Waiting for Superman" relate to Charlotte?

Waddell
Davis


3 Where are the documents relating to the Comprehensive Review?

Gorman


4. How much federal Race for the Top money will come to CMS?

Gorman


5. Why was the foyer of new Rocky River High left as raw concrete?

Gorman


6. A child at Rocky River in Mint Hill reported having been bused in from West Boulevard. What gives?

Gorman
Davis


7. Set aside economic arguments: What are the academic arguments for creation of K-8 schools.

Gorman

White
McElrath


8. Do cohort studies validate the money being spent on Communities in Schools, and why was there no broader input than CIS into dropout prevention programs?

Gorman


9. Has economic downturn halted "strategic staffing" initiatives that gave excellent teachers a salary incentive to work at high-needs schools?


Gorman


10. Have you studied the role that the absence of African-American history in the curriculum plays in poor performance and dropping out among African-American teens?

Davis
Waddell


11. Who will decide which schools to close. and why aren't CMS's best teachers teaching the children who need the most help?

Davis
Gorman
McElrath


12. What plans are there for additional career and job training, and what companies are assisting?

Gorman


13. Has moving away from nontechnical job training contributed to the dropout rate?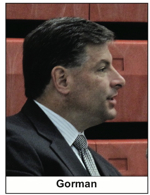 Gorman
McElrath


14. Doesn't research suggest that K-8s should be phased in over several years rather than the way CMS proposed to do it next fall? And will federal Title I money move with the children being moved to K-8s, and will you increase allotments for those children at their new schools?

Gorman


15. By creating K-8s whole rather than phasing them in, are you sacrificing the children and the academic gains you want to see?

Gorman


16. Why did board members abandon staff proposals to alter traditional magnets and Montessori?

Davis
Waddell
McElrath
Waddell


17. Did the board seek public-private partnerships to finance schools that might otherwise close?

Davis


18. Will you encourage teachers to be trained in African-American history?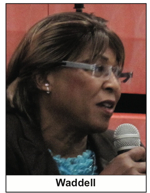 Waddell


19. Why did you brush off the question about partnerships, and to close the academic gap, shouldn't CMS do a much better of high-achieving principals to low-performing schools?

Davis


20. What is board's commitment to rebuild vocational training programs?

Davis


21. How many minorities are in the superintendent's top level of decision-makers?

McElrath


22. What is it about the criteria for school closings that explains why Lincoln Heights was not on the iist, and then suddenly was added to the list?

McElrath


23. Will there be more multi-track (year-round) schools in the future? University Park parents don't want to be alone because finding child care will be difficult if very few children countywide are on that schedule.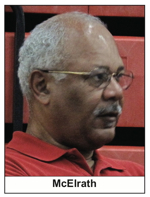 McElrath
Waddell


24. CMS's discipline process is among the most complex in the country. Will you reconsider it, so parents can get their kids back in school getting an education?


McElrath
Waddell



-------------------------------------------------------------------------------------------
The Forum welcomes all persons to its meetings beginning at 8:30 a.m. most Tuesdays
of the year at the West Charlotte Recreation Center, 2222 Kendall Drive, Charlotte, NC
down the hill from West Charlotte High School.