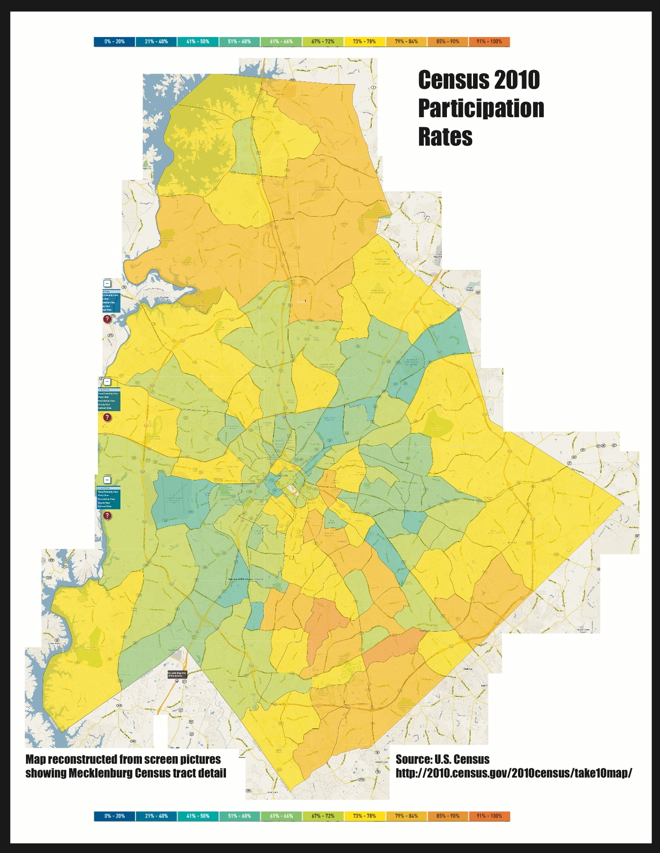 Aug. 10, 2010
U.S. Census official Laura McClettie presented to the Forum Tuesday on initial results of Census 2010. More details of her presentation will be posted here later this week. She encouraged people to look online at the Mecklenburg participation rates, which held steady compared to 2010 even while some counties were recording much more success in reaching people. McClettie noted that the data used to make the map shown above date from May, before the recent completion of field work to find people who did not return Census forms by mail.
Hence, Mecklenburg's overall participation rate of 72% likely will rise as more information becomes available. Initial rates for other counties included Wake, 78%; Union, 79%; New Hanover, 74%; Gaston, 77% and Cabarrus, 77%.
For now, however, the map denotes Mecklenburg's lowest participation rates in shades of blue and green, its highest participation rates in shades of dark yellow.
Census figures help determine federal funding to communities, so low participation in the Census means neighborhoods will get less than their fair share of federal dollars.
Click on the map to begin your own research.
-------------------------------------------------------------------------------------------
The Forum welcomes all persons to its meetings beginning at 8:30 a.m. most Tuesdays
of the year at the West Charlotte Recreation Center, 2222 Kendall Drive, Charlotte, NC
down the hill from West Charlotte High School.