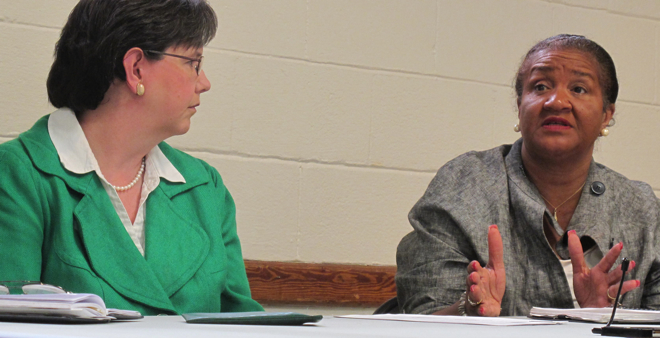 Parent University at CMS
July 27, 2010
Jeri Haigler, above left, and Carlenia Ivory presented Tuesday on Parent University, the CMS effort using private funding to educate parents on interacting with CMS, assisting their children in the learning years, and exploring personal growth.
Haigler is CMS Executive Director of Family and Community Services. Ivory is a family and community service specialist.
Download the Fall 2010 Parent University catalog here.
In their own words
Excerpts from opening comments and some questions:
Jeri Haigler's opening comments (8:26)
Carlenia Ivory's opening comments (8:42)
Jeri Haigler's details about Parent University statistics (2:50)
From the Q&A:
Carlenia Ivory on presenters' freedom to adjust content to participants' interests (0:40)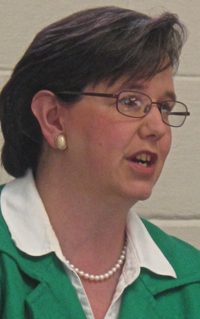 Jeri Haigler on number of Parent University staff (0:52)
Carlenia Ivory on helping parents understand how to get answers to their questions (1:38)
Carlenia Ivory on how incentives help parents join, but how relationships keep them coming (1:11)












-------------------------------------------------------------------------------------------
The Forum welcomes all persons to its meetings beginning at 8 a.m. most Tuesdays of the year
at the West Charlotte Recreation Center, 2222 Kendall Drive, Charlotte, NC
down the hill from West Charlotte High School.