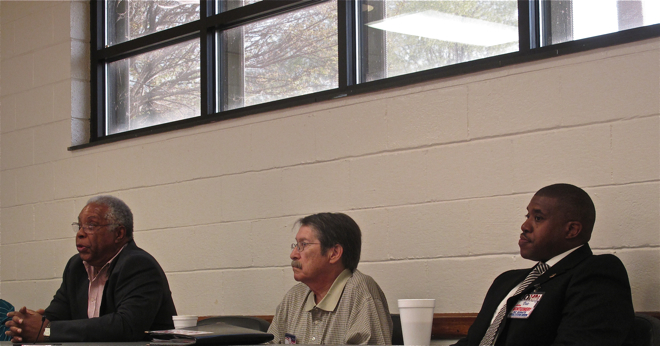 3 N.C. Senate candidates address Forum
April 6, 2010
Three nonincumbent candidates for N.C. Senate in the May 4 primary spoke Tuesday at the Forum.
Morgan Edwards, left above, who describes himself as a 40-year veteran of government service in Pennsylvania and in Raleigh, is a Republican running for the Senate seat now held by Dan Clodfelter.
Vince Coscia, center above, a transplant from Detroit 37 years ago who said his business sells to NASCAR teams, is also running for the seat held by Clodfelter. Edwards and Coscia meet in the May 4 primary.
Democrat John Montgomery, right above, touted his law enforcement career and his commitment to being more responsive to constituents than the incumbent, Malcolm Graham, who was in Raleigh Tuesday.
Below are links to audio files to the candidates' opening statements.
Audio files
1. Morgan Edwards' opening statement (5:11)
2. Vince Coscia's opening statement (3:34)
3. John Montgomery's opening statement (2:55)