Jan. 26, 2010
Sarah Stevenson:
"Kitty Huffman, who lived in Charlotte, came to Charlotte in the '40s... and became the director of the National Conference of Christians and Jews (NCCJ). We were having problems trying to integrate the school system and the PTAs.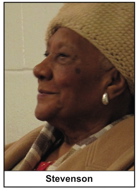 "There was the Charlotte-Mecklenburg Council of Colored Parents and Teachers. I was president of that. Someone else was president of the Charlotte-Mecklenburg Council of PTAs.
"We were in the throes of trying to integrate the school system, so we said we needed to do the PTA at the same time.
"Kitty called me and said, 'I've been reading in the paper how you're struggling. I'd like to help you.'
"Last week, when I called Jack Bullard, who is now living in Winston-Salem, to tell him that Kitty had passed away, he said, 'You know, I remember that Kitty introduced me to you.'
"Kitty was on what was then the Mayor's Friendly Relations Committee; Bullard was its staff. Jack remembered Kitty saying, 'I need you to meet this young lady. She needs to be on the Friendly Relations Committee. She's trying to integrate the PTA.' Kitty also said that NCCJ could help.
"So we worked very hard. And Kitty worked to get me on the board of the white PTA Council. Then we worked to integrate the council and then, when we did integrate, I got either appointed or elected vice president. When time came for election again, I ran for president.
"Mattie Caldwell got appointed chair of the nominating committee. But then there was a minority committee that brought in a different slate.
"Kitty Huffman and Phyllis Lynch threatened to walk out if I did not get elected. But I did get elected.
"At the funeral last week, I was able to stand up there and tell 'em all that without crying. "I will tell you all more during Black History Month if you want to know more."
Malachi Greene:
"Kitty also did some other things. Before Project Aires, when I was at Northwest Junior High School, when I was a young teen-ager -- now I am an old teen-ager -- Kitty brought a whole group of students together, those of us from Northwest and from A.G., she brought black and white kids together.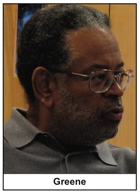 "And formed a council to deal with the whole issue of race, and to try to smooth the transition to what was starting to happen, because at that time, as you know, the cases were moving through the courts.
"Kitty Huffman was an integral part of a national movement, and she was one of the leaders of it, trying to move our society to a nonsegregated society.
"She took a lot of heat for that from the establishment. She was ostracized. She lived in Dilworth at the time. The things Kitty did can be described, but they can also be placed in the pantheon of pioneering, in this community. And the models that Kitty developed were used throughout the South -- probably all over the nation; I just know about the South -- to ease the transition from a segregated society to a nonsegregated society. She was quite a woman, and tough as nails."
Jackie Edwards Walton:
"I used to believe that people don't change from where they started. But they announced at the funeral that her father was very involved with the Ku Klux Klan. I didn't know that. She was ashamed of it, but she knew it was part of her, and it's like she just made a commitment that 'I'm just not going to be like that. I'm not going to have my children like that.'
"I met Kitty at Bethlehem Center when Doug Boyd first came there and she served on that board. People know she was involved in housing by serving on the Housing Authority. But when Community Development Corporations first got started here in Charlotte, she served on the Reid Park board."
Ken Koontz:
"As a journalist, I remember that there was a core group of women who used to meet at the Red Cross on Park Road.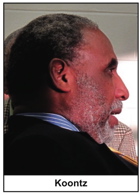 "Led by Liz Hair, I think Kitty Huffman was part of that group, and Betty Chafin, Susan Fish and several others, who formed, and organized, and then got active with an organization know as the National Organization of Women, NOW.
"They met on Tuesday nights at the Park Road Y. I got great joy every Tuesday night going down there and watching those predominantly -- well, not predominantly, all -- white women forming this organization called NOW which became, in some respects, a champion of a lot of causes that affected school desegregation.
"Subsequently, Liz Hair got elected to the County Commission, and later came Betty Chafin [to Charlotte City Council]. From a journalistic standpoint I remember covering a lot of things that Kitty Huffman was involved in over the years. And she have even been on the board at Florence Crittendon at one time."
Malachi Greene:
"Kitty Huffman and Jim Polk got in lots of trouble all the time because you had this tall, dark man and this lovely white lady, walking around traveling together, not just in the city, but they would go to meetings [statewide], riding together. Dick Huffman knew about it, condoned it and approved of it. Jim told me that Kitty did it for the express reason that people would THINK that they were together for - because she was into breaking down barriers.
"Jim didn't know it for a long time but finally he told her, 'I'm getting used,' and she just laughed and said, 'Aw, come on, Jim, let's go.' She was an extraordinary person."
Vernon Herron:
"I did not know Kitty. But I want to thank you for this introduction. One can say that one is not dead who is remembered."
Sarah Stevenson:
"So we will leave Kitty Huffman. Let her rest in peace in Heaven."
– – –
The following is a version of the Catherine Huffman obituary, published in several U.S. cities:
The incredible journey in this life of Catherine "Kitty" Crawford Huffman, formerly of Charlotte, peacefully ended on January 16, 2010, in Las Vegas, NV. She was 90 years old.
Kitty was born in Altoona, PA on May 30, 1919 and was told as a child that the Memorial Day parades were put on just to celebrate her birthday. She may have delighted in that as a child but, as an adult, she was one of the least self-centered and most giving people to walk the earth. After she received The McMahon Appreciation Award in 1999 from the Foundation for the Carolinas for her 40-year legacy of community service, The Charlotte Observer quoted her as saying: 'I am not at all a Biblical scholar, but when you read the Old and New Testament--you know you're supposed to care for people, to love your neighbor. And when God calls - like in Isaiah - you're supposed to say "Here am I"'. And that's just what she did.
Kitty found herself in North Carolina in 1946, after graduating from Altoona (PA) High School and working several years in Baltimore, MD. While in Baltimore, she had a blind date with Richard Huffman, a North Carolina boy, whom she married August 19. 1945. They spent their 42 years of married life in Charlotte and had two children: Marsha (husband Bob) now of Las Vegas and Dick (wife Dale) now of Salisbury. Her beloved husband pre-deceased her in 1987.
While being a fabulous, always-available mom, Kitty was also deeply involved in the community. She was a member of St. Mark's Lutheran Church for 50 years and represented St. Mark's for years on the city-wide Church Women United. During her term as president of that group (at the time limited to white, evangelical churches), Kitty spearheaded the effort to integrate the group both racially and denominationally. This was in 1955!
In the 1960's she again spearheaded the drive to consolidate the two PTA groups, one black and the other white. It was a turbulent time, but Kitty quietly went about making Charlotte a better, more just city. From 1965 to 1981, she was executive director of Charlotte's chapter of the National Conference of Christians and Jews. Under her leadership, NCCJ initiated two major programs: Project Aries, training junior and senior high school students to be agents of change during segregation and a project to improve relations between local police and residents of low income neighborhoods. Her life-long work centered around fostering understanding and respect among all peoples, and the influence she had on the city will live on. She was also instrumental in the creation in Charlotte of such organizations as Habitat for Humanity, Crisis Assistance Ministry and Charlotte Emergency Housing. She served on the boards of those organizations, as well as numerous others including Governor's Council on the Holocaust, Women's Political Caucus, Business and Professional Women, Youth Service Action Board, Friendship Trays and Bethlehem Center.
After her retirement, she was appointed to the Charlotte Housing Authority (the first white woman on the Board) and was instrumental in establishing a college scholarship fund for public housing kids. She never really 'retired' -- she would see a need and set out to fill it. When Kitty moved to Trinity Oaks Lutheran Retirement Community in Salisbury, NC at the age of 79, she didn't stop her community involvement. Salisbury folks heard she was coming and put her forthwith on the boards of Rowan Helping Ministries and Habitat for Humanity. Kitty began to suffer from dementia about five years ago, and she decided she would be most at rest moving to Las Vegas to be near her daughter. She lived at The Bridge in Las Vegas and has described her last years as 'not very hip-hop but content' (really, she said that). She was a died-in-the-wool Democrat and was blessed to live long enough to vote for Obama.
She is survived by her two children and their spouses, her granddaughter (light of her life) Caitlin Hudgins of Philadelphia, her sister Ann of Steamboat Springs, CO, her sister-in-law Ann of Greenville, SC, six nieces and nephews and four great nieces and nephews.
Services will be at St. Mark's Lutheran Church in Charlotte on Saturday, January 23 at 11 a.m., followed by burial at Evergreen Cemetery on Central Ave. There will also be a memorial service at Summersett Funeral Home in Salisbury at 2 p.m., Sunday January 24.
In lieu of flowers, kudos to Kitty's life can be made to the Huffman Scholarship Fund of UNC-Charlotte, 9201 University City Blvd., Charlotte, NC 28223 (Kitty always regretted not having the finances to go to college. She and her husband established this scholarship fund to assist students who might not otherwise have the opportunity to attend college.)
-------------------------------------------------------------------------------------------
The Forum welcomes all persons to its meetings beginning at 8:30 a.m. most Tuesdays
at the West Charlotte Recreation Center, 2401 Kendall Drive, Charlotte, NC
down the hill from West Charlotte High School.