National Black Child Development Institute
Group began with service, now adding advocacy role
Nov. 17, 2009
The local affiliate of a national institute focused on the educational development of black children has launched a effort to boost reading by recruiting adults who will agree to read to 100 children a year.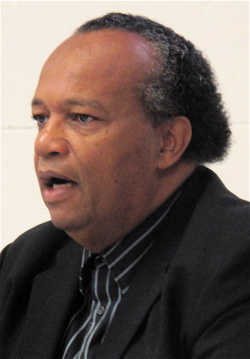 By the end of the year, 125 adults will have been trained and will be reading in front of groups, said Lawrence Toliver, a retired Charotte Chamber executive whose wife Eleanor established the Charlotte affiliate of the National Black Child Development Institute five years ago.
The affliliate's other service projects are a healthy fun fair annually in April that last year attracted 1,200 people, and a daylong program held at a local college campus that is designed to convince middle school students that they can and should plan on attending college. Interest in the college program has grown so that applicants must be turned away.
Staging all these programs, Toliver said, is a "fairly tight-knit group of people" that numbers about 50 on paper but is much smaller when the works really begins.
Many programs are suggested, Toliver said. What gets done is what gets championed by an individual.
Creating a local affiliate of the Institute was initially advocated by former school board chairman Arthur Griffin, Toliver said.
The local affiliate is is considering adding advocacy to its activities. "Our national office has wanted us to do that all along. We have done our best to put the service objectives into place. Now we are going to be doing advocacy, in a big way we hope."
To pursue that goal, the group has begun holding forums every other month that allow members of other groups to share what they are doing. "We focus on some communitywide issues that ... might capture our attention," Toliver said. For the group to take on an issue, however, "someone has to rise to the occasion."
Because someone did step forward, according to Toliver, the group is now disseminating information about parents' options for free tutorial services for children in Title 1 schools. The group is reaching children and their parents through existing agencies and professional services. According to Toliver, only a third of the 30,000 children eligible for free tutorial services take advantage of the programs. Members of the audience said the reason was that the afterschool tutorial programs do not offer transportation.
– – –
The Forum welcomes all persons to its meetings beginning at 8 a.m. most Tuesdays of the year
at the West Charlotte Recreation Center, 2222 Kendall Drive, Charlotte, NC
down the hill from West Charlotte High School.