Founder outlines plans for tuition-free school for girls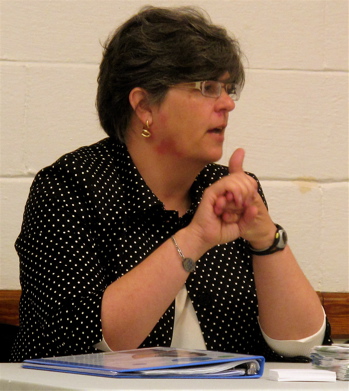 Nov. 10, 2009
Cathy Sheafor, left, is founder of an effort to open a school for girls in Charlotte in fall 2010. At Tuesday's Forum, she outlined the partnerships she's creating to assist with teaching and service at the Charlotte Community School for Girls. Designed as a tuition-free private school for low-income girls with promise, Sheafor said she would hire teachers next spring, and seek a site usable for a year to open with 25 fifth-graders. She said the location would be near downtown and on a bus line, for parents would be responsible for arranging transportation. Later, she said, the school would build a facility to accommodate its maximum enrollment, now set at about 100. She said the school's board might revisit the school size issue.
Sheafor said she expected 80% of the first-year budget of more than $300,000 to come from individual donations.
The school website gives additional information on Sheafor's plans. In one of her Facebook entries, Sheafor, a lawyer, says the school's paperwork for incorporation as a nonprofit has been filed in Raleigh.
After the Forum, Sheafor wrote the following:
"Thank you so much for your willingness to allow me to share Charlotte Community School for Girls with the Forum and its members.
"As I shared, for years, I have conceptualized a middle school where girls from low-income families are challenged to dream, to plan, and to transform goals into realities. I have imagined a school where learning is fun, stimulating, and challenging. I have envisioned girls' metamorphoses to young women who appreciate the power of the individual to impact her family, community, city, state, nation and world. I have dreamed of Charlotte Community School for Girls.

"I am eager to find opportunities for community partnerships in all areas. If you have contacts, ideas, etc., please contact me. I would love to share more about the school or learn more from you. Charlotte Community School for Girls will create community, finding a wide variety of business and non-profit partnerships that will bring opportunity to our scholars. We will look to local organizations to find mentoring and tutoring for our scholars in the extended school day. We will expose
our scholars to all of the benefits of Charlotte in the areas of music, art, and culture and we will form community partnerships to make this all possible. I look forward to hearing from you."

Cathy Sheafor, Founder
Charlotte Community School for Girls
PO Box 32305
Charlotte NC 28232
704-439-6740
[email protected]
http://www.charlottecommunityschool.org
Twitter: http://twitter.com/chrlttsch4girls
Facebook http://www.facebook.com/group.php?gid=114391656775&ref=ts

-------------------------------------------------------------------------------------------
The Forum welcomes all persons to its meetings beginning at 8 a.m. most Tuesdays of the year
at the West Charlotte Recreation Center, 2222 Kendall Drive, Charlotte, NC
down the hill from West Charlotte High School.