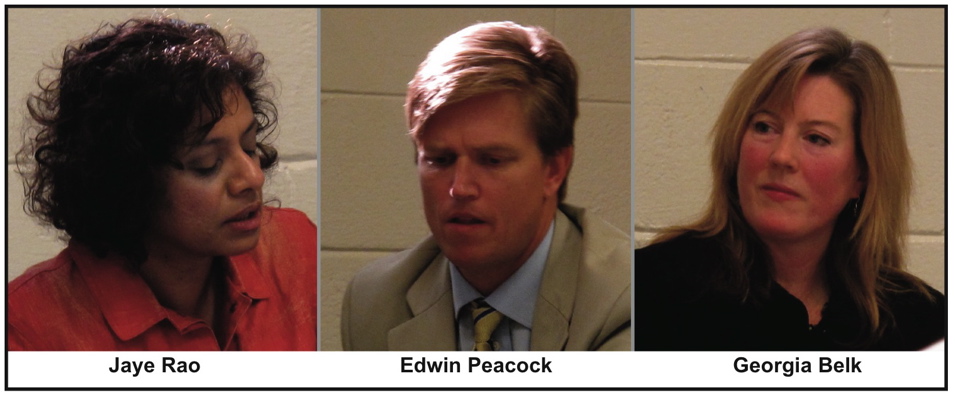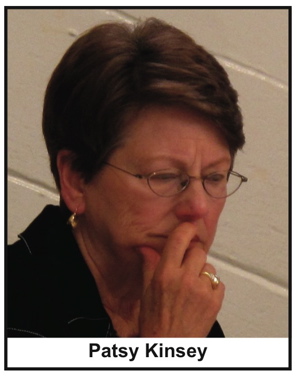 Asked to name an 'exciting' leader...
Aug. 18, 2009
Republican candidates in the GOP primary Sept. 15 for four Charlotte City Council at-large seats were center stage Tuesday at the Tuesday Forum. Incumbent Democrat Patsy Kinsey, who is running in the District 1 primary against Owen Sutkowski, also spoke.
After Kinsey left, the at-large candidates were asked which living leaders "excite" them.
First up was Edwin Peacock. Below he explains why he asked that someone else go first. He initially said, "Gosh, y'all.... A couple of people floated into my mind immediately, but I want to think through my bullet points on them."
Georgia Belk offered Steve Shoemaker, her minister at Myers Park Baptist Church. "He practices what he preaches. He lives Jesus' word. He loves everybody." She later added former senators Paul Tsongas, a Democrat, and Republican John Danforth.
Jaye Rao said the following. "I'm a Republican. Barack Obama has really been inspiring because he has brought so many people together, and he's generated so much excitement. I think that creates enormous hope for everyone. I might not agree with all his policies, but the truth is that you can look at him and say, he's an amazing person. Everyone around the world is talking about what we have done here.
"I think we're looking at an exciting time. Yes, it's challenging, but he makes me realize that as a community we can get together and we can do all kinds of things. His election represents that. That's why there is so much hope and everybody is wanting to see him succeed for that very reason, because they want to know that the hope they put in him, that the hope he brought forward can actually be realized, you know?" Rao later added Ronald Reagan.
Then it was back to Peacock: "Thank you, Jaye, for that answer, because my first answer was going to be Barack Obama and I did not want to sound like I was pandering to a particular audience or anything like that because as a member of the Mecklenburg GOP you just don't hear that reflexively talked about.
"Two things about Barack Obama I am extremely impressed by. Number one was his speech on race last year. I've looked at that and studied that, and that is a model that our country, our city, our region must hold up and continually talk about. It's amazing how one year later it came to fruition obviously with the Gates scandal that came out.
"Second, the second speech. I've never caught myself doing this. I woke up at 6:15 in the morning to watch his speech in the Middle East and he did a phenomenal job. He's entering dialogue into the political spectrum that is extremely important. Like Jaye, I don't agree with all his policies, but I agree with the fact that he is bringing people back into the process and having dialogue about soft-tissue issues that that we've just not talked about in this country.
"In order to grow, obviously we are stronger when everybody is continually rising up from their current level right now.
"The second leader who was living... but just recently passed away and speaks to our party is the former Jack Kemp. Jack Kemp was a leader who preached about our party something that needs to be brought back, which is to open up the tent.
"My party has decided that we are going to take the gay issue, and we're going to take the issues of abortion and make this our divider, and it's caused people to be repelled from the party. And the more that you can open up the dialogue, and that's what Barack Obama has done. He's opened up the dialogue with people who were in the middle and say, 'Get involved, get involved, young generation.'
"I have a genetic defect. I grew up in this type world, talking about all these things. My father was an elected official. So I can't assume all my contemporaries are as engaged in these issues. In fact, I know they're not engaged because they don't vote. And that's simply wrong.
"So Jack Kemp, Barack Obama. That's two different, opposite ends of the spectrum but they speak on one thing, which is everybody needs to get involved."
-------------------------------------------------------------------------------------------
The Forum welcomes all persons to its meetings beginning at 8 a.m. most Tuesdays of the year
at the West Charlotte Recreation Center, 2222 Kendall Drive, Charlotte, NC
down the hill from West Charlotte High School.