Herron offers 'Discoveries Through Geneaology'
June 23, 2009
Dr. Vernon M. Herron, a Charlotte native and longtime participant in the Tuesday Forum, had the rapt attention of a room full of people this morning as he presented some of is findings during three decades of genealogical research.
Below is the text of his prepared remarks. Excerpts from the question-and-answer session that followed will be posted later. Photos below are of Herron during his presentation.

By Vernon M. Herron, D. Min.
Generally, my lectures about Genealogy are given at a 101 level dealing with basic techniques in research; namely examining birth, death, Court House Records and recording oral reviews. I have been a student of genealogy for 30 years. It began in1979 when our family had its first Reunion. I wanted that occasion to be more than a family picnic but an experience in family history, origin, relationships, achievements and destiny.
However, through training, leadership and being a practitioner in the field, I come today, not to deal in genealogical fundamentals but to share some interesting discoveries and a few findings in genealogical research. There are however, a few definitions and concepts which I call to your attention.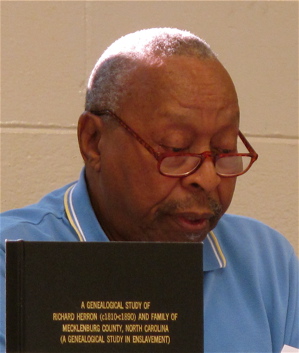 For ten years into my retirement, I worked with the Comprehensive Genealogical Services where our energy was spent in genealogical education, family reunion and exploring enslaved burial grounds.
Now, let me define genealogy. It is the study of the origin and decent of family. It begins with an ancestor (who is a dead relative) and continues the study in a descendant fashion whether lineal or collateral. Family history begins with oneself and studies the family structure in an upward fashion.
After 20 years of family research, I published my findings with a book in 2000 entitled, "A Genealogical study of Richard Herron (c1810-c1890) and family of Mecklenburg County, North Carolina: A Genealogical study in enslavement."
Now let me share with you some misconceptions of words like slave, slavery and slave owner. Slave is not a proper name. It is a derision often directed toward persons of African descent, held in servitude as chattel of another. The enslaved captives were Africans and their descendants who were brought by force and violence to the Americas for the express purpose of enslaved labor. This system of enslavement was executed by enslaved masters not owners. So the next time, try using the words enslaved instead of slave, enslavement instead of slavery, the enslaved master not the slave owner.
In my family history book, I list ten reasons for its uniqueness. Let me share three of those ten reasons at this point.
1. It portrays growth in concept of family from 5 to 415. [Herron said that as a child he through his family numbered only five; through research, he found 415]
2. It shows that my family history parallels Americas history: local, state and national.

North Carolina made no provision for public school education prior to the Civil War. Blacks had to attend Church schools or travel out of town to obtain a high school diploma. Such opportunities were provided by the Rosenwald Funds for schools, Biddle School for boys at Charlotte, Scotia College for the girls at Concord and Livingstone at Salisbury, etc. Miss Hannah received her high school and formal training at Livingstone College at Salisbury where she received an A. B. degree.
3. It records that family members run the gamut in service, occupation and professions including Mel Watt, U.S. Congressman representing the N.C. 12th Congressional District.

I am the great grandson of Richard Herron. Mel Watt is the great, great, great grandson of Richard Herron.


As I said earlier, I want to share four interesting discoveries, which emerged in my genealogical research. They are:
1. The notion that Queen Charlotte's mother was an African.
2. The relationship of The Rev. Samuel Corothers Alexander to the Herron family and Johnson C. Smith University.
3. The Hannah G. Stewart Story.
4. The Carr/Lee House Story.

I. The notion that Queen Charlotte (1744-1818) and persons of African descent could be related.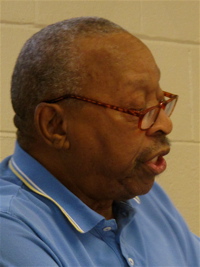 According to Dr. Edward Robinson, noted author of the Songhay Empire, Ivan Van Sertima, author of "Black Women in Antiquity" and J, A. Roger, author of "Nature Knows No Color-Line," to name a few, all advanced the notion that Charles Louis Friedreich, Duke of Mecklenburg-Strelitz (Germany) was Queen Charlotte's father while her mother was an African. (A fact which you will not see in the white press.)
A strong notion contends that the Duke of Mecklenburg-Strelitz went to the University of Sankora at Timbutu where he met and married an African woman of the Songhay Empire. Upon returning to Germany with his African bride, a daughter was born in Mecklengburg Strelitz named Charlotte Sophia. At the age of seventeen, Charlotte married King George III, whose reign over Great Britain as King was from 1760-1820 (a period which covered the Revolutionary War in the United States) and bore him 15 children.
Queen Charlotte was the grandmother of Queen Victoria, the great-great grandmother of George VI and the great-great-great-great grandmother of Queen Elizabeth II.
Charlotte, N.C. and six other cities throughout the United States were named for Charlotte Sophia. Both the city of Charlotte and the county of Mecklenburg are names in honor of the Queen of England who was also the former princess of Mecklenburg-Strelitz (Germany).



II. The relationship of the Rev. Samuel Corothers Alexander to the Herron family and Johnson C. Smith University.


My great grandparents, Richard Herron and Minerva, constituted the first known structured Herron family of African descent in the Piedmont region of the Tar Heel state of North Carolina in 1870. They were enslaved captives of a medical doctor in the Steel Creek Community by the name of Dr. Isaac Herron.
For five years, from 1861 to 1866, The Rev. Samuel C. Alexander served as pastor of the Steel Creek Presbyterian Church where Dr. Isaac Herron attended along with his 20 enslaved captives who worshipped and sat in the balcony.
At the inception of their new found freedom in 1865, most Blacks left the Steel Creek Presbyterians Church in droves including my great grandfather, his family and the pastor. The Rev. Mr. Alexander pioneered in mission among Blacks, teaching them to read and write, including my great grandfather, contributing to the birth, growth and development of McClintock Presbyterian Church, Mt. Olive Presbyterian, the Murkland Presbyterian Church now called Matthews-Murkland Presbyterian Church, the Woodland Presbyterian Church, the Colored Presbyterian Church, later called Seventh Street Presbyterian Church, now called First United Presbyterian Church, a parochial school called McClintock School and a college formally called Biddle Memorial Institute, now Johnson C. Smith University.
So then, we say that one of the major founders of Johnson C. Smith University was The Rev. Samuel Corothers Alexander, who also taught my great grandfather to read and write. That's the relationship of which I speak.



III. The Hannah G. Stewart story.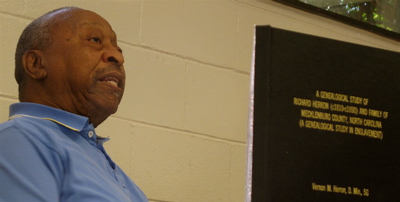 Miss Hannah Guion Stewart was born c1868 and died 1963 at the age of 95. She was the oldest African American female who taught in the Charlotte Mecklenburg Public School system for 37 years. As the oldest faculty member, Miss Hannah taught more than subject course. She taught character building, personal hygiene, economic prudence, and moral conviction. She was a strong, respected, Victorian spinster and a strict disciplinarian as well.
Her greeting words to all new students were, "My name is Hannah Stewart. I live at 700 East Boundary Street. If I say something your mammy doesn't like, she can come see me."
When students did not use good judgment, Miss Stewart would say, "Children, you may have all the book learning in the world, but if you don't have mother-wit, you may as well be dead!"
On another occasion, returning to her classroom and finding students acting up and being noisy and boisterous, she would declare, "Just look at you, acting just like Dick Moss cows!" Now what did Dick Moss cows do? The class, having heard the phrase many times, would exclaim, "They jumped the fence when the gate was opened."
Even though a spinster, Miss Stewart was a thrifty business entrepreneur. She moved from a roomer/renter at 202 and 216 E. Boundary Street toward being a home owner at 700 E. Boundary.( Johnnie Mae Gaither Collins and I lived in the same block.) At the latter address, many up start teachers and laymen were roomers and boarders. In addition to teaching, she engaged in laundry and grocery services. She was the major financial investor in the Oscar Harris Cafe located on South McDowell Street at First Street where she served as a culinarian. She demonstrated that pennies make dollars. Hannah Guion Stewart is gone but not forgotten.


IV. The Carr/Lee House Story


The House: This house story is about three principals: John Price Carr ,the builder; William Robert Lee, Sr., the purchaser; and his son, William Robert Lee, Jr. the beneficiary, who was my Second Ward High School 1947 classmate and a trumpet player.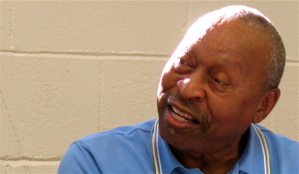 The History: In 1904, John Price Carr erected a fashionable Queen Anne Style house at 200 N. McDowell Street as his home. It is located across the street from Charlotte's main Post Office, near the Government Plaza with high visibility. It is certainly the most significant Victorian structure in the entire First Ward. According to Dan L. Morrill, Director of the Charlotte-Mecklenburg Historic Properties Commission, it was the most fashionable style of domestic architecture in Charlotte during the late 1800s and early 1900s. The style was widely used in the growing residential neighborhoods of First Ward, Fourth Ward and along affluent blocks of Tryon and Trade Streets. The Carr House is a fine example of this heritage. Today, it is in the National Register of Historic places because of its local historic significance.


Some Historic Dates

1878: John Price Carr married Anna Eliza Little.
1904: John Price Carr built his Queen Ann Style home at 200 N. McDowell Street.
1927: John Price Carr died.

1951: Mrs. Carr sold the house to an African American Family, Mr. and Mrs. William Robert Lee, Sr. (Annie Moore Lee)
1951-1975: The Carrs House became the Lees House. (A factor little noticed by the local press). In later years, they rented the house to male boarders.

1975: The city of Charlotte purchased the house under the auspices of The Community Development Department, then restored it to its original grandeur.

1981: The house was converted into an office use and remains the same unto this day.


The Happenings: During the '50s the Lees Home was a well-known house and part of the middle-class black community. I attended two noted social activities there which I shall never forget. One was when William Robert Lee, Jr. took Irene Sylver to be his bride in a lovely garden wedding at the estate in 1952. Bob Lee. Jr., Irene and I were school mates at Shaw University at Raleigh. To me, this garden wedding was uniquely dubbed the wedding of the century.
The second activity was, the best social party I ever attended in my life, was in the Lees home. It was during the Christmas school recess, when friends gathered at the mansion for a blowout of chatter, fun and refreshments. The chatter consisted of contrasting the Carrs with Lees:

Mr. Carr was a Caucasian business man of substance and character.
Mr. Lee was an African American man with skill and character.

Mr. Carr was a successful business man.
Mr. Lee was a chef at S&W Cafeteria.

Mr. Carr was a deacon at The Second Presbyterian Church which is now The Covenant Presbyterian Church where he was a leader in the Sunday school. (This is the home church of our beloved Lucy Bush Carter).
Mr. Lee was a deacon in the Ebenezer Baptist Church (my home church) where he was the Assistant Superintendent of the Sunday school. while Mrs. Lee and son, Jr. played in the church's orchestra.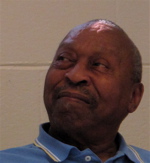 Mr. Carr gave Presbyterian Hospital $40,000.00, which prevented a foreclosure.
Mrs. Annie Moore Lee served as a pastry cook at Presbyterian Hospital to nourish its continued life. She was a saxophone player.

Mr. Carr died in 1927, one year before my birth.
Mr. Lee died in 1981, 53 years after my birth.

The fun part was based on the fact that we had all things in common.
The refreshments made this the best party I have ever attended in my life! Can you guess what the menu was when there was no Natheley [provider of breakfast at the Tuesday Forum] around? Pop-Corn and coke! That's all. It was the company and the setting which made the day. We enjoyed the Lees home.
The real issue is: How can the story be told of the Carr-Lee House and ignore the 24 years of the Lees' ownership?

-------------------------------------------------------------------------------------------
The Forum welcomes all persons to its meetings beginning at 8 a.m. most Tuesdays of the year
at the West Charlotte Recreation Center, 2222 Kendall Drive, Charlotte, NC
down the hill from West Charlotte High School.