April 7, 2009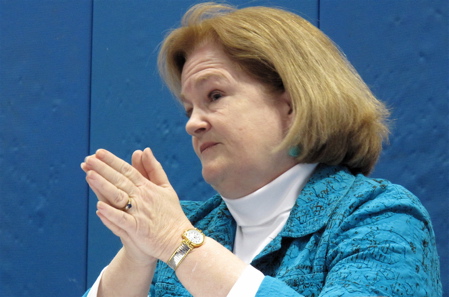 Lincoln Heights: Breakdown of trust
CMS School board Chairperson Molly Griffin faced repeated questions Tuesday from Lincoln Heights School parents and community activists alleging a breakdown in trust between parents at the failing elementary and the school district's administrators.
Careful to avoid enmeshing herself as a board member in an administrative matter, Griffin promised to tell CMS Supt. Peter Gorman that parents at Lincoln Heights felt they needed direct conversation with the superintendent to resolve issues facing the school.
Lincoln Heights is a poster child for some of the issues facing CMS: The building is below capacity while other schools are overcrowded. The school has not had strong principal leadership, and is currently being served by an interim. And there are severe gaps between test scores at the partial magnet in the building and the test scores of the neighborhood children under the same roof. According to the parents, 88% of the neighborhood children are failing.
Griffin said she personally opposed disbanding the CMS Equity Committee, but said it should be restructured and given clearer direction on what it was expected to do. For more on that issue, see Glenn Burkins' news story on the QCityMetro website.
---
April 20, 2009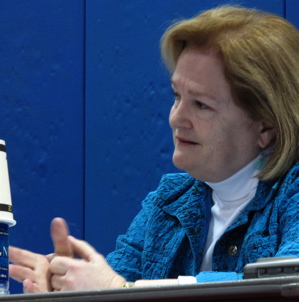 Griffin responds to questions
During her April 7 appearance at the Tuesday Forum, CMS School board Chairperson Molly Griffin was asked several questions that she said she would have to research.
On Sunday afternoon, April 19, Griffin sent the following e-mail to the Forum. Scribe Steve Johnston apologizes for delaying posting of the e-mail until late Monday night.
Griffin's comments will be included in the Tuesday Forum Announcements sent on April 21.
– – –
Steve, I am enclosing responses to the questions I could not answer when I was at the Tuesday Morning Breakfast forum. I am sorry it has taken me this long to respond, but due to spring break it took me longer to get the answers than I had anticipated.

1. Why are we spending $1,000,000 on band uniforms in this difficult budget year?
When a new school opens, band uniforms are purchased through the capital budget. In other cases, we replace uniforms on a rotating cycle from the operating budget, typically replacing uniforms for 1 - 2 schools. The costs for the last 4 years are reported below. In some cases, uniforms are purchased by a booster club at a school, and these are not included in the figures below.
2009 - Waddell - $23,585.39 (partial replacement)
Hopewell - $48,261.43
2008 - West Meck $40,122.23
2007 - Vance $ 44,000.00
2007 - Garinger $38,674.35
Ardrey Kell $ 44,235.40 (New school - capital expense)
Mallard Creek $ 54,231.93 (New school - capital expense)
The differences in the amounts are based on the size of each schools band.

We are not opening a new high school next year, so we can anticipate an expense in the $40,000 range.

2. Why hasn't Dr. Gorman met with parents at Lincoln Heights?
There has clearly been poor communication in this situation. Staff has tried to set up a meeting. There is some disagreement over the first attempt, but I have an e-mail from Joel Ritchie to a Lincoln Height parent leader dated April 3, offering to meet on Tuesday April 14 at 3:30. On April 13, the parent responded that this time was not convenient for the parents. Staff will try again to set up a meeting, but as you can tell from his on-line schedule it may take awhile to find a good time. I am glad to report that Lenora Shipp, the principal at Sedgefield Elementary, has been assigned to Lincoln Heights as principal. She has a very successful record of improving student achievement at Sedgefield, and I expect she will achieve great things at Lincoln Heights.

3. Why has the person hiring substitutes been laid off?
CMS will continue to need substitutes, and there will be a person designated to handle this process.

4. Why can't CMS broadcast on a non-cable channel?
We are in the process of evaluating CMS-TV in connection with the difficult budget situation. We are considering consolidation and other options. I have shared with Dr. Gorman the concern over the availability of the broadcast on a non-cable station.

As always, I enjoyed the chance to talk with the members of the Tuesday Morning Breakfast Forum. I hope to see you soon.

Molly Griffin
-------------------------------------------------------------------------------------------
The Forum welcomes all persons to its meetings beginning at 8 a.m. most Tuesdays of the year
at the West Charlotte Recreation Center, 2222 Kendall Drive, Charlotte, NC
down the hill from West Charlotte High School.