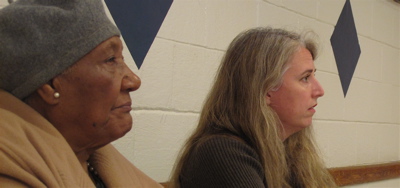 A vision for locally grown produce
Feb. 17, 2009
Katie Oates reported to the Forum Tuesday on a fledgling effort to install a 3-acre community garden north of uptown Charlotte to bolster the supply of locally grown food and to create an economic stimulus to struggling neighborhoods off North Tryon Street.
Oates, shown here with Forum co-founder Sarah Stevenson in the foreground, said a small group had been discussing the project for a year, but had only in the last month connected with a developer who, Oates said, is willing to lease land for $1 a year. Oates says the group wants to use a warehouse on the property as a farmers market.
Oates said the group envisioned creating a new nonprofit corporation to handle the project, but said papers had not yet been filed. She asked for names of people who might serve on the nonprofit's board of directors.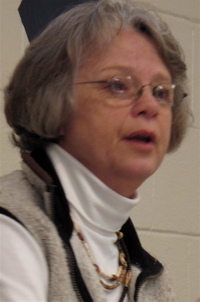 Oates said she had met with some nearby residents, but none were present for the Forum discussion.
A number of members of the audience had suggestions for Oates on who to talk to about issues of getting the project off the ground, and how to distribute the grown food to individuals who need it.
Marilyn Marks, left, is the Charlotte-based program director of the Society of St. Andrew, the national network that gleans produce from fields and distributes the food to hunger-fighting agencies.
Marks updated Forum participants on several earlier efforts to operate community gardens, discussed Health Department regulations, and outlined channels already created to link produce to those who can make it available to needy clients.
Lucy Bush Carter, executive director of Friendship Trays, the local meals-on-wheels program, said her group has made a "concerted effort to connect with local farmers..... We'll cook it and get it to the people who are shut inand unable to cook it on their own."

– – –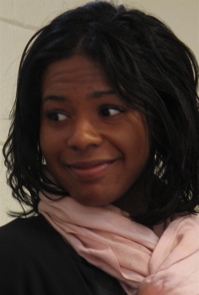 Later at Tuesday's Forum, Generation Engage Community Director Ayofemi Kirby introduced herself and discussed her group's efforts to bring young people together "so they can take action."
She said that while the 2008 presidential election gave people the impression that lots more young people voted than in earlier elections, the 45% rate nationally was up only 3 percentage points from 2004.
"After the election," Kirby said, keeping young people engaged in the process is "more about education and people figuring out how does this relate to me?"
Kirby, shown at right, arrived in Charlotte with her parents when she was 10. She graduated from West Charlotte High school, then went through the journalism program at UNC Chapel Hill, graduating in 2006.
Several audience members encouraged Kirby in her work. "You guys are way ahead of where we were," one longtime activist observed.

-------------------------------------------------------------------------------------------
The Forum welcomes all persons to its meetings beginning at 8 a.m. most Tuesdays of the year
at the West Charlotte Recreation Center, 2222 Kendall Drive, Charlotte, NC
down the hill from West Charlotte High School.