High-achieving principals will discomfort some adults, leader says
Jan. 20, 2009
The leader of the Charlotte group partnering with Charlotte-Mecklenburg Schools to train principals for high-needs schools told the Forum Tuesday that principals will need more autonomy from lockstep curriculum and more power to hire and fire teachers if they are to turn around low-performing schools.
And, said Eric Guckian, executive director of New Leaders for New Schools Charlotte, the principals who succeed will be highly recruited, so CMS down the line will have to consider paying successful principals far more than they are now being paid.
Guckian (goo-KEY-un), a native of Rhode Island, earlier worked for the Knowledge Is Power Program (KIPP) and helped launch Teach for America in Charlotte. The program he will implement for New Leaders is operating in nine other cities, and in those locations has tended to bring principals in from elsewhere. He acknowledged that the program must overcome skepticism.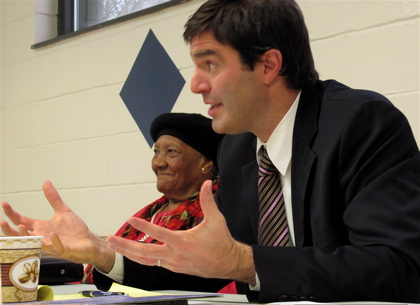 "This thing lives and dies on how we are making inroads, and not just political inroads but honest-to-goodness inroads where people are going to trust that we're in this for the right reasons. I come here in my slick suit and talk with my fancy statistics, but [we will fail] unless we are putting a new leader in the school that is going to listen and learn and perform at the highest level. The proof is in the pudding.... I'm here to enlist your expertise."
Guckian said he and his wife have a 3-year-old daughter, and have another child on the way. "There are a lot of codes that go on when you come into a community, about this is a neighborhood you want to live in, this is a neighborhood you don't want to live in. We're very conscious of that. I'm not different than anyone else; I don't want to make a martyr out of my baby. But at the same time, I believe we should be, if we're truly committed to public schools, and truly committed to integration, that we ought to be in schools that have that kind of diversity and step up and represent our children."
Guckian said the program's goal was to train 50 leaders for work in high-needs schools. Each would serve a year as an assistant principal, for existing assistant principal wages, and work under a high-performing principal while having biweekly training sessions. After the year of training, each new principal would be committed to stay at their new school for five years, and would be expected to have 90% of their students on grade level within five years.
"If we don't set ours goals high I think we are doing a disservice to the students we serve," he said.
The New Leaders program began in 2000 with 13 trainees in New York and Chicago. It has now grown to 10 cities, and has trained 530 leaders serving more than a half-million students nationwide. Guckian said that since 2000, two-thirds of the recruits have been persons of color; half were out of K-12 education while the other half were drawn from business and government. He said that among the 200 who have applied for work in Charlotte, the program has thus far made commitments to only two people, one from New Orleans, the other from Memphis. He predicted that about half of the first batch of New Leaders would be people already in Charlotte. Overall, he said, New Leaders has hired 7% of applicants.
Questioned about the focus on principals, Guckian said, "From my personal experience, I have never seen a great school that doesn't have a great principal. It begins with the leadership." There must be a great teacher in every classroom, he said, but "if you have a bad principal, the teachers will flee. If you have a good principal in the building, the teachers will come."
Demand for higher principal performance, and a wave of upcoming retirements, are driving programs like New Leaders, Guckian said.
Money provided by CMS and committed by Mecklenburg Citizens for Education meant, Guckian said, that the New Leaders has "a three-year runway so we can be less focused on the fund-raising piece."
While the goal is to have 90% of all students at grade level with five year's of a New Leader's arrival, Guckian said the program had not yet achieve those goals. While some schools are outperforming their districts, only 30% of the 530 New Leader principals are now on track to reach the 90%-100% goal.
Asked if the New Leaders would be paid more than their peers, Guckian said no. If New Leaders were viewed as "bonus babies," he said, "that would be a problem from a community relations point of view." He said one factor that is helping recruitment is that many people consider equity in education to be "the civil rights issue of our generation."
Rosalyn Allison-Jacobs, Meck Ed's director of initiative partnerships, said Meck Ed was considering setting up a course for the public on the history of CMS. Guckian responded that if it materialzies, the course would be "required, I'll say it right here," for all principal trainees.
Guckian said he thought there was "a high probability" that all trainees would be included in the CMS program giving trusted principals "freedom and flexibilty." Supt. Peter Gorman has granted flexibility to about a quarter of the principal corps thus far.
"A lot of the best-performing principals -- one name that has come up is Charity Bell at West Mecklenburg -- she wasn't a freedom and flexibility principal, but my understand is that she has implement a lot of her own freedoms and flexibilities.
"What a lot of high-performing principals do is they kind of ... do it on the sneak. What we want to do is be more out front, saying that's OK, to take a teacher that's not doing right by children, should be gone. A teacher should be supported for a little while, should be told very clearly that this is the standard, that this is what we are trying to do, training. But if that teacher cannot perform, then that teacher should be gone."
Guckian said the program's research has found that principals on track to raise achievement have created change that is "at the major discomfort of the adults in the buidling. If you don't make adults uncomfortable, particularly in a dysfunctional school, then the children are going to remain uncomfortable and they're not going to be achieving at high levels.
"I've taught in the Bronx. I've taught in rural areas.... Here's what I found ... the one common denominator is the kids aren't learning enough. The kids don't know what they need to know. They are four and five grade levels behind in reading and math by the time they get to fifth grade. This calls for dramatic changes.... If we don't make adults uncomfortable it's probably not going to work."
–
More on Guckian's biography.
-------------------------------------------------------------------------------------------
The Forum welcomes all persons to its meetings beginning at 8 a.m. most Tuesdays of the year
at the West Charlotte Recreation Center, 2222 Kendall Drive, Charlotte, NC
down the hill from West Charlotte High School.