Organizing to break cycle of incarceration
Jan. 10, 2009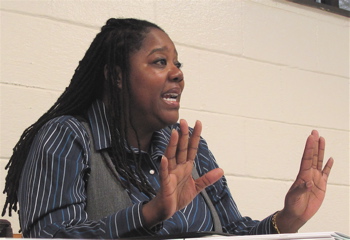 LaWana Mayfield Tuesday made a pitch to be included in community conversations about incarceration issues. The coordinator of Grassroots Leadership's Mecklenburg Justice Project said she wanted to increase awareness of inforrmation about justice issues, then bring people out to demand change from elected leaders.
When the numbers get large enough, she said, elected officials "will see power in numbers" and respond.
And if elected leaders are not providing leadership on issues affecting African Americans, fire them at the ballot box, she said.
Tuesday's conversation focused on two issues. The first was the stalemate following publication of a local task force report on justice reforms.
Mayfield said the group's first recommendation – creation of a new office to coordinate law enforcement efforts – never used the phrase "crime czar." Mayfield said the phrase was first used by County Commissioner Bill James.
Commissioners delayed action on the recommendation over concerns that little would be accomplished by a new layer of bureaucracy. Since then, County Manager Harry Jones has designated one of his assistants to serve many of the functions identified in the task force report.
Another chuck of time at the Forum was spent discussing for-profit prisons. Mayfield said Grassroots Leadership had been on the ground in Gaston County to help citizens block a federal prison there. There is only one private prison operating in North Carolina, in coastal Hertford County, said Si Kahn, executive director of Grassroots Leadership. Participants in the Forum seemed little motivated to discuss the subject. Opponents of private prisons charge that for-profit companies skimp on inmate care, and that the claims of beneficial economic impact of such facilities for their host communities are overstated.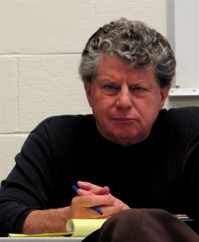 Said Kahn, who founded Grassroots Leadership in 1980 and has worked for 40 years as a labor and community organizer, "We want to have as many community voices heard as we can as we work to figure this out.
"The core problem about private prisons is that they depend on a growing market. It's like any corporation: The more prisoners they have, the more money they make. You talk about lobbyists: The private prison companies have lobbyists at every level and are really well funded and really good.
"At one point we were fighting a federal facility in Eastern North Carolina. We tried to get a lawyer to represent us. The private prison firms had retained every major law firm in the state, and those attorneys who wanted to do the work pro bono couldn't do it because their firms are already representing the private prison industry.
"They're all over the legislatures. They're making millions in campaign contributions. And as a result, every year, 100,000 more people go into the systems, right?
"We have 2.2 million people in prisons, jails, detention facilities, and you know who they are – a million of them are African American, half a million are Latino and Latina a half a million are poor and working class white people. It's a war on people of color. It's a war on poor people. It's a war on working people.
"As long as these corporations can expand and make more money, as long as they are able to say, 'Hey, LaWana, you want to run for the North Carolina Senate? Here's $10,000.' It corrupts the system.
"And as long as this keeps going, our young people are going, no matter what else we do, our young people are going behind bars."
-------------------------------------------------------------------------------------------
The Forum welcomes all persons to its meetings beginning at 8 a.m. most Tuesdays of the year
at the West Charlotte Recreation Center, 2222 Kendall Drive, Charlotte, NC
down the hill from West Charlotte High School.