Disaster preparation: Be ready, for they happen here
Dec. 2, 2008

The Red Cross has improved its readiness to deal with disasters, the local CEO of the nationwide agency told the Forum Tuesday. But the agency, she said, will still be found wanting if the community ever confronts an unimaginably large test of its preparedness.
Pam Jefsen and Red Cross disaster education coordinator DeNeak Chapman offered advice on supplies every household should have in readiness in the event of a flood, fire, storm or other emergency. And Jefsen candidly addressed a number of the misunderstandings and miscues that have caused the public to be wary of the agency.
There was some discussion of whether the black community perceives the Red Cross as a white-dominated organization. One participant said he had been told by his dad, a World War II GI, that the Red Cross did not give black troops donuts during the war. Another participant said that the Texas flood victims he grew up around learned from experience to count on the Red Cross during disasters.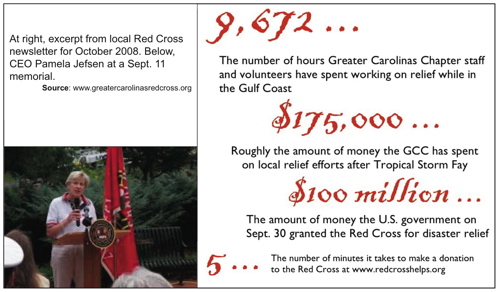 Jefsen acknowledged that a World War II perception lingers. She said it was spawned by a wartime compromise: European Red Cross workers sold their refreshments to European troops. When America joined the war, the American Red Cross was asked to stop giving away refreshments so all troops would be treated equally. For American GIs accustomed to freebies while stateside, the policy was irksome, and some black GIs believed it was due to racism, not a wartime compromise.
Jefsen said half her staff and about a quarter of her chapter's volunteers are African-American. And about 300 people, many of them African-American, volunteered with the Red Cross for the first time during the evacuation of the mostly African-American victims of Hurricane Katrina to Charlotte. Many of those volunteers, she said, continue to be connected to the Red Cross.
Asked if the Red Cross had improved its preparedness for disasters since Katrina, Jefsen said she thought disaster agencies were now "well prepared to respond to most kinds of disasters.... The thing I worry about most is the thing we don't conceive of in terms of scale.... In every city that I have worked for the Red Cross in, the evacuation plan was just a joke."
More discussion of disaster planning, and an assertion from the floor that Charlotte's evacuation plan covered car-rich Dilworth but not the car-poor public housing apartments at Dillehey Courts off North Tryon Street, City Council District 5 member Nancy Carter, who was in the audience, volunteered to bring information about the evacuation plan to the Forum.
Jefsen noted that the Red Cross plans around the reality that only half of its own staff members who say they will be available during a disaster will actually be available.
Asked how, on a scale of 1 to 10, disaster agencies were now prepared to deal with any major disaster in the six-county region around Charlotte, Jefsen said she'd rate the level of interagency cooperation at a 9, but actual ability to respond at an 8.
The Red Cross presence in Charlotte goes well beyond the local Mecklenburg-Iredell chapter. About 3,000 employees are in the community staffing a national testing lab, a call center and a shared services center that provides financial services and other back-office operations for chapters nationwide. Those national offices are in Charlotte, she said, because of the area's lower cost of living compared to the national headquarters town of Washington, D.C., and because of the area's higher quality of life.
A Forum participant noted that the Red Cross is berated for spending money on four-wheel-drive Hummers, which often appear at disaster scenes. Jefsen said those vehicles are owned by volunteers. The Red Cross, she said, markets its need for disaster services volunteers among prospective buyers at Hummer dealerships.
"What drives my passion for preparedness and training," Jefsen said, was a tragedy close to home.
Jefsen's husband died a year and a half ago. He experienced cardiac arrest while driving in their north Mecklenburg neighborhood. He survived losing control of the car, but died en route to the hospital. Fifteen or more minutes elapsed between cardiac arrest and arrival of a Medic crew.
"He flat-lined in the ambulance because... there was nobody in the neighborhood who could help him and care for him at that moment. It shouldn't happen in my neighborhood, and it shouldn't happen in yours.
"It's a hard story to tell, but the fact is this is what drives my passion for preparedness and training so other people have a happier ending to their story."
-------------------------------------------------------------------------------------------
The Forum welcomes all persons to its meetings beginning at 8 a.m. most Tuesdays of the year
at the West Charlotte Recreation Center, 2222 Kendall Drive, Charlotte, NC
down the hill from West Charlotte High School.