Harry Taylor, Nick Mackey and Kelly Alexander flank moderator Jackie Edwards Walton at the Oct. 21 Forum.
Incentives for ailing economy dominate discussion
Oct. 21, 2008
Incentives for small businesses trying to survive or grow in the current economic downturn dominated discussion at the Tuesday Morning Breakfast Forum.
Participating in the discussion were Harry Taylor, Democratic candidate for the U.S. House in the 9th District; Nick Mackey, Democratic N.C. House candidate in District 99; and Kelly Alexander, Democratic N.C. House candidate in District 107. Moderator Jackie Edwards Walton announced that all Democratic and Republican candidates in the N.C. House races had been invited. The full candidate list is below.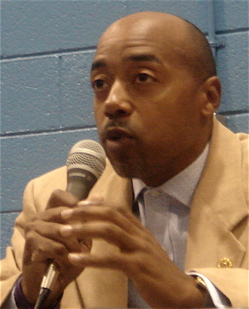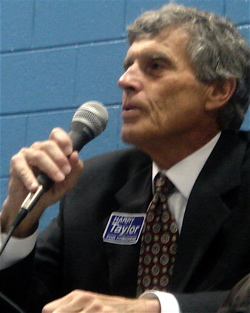 N.C. House candidates
District 98
Thom Tillis, Republican

District 99
Nick Mackey, Democrat
Dempsey Miller, Republican

District 100
Tricia Cotham, Democrat
Tom White, Republican

District 101
Beverly Miller Earle, Democrat
Beth Marlin, Republican
District 102
Becky Carney, Democrat
Gregory Patrick Hill, Republican
District 103
Jim Gulley, Republican
Mark Brody, unaffiliated

District 104
Ruth Samuelson, Republican

District 105
Ric Killian, Republican

District 106
Martha Alexander, Democrat

District 107
Kelly Alexander, Democrat
Gary Hardee, Republican
-------------------------------------------------------------------------------------------
The Forum welcomes all persons to its meetings beginning at 8 a.m. most Tuesdays of the year
at the West Charlotte Recreation Center, 2222 Kendall Drive, Charlotte, NC
down the hill from West Charlotte High School.