Perdue: 'You'll get your money's worth'
Sept. 30, 2008

Lt. Gov. Bev Perdue brought her campaign for N.C. Governor to Charlotte Tuesday with an appeal for policy that assists all corners of the state. She vowed to open an office of the governor in Charlotte.
Perdue vowed to reconstitute state-local government relations, giving more autonomy to the state's metropolitan areas. Coming on a day when many people felt that America stood on the edge of a new Great Depression, to pledge to refashion the compact between state and local government forged in the economic crisis of the 1930s Depression seemed an audacious pledge.
Purdue spoke to a group of about 40 people at the Tuesday Morning Breakfast Forum, which meets at the West Charlotte Recreation Center. She took three questions before leaving for other engagements.
The speech was covered by Charlotte Observer reporter Jim Morrill, who filed a dispatch with charlotte.com. A longer report on Perdue's day in Charlotte was published in the Observer. Here is the text from that report if other links break down.
Following is a transcript of Perdue's remarks to the Forum:
"Good morning to all of y'all. Thank you for letting me come in and out.
I came in yesterday to the Queen City and I thought, oh my heavens, of all the days in the world to be in Charlotte, this is a golden opportunity or else a great tragic day.
During the day we talked to leaders at Wachovia and talked to the business community. I'm going to meet with some of them this morning. It was just a really good day.
"You see the spirit of innovation and the assuredness that there's a brighter day coming. We have welcomed Citibank with open arms. North Carolina will be a partner. We will do whatever it takes and whatever we can do to assure them that the incentives, the capacity on behalf of the state of North Carolina is totally engaged with Charlotte and the Charlotte leadership. We are in this together.
"One of the things that I intend to do as governor is to forge a different kind of partnership between metropolitan areas like Charlotte and like other metropolitan areas, and the state.
"It's time that Charlotte had the authority and the capacity to step up and make decisions without having to run to Raleigh to say 'Mama, may I?' to the General Assembly. It's time to empower locals to act in their own behalf.
"You know, this all started back in the '30s during the Great Depression, when local governments couldn't take care of the schools and the roads and the court system. That's when the state took it over. And I believe in the 21st century it's time to just give folks in areas across the state the opportunity to redefine what role it is they want the state to play, in terms of making the ultimate fiscal decisions for an area.
"I want to thank Sarah and the Forum for tremendous leadership. She has been doing this for years, when it wasn't cool to do it, when it wasn't a very competitive presidential and governor's race. She's done it because she understands that you and the folks who are here in this room today understand that it takes hard work and communication and commitment to change the way we live.
"Yesterday I walked Belmont. And it was just a tremendous opportunity to talk about gentrification and to see the challenges that many of your neighborhoods are having. It reminded me of coastal and mountain North Carolina where you've had lots of people come in with big money who can afford to pay any kind of price and as a result they up the property tax cost for so many people who have lived in a community for years and years. So those challenges are new and bold ones for the 21st century, but we [must] figure out a way to do it, first with property tax relief for seniors.
"I'm honored to be in a room not just with all of you, but also with two fabulous leaders in the General Assembly, Rep. Beverly Earle and Rep. Becky Carney, are doing yeoman work for not just the people of the Charlotte-Mecklenburg area but for the entire state. Their presence here this morning tells you that they understand what partnership is all about. I would urge you to keep on keeping on, sending them to Raleigh. I look foward to working with them. I really am excited about the future we can build together.
"And I come here with [Obama staffer] Collette [Forrest] here, [former school board chair] Wilhelmenia [Rembert] here and others - the chairman of our party is here, Joel [Ford], thank you for your leadership. Just to remind you that when we wake up in the morning, it's going to be Oct. 1st and it will be 34 days to a critically important election, not just for the country, but for North Carolina and for Charlotte.
"I'm here to promise you one thing. And I haven't promised anybody a job or a road or any kind of promotion. I've only promised one thing during, actually two things, during the whole campaign. One is that one of the first things I do after being sworn in in early January, I'm going to open an office of the governor of the state in Charlotte, North Carolina. I'm going to do that.
"It befuddles me why it hasn't been done before. There's an office in the east and an office in the west. Why in the world haven't we done that here in the largest metropolitan area in the state, and the area that is just invigorating and on the move.
"And more than just open an office and put somebody here, Bev intends to show up for work in the Queen City. She intends to come to some of your breakfasts, not very many because that's when I read the Bible and actually exercise. But I'll come to your lunches and your suppers and your town meetings and I'll be part and parcel of the community. And I think that's the commitment that North Carolina's next leader must make to the whole state.
"Now I know that many of you are good Democrats. I'm here to thank you, first of all, for being good Americans and good citizens. I'm not here to tell folks to vote or to ask folks to vote for a Democrat over a Republican. I'm asking for your help to elect the most qualified and capable leader for these early days of the 21st century, to move North Carolina forward. I know what it takes and have the capacities to fundamentally transform North Carolina: from Google accountability where all contracts and all operations of the state are online, to on-site accountability where I actually stop in and visit state institutions and facilities without being announced.
"I can't promise you that a resident of a facility like Cherry Hospital won't die on my watch. But I can promise you that I know that the buck stops with me, and that whether it's mental health or schools or jails or infrastructure, you folks are offering me the opportunity to be the steward, not just of your dollars but of your future. And that as governor I would have been and will be at an institution when somebody allows that to happen. I would fire whoever was the head of the institution who didn't have the good sense, the common sense to call me to tell me what had gone on.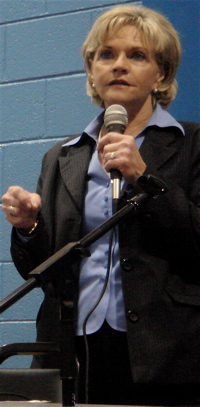 "And we can fix mental health. We can fix this state. You know the challenges are enormous. And that's why I believe that you must have a leader, not just for Charlotte-Mecklenburg, but for the entire state, who knows how to move us forward into the future rather than taking us backward into the past. And a leader who understands that all hundred counties are a part of North Carolina, and that we must look out for and partner with all hundred counties. None of us accomplish much by just deciding that one or two of us will have success and thrive. We are in this together, and that's what's been the fundamental hope and opportunity of North Carolina.
"Now the mayor of Charlotte may be a good guy. I'm not saying that he isn't. I think he is. He's a good mayor of Charlotte. And I'm asking you to let him remain your mayor. And I will tell you why you ought to do that, just real briefly: Because of the future.
"The mayor of Charlotte runs to Raleigh and holds up fingers and points hands at folks who don't do anything. He's talking about "the culture of corruption" and the good ol' boys. Well, I went back and looked at my calendar and my phone logs and my meeting requests and you know what? I'm tickled to death that he doesn't think I'm the culture of corruption, 'cause not one time since he's been mayor can we find one time that he called me or asked me for a meeting or for a partnership or opportunity. But many of your City Council leaders did. And many of your county commissioners did. Because we all know that we are in this together. We can't just point fingers. Leadership is about making tough decisions.
"Your mayor, the mayor of Charlotte, wants to force about a billion dollars out of the public school system. Now I don't know about you, but neither of my parents had a high school diploma. And Sarah, I got here the hard way. I had to work hard and get a good education. Nobody held a door open for me and said "Come on in." I have fought the good fight since I was a little girl. And I can't imagine the people of North Carolina electing as their leader a man who wants to shuts the doors on many of the services and opportunities of public school. You cannot pull a billion dollars out of the public schools of North Carolina without hurting hope and opportunity for success and achievement of thousands and thousands and thousands of kids right here in this community.
"The mayor of Charlotte is against children's health insurance. I'm fundamentally tied to children's health insurance. I believe Rep. Carney and Rep. Earle are. I don't believe that just because a kid's born in a family that doesn't have a good health insurance policy that they ought to be told they can't go to the doctor when they've got strep throat or something wrong with them. I believe that in America and North Carolina -- I can fix North Carolina, I can push us forward. I can make sure we are globallly competitive. I believe in North Carolina that it's time that you and me stood up and said, for those kids, from hard-working, low-income families, let's at least let them see a doctor.
"I'll tell you what your mayor said. We've got the quotes. He said he was against children's health insurance, that it sends the "wrong signal." And you know, in public life and in work there's a rule called the rule of holes. I learned it in the General Assembly: When you start digging a hole and find yourself about to get consumed by it, you ought to put the shovel up and stop digging. Well, the mayor of Charlotte kept digging his hole. And he said, I'll tell you why it sends a bad signal, because there are 15- and 16-year-old little girls out there somewhere who will get pregnant and then they'll have babies because they'll know that health care is free. You all, is this the kind of guy we want to help chart the destiny for North Carolina?
"So I'm here this morning asking you to do what every law enforcement agency in North Carolina that's endorsed has done: They've endorsed me because they understood that when the mayor was coming to Raleigh whining about crime and lack of enforcement capacity, he had allowed for over a decade on top of the requests from your City Council, the police, and the cops on the street to diminish. Your council said yes, he said no with his veto. He supported George Bush when George Bush called for removing 100,000 cops from the streets of America. The Democrats and Republicans and independents who understood law enforcement stood up and said yes, we're going to keep cops on the street.
"This election's about the future. It's about a leader who can move us forward, and take all of us forward. Or it's a leader who fundamentally believes so differently than me that I have to say he's going back to the '90s. And he looks a whole lot like the president whose failed economic policies have been part and parcel of the dilemma America finds itself in this morning.
"I'm a hard worker. I'm honest. I believe in opportunity for everybody. I will fight for you and your families. But I need for you to fight for me. Thirty days -- 34 days. What I'm asking is that you are going to drink just a little bit of the Bev Kool-Aid. You believe in me. You believe in us as a team. You believe in the capacity for several of us to chart a really different future, for little boys and girls, for older folks who feel totally hopeless because they don't have transportation or medicine, for young people who just want a chance at a good job. All over North Carolina. For a community that needs an infusion of infrastructure dollars because you can't get from here to there at 8 o'clock in the morning in the Charlotte metro area. You've got a leader who understand all of that. I'll work hard for you if you work hard for me.
"The promise I can make you other than opening that office in Charlotte of the people of North Carolina is that I'll never get above my raising. I understand how I got here, and I understand that I work for you, the people of North Carolina. And that's a privilege that I won't betray. I will get up every morning, every single morning like I did this morning, and I will think about what i can do, and I'll go do it and I'll partner with you and folks across the state to build a better North Carolina. And at night, after I go home and say my prayers, because I grew up an old Baptist, every morning and every night I do that; that's how I start my day. After I've done that I'll fuss at myself about things I didn't get done quite good enough, about things I have to do tomorrow. But at the end of the day I'm promising you that if you trust me and allow me to serve you as the next governor of North Carolina, in four years when there's somebody else or me standing here, asking for your vote and your help in 2012, you'll never regret your decision this morning to help me.
"You'll look at North Carolina, you'll look at Charlotte, you'll look at your own families, you'll feel good. You'll say together, together we made a difference. And North Carolina is on the right track. North Carolina is moving forward. With me you'll get your money's worth. You'll get an investment in the future that I don't believe any other leader in North Carolina history has been more passionate about making happen. For all of us, not just for some of us.
"And now it's up to you. Thank you for the privilege of coming in here this morning."


--------------------------------------------------------------------------------------------
The Forum welcomes all persons to its meetings beginning at 8 a.m. most Tuesdays of the year
at the West Charlotte Recreation Center, 2222 Kendall Drive, Charlotte, NC
down the hill from West Charlotte High School.