Parent University aims to be in 'every neighborhood'
Sept. 23, 2008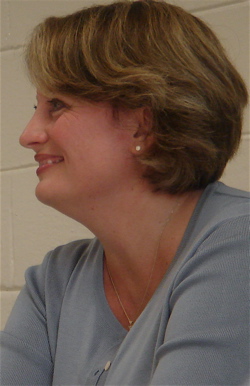 It's a place to learn about hip hop and pop culture -- and the nutritional needs of preschoolers and teenage brain development and bullying and strategies for job satisfaction and what's changed in schoolhouses since you were in school.
Parent University, launched earlier this month by Charlotte-Mecklenburg Schools, covers these and many other topics. But officials of the program made clear Tuesday that all of its components are designed to support adults in their role as parents.
Sue Gorman, right, wife of Supt. Pete Gorman, and several CMS staff members described the program at the Tuesday Morning Breakfast Forum.
Gorman said architects of Parent University spent more than nine months examining successful programs elsewhere, then designing one for Charlotte. The model they chose to emulate is the Parent Academy, in its fourth year in Miami-Dade County, Fla.
Parent University is "not a one-time thing," she said. "It's not a one-day class. It's an ongoing process, just like learning is."
The name, of course, is a misnomer. Parent University is not a college. It does not award degrees. It is focused not on research and academic publication but on what parents of K-12 students need to know about parenting, on how to deal with CMS, about health and wellness and other issues. It is open to parents of children who are not CMS students.
The number of classes -- 35 this semester -- will grow, and officials hope that businesses and faith and community groups will offer to host future classes. "We want to be sure everybody is taking part in this process," she said.
The program's goal, Gorman said, is that every parent be a better parent, not for themselves for but their children.
Asked what officials had learned from Miami about accommodating parents who speak languages other than English, Gorman said they had learned that while some parents wanted DVDs of programs, Hispanic parents in Miami favored recordings in MP3 format. More generally, Gorman said about Miami's program, "I'd say we took their tire and put our own spokes in it."
Tuesday's session did not clarify the primary target audience for Parent University. Indeed, Gorman in her introductory remarks made a case that Parent University would have something to offer just about every Mecklenburg parent. And she said she wanted the program to reach "every grade level, every school, every neighborhood."
Many programs die after initial funding runs out or because the operators cannot prove success, one questioner observed. Gorman responded that the Miami program initially counted only participation, so could not prove real impact. The Charlotte program will add other measures.
Indeed, Parent University officials will link confidential student records to adult participants in Parent University programs to see if the children of Parent University parents do better in school. Officials acknowledged the difficulty of isolating the impact on Parent University programs. And pressed about the propriety of using student records to assess the impact of a voluntary parent program, CMS Assistant Supt. Barb Pellin said officials were examining whether to allow parents to opt out of the assessment piece.
Officials also faced assertions that young parents -- the "babies raising babies" often cited as creating the biggest challenge for public educators -- had not been involved in designing the program. Sixty agencies were consulted, one official said. "We had lots of focus groups."
"We might have missed some grass-roots people," said CMS Community Relations and Outreach staffer Carlenia Ivory. "We are very aware that we need to do a better job of getting people involved."
"We can nitpick this all day," said one Forum particpant. "This is a blessing: Here is a group willing to go out and get parents involved."
"This is not a workshop where you come once and you're done," Gorman advised. "You have to commit to improving yourself and do it continuously."
"This is a program designed to last forever," she added later. "It is completely sustainable."
The $200,000 donated by Wachovia and $100,000 donated by the Belk Foundation has been described in the press as start-up funds. Where ongoing support will come from was not addressed Tuesday. Nor was it clear whether course leaders were being paid, and whether the start-up funds are covering the salaries of CMS officials who have been working on the program.
According to the Council of Urban Boards of Education, the Miami program in 2005 served 18,000 parents, "thanks in large measure to
more than $1.3 million in funding from businesses, foundations, and other sources."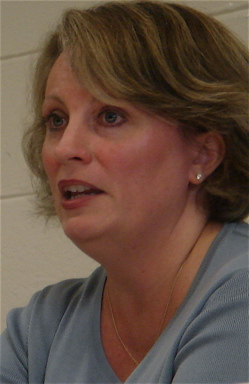 Asked whether parent participation would be mandatory for parents of children who faced disciplinary action, Gorman said her husband was working on that.
"He would much rather not have a student suspended for two days," she said, and officials are seeing if they can isolate situations where "much of the problem was not the children's doing but the reinforcement or non-reinforcement at home."
Pellin said CMS is exploring with local judges who deal with juvenile cases to see if some parents will be ordered by the court to take Parent University classes.
A question about how Parent University differed from the Parent Leadership Network launched a few years ago brought out that the Network was defunct. Gorman and Pellin noted that the Network was focused on developing a small number of leaders each year, not the many thousands of parents reached each year by the Miami program. And it was expensive: Pellin said it cost about $3,000 per person.
Asked if parents would in some way be rewarded for participation, Ivory said future courses would be held in partnership with PTAs that could provide food and other incentives.
More information on Parent University is on the CMS website. Here are examples:
The 28-page course catalog for the current fall 2008 semester
The current registration form to be supplemented later with online registration
Membership of the Advisory Council
Membership of the Curriculum Review Committee, which must approve course content


--------------------------------------------------------------------------------------------
The Forum welcomes all persons to its meetings beginning at 8 a.m. most Tuesdays of the year
at the West Charlotte Recreation Center, 2222 Kendall Drive, Charlotte, NC
down the hill from West Charlotte High School.