Supt. Peter Gorman displays a chart to participants at Sept. 16 Tuesday Morning Breakfast Forum.
Gorman: Reading scores will fall for black students
Sept. 16, 2008

Supt. Peter Gorman Tuesday predicted that October's announcement of reading test scores from last May will show a further overall decline for black students. He defended his reforms, but acknowledged that he didn't think "the results are where we'd like them to be."

In a wide-ranging question and answer session at the Tuesday Morning Breakfast Forum, Gorman explained what he's trying to do to keep CMS's focus on educating children even as it diverts resources to become "an auditing arm" of government to track down parent fraud in school attendance, subsidized lunch and athletic program paperwork.

He critiqued his Board of Education for rehashing issues over and over, but claimed that the board overall represents divisions within the community.

He appealed for volunteers. He asked committed people to form coalitions to support their views on where education should be headed. And he credited teachers with trying to help struggling children every day.

Failing to educate black children


Gorman was asked why CMS is pursuing business as usual when, for at least two years, about half of all CMS African-American students tested in math in grades 3-8 perform below grade level and below the standard set by Judge Howard Manning for providing every N.C. child a "sound basic education."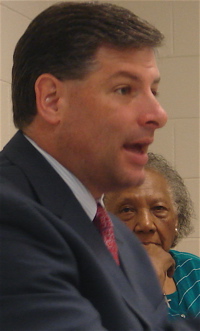 "I don' think we do have business as usual," Gorman replied. "I think we're trying to improve the school district every day. I don't think the results have been as much as we would like at all, I don't. I also think, too, that we've seen some changes which have occurred as far as how we assess, which have hurt us dramatically, and I think we will see it happen even more in October. I think we need to be upfront about that:

"I think you will see a greater percentage of our African-American students fail, score a level 1 or 2 in reading coming up in October than we have in recent years as we raise the bar on the number. Because the number of kids who are just over the bar tend to be more likely African-American students and students that qualify for free lunch.

"So I think we'll continue to see that. But I don't think we're doing business as usual. I don't think the results are where we'd like them to be, but I think if you look at what we've done with trying to move high-performing staff to schools, if you look at West Charlotte and West Meck and Waddell through High School Challenge I don't think it's business as usual. I don't think the results are where we want them yet though, no."

Asked later what it would take to educate children enough to bring the test failures closer to zero, Gorman said this:
'Well, that 's a pretty broad question. I think that the biggest factor we have control over would be what goes on in the classroom. But there'd be a series of things:

"Making sure we have the finest teachers in contact with the student.

"Make sure the amount of contact time with them is large enough to meet their needs.

"Make sure they have the supplies and materials that they need.

"I think the most important factor is that we've got the support of the team, meaning that it is the leadership at the school, the teacher at the school, and the parent.

"I think more and more we are being asked to raise kids and we can't do that. We just can't do that. People come to us and ask us to help kids out for situations where some kid's had academic enrichment activities in the summer and other kids had no academic involvement. I think we need support at home, which parents don't always have control over, but I think that's a component as well.

"Those are just some of the things. We don't have control over all the things. I think we need help with some of them."

Working with a divided board


Gorman was asked if schools dealing with low-performing children should adopt the medical model of triage: bringing multiple resources to bear on each child until the child's academic performance is stabilized.

"I think that's what our teachers are trying to do every day," Gorman replied. "And the Board of Ed doesn't try not to do that.

"I don't think you're going to see our board unite or coalesce around one school of thought. That's just the reality we're dealing with.

"I do make some failed attempts pretty regularly to try to bring them as a group. Which is a funky dynamic, too, to be their employee and try to lead your bosses. That's always fun.

"But I just believe that our board is so deeply, philosophically split on this issue, and I think sometimes other issues come into play that, when people agree on a topic but yet they choose to even diverge on that because of trying to get other things -- well, just watch what happens sometimes on some votes. It's perplexing."

Asked whether the board situation merits a takeover by the State of North Carolina, Gorman said, "I would never comment on that."

Asked if he feels supported by the Board of Education, Gorman said, "There's still conflict. I do think, though, that our board is representative of our community.

"I have yet to encounter anyone who didn't say that every child deserves to get a great education. I think what I found out is, though, is how people define what 'every child' is and what 'a great education' varies by community. Some folks believe that school districts are the font of knowledge and if you choose to come and drink, great, and if you don't, tough luck on you. And the challenge we face is what do you do when that's a second-grader who's made no conscious choice. How do we go that extra mile with them?

"No, our board meeting are, they're rancorous. We've agendized this free- and reduced-lunch item for a fourth meeting coming up. There's disagreement among board members about how we should approach verifying whether kids qualify for the free- or reduced-price lunch program. And then there's other individuals that I think have concerns about using it for a proxy for determining extra resources.

"You know, most boards, you don't agendize something four times in a row. You go and ask staff, you've given me information. Can you find out some other things and when you get it, report back. And we commit we'll do it in a timely manner. But we agendize it each meeting and we rehash it from the start."

Athletic eligibility, homeless status fraud


Asked how CMS was able to handle the new demands for address verification for athletic and other eligibilities, Gorman said this:

"We don't have staff to do that. We've now become an auditing arm in many ways, doing things for free- and reduced lunch, athletic eligibility, and then there's just the general student attendance.

"I'm not making this up: I got a phone call last week from a parent where, for the orchestra at their child's school, they just had where they played to determine first chair, and their child is second chair and the mom called me because she's convinced that the child who got first chair violin is not in the attendance zone and she'd like me to have someone check.

"We are using our school law enforcement folks to do that. And the one area we're really trying to be careful with, though, is: I don't want to ask our principals and our site-based staff to spend all their time verifying kids' [addresses] because we'd be taking our eye off the ball on student achievement and putting it on other areas and that's a big concern."

The federal McKinney-Vento Homeless Education Assistance Improvement Act requires school districts to provide transportation for homeless children such that they can stay in one school for the entire year, even if their families must move. When a Forum participant asked why some of Mecklenburg's homeless children were waiting more than a week for such transportation, Gorman said he would inquire. But the question prompted this:

"We're seeing an increase in the number of families that are staying at motels and declaring themselves homeless under McKinney-Vento, but then surreptitiously finding an address in a different attendance zone after doing a McKinney-Vento for attendance to be in a particular school's zone. We're finding more cases where we're finding individuals who are falsifying their address and trying to take advantage of McKinney-Vento to get attendance into a particular school."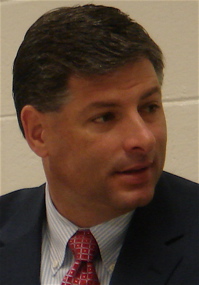 Responsibilities of volunteers

Asked about whether volunteers showed up as they had promised, Gorman said, "We do track volunteers. We can't force them to be consistent. But as we tell folks, volunteers need to come every day.

"Highland Renaissance had interesting data. They tracked attendance a couple years ago of their students based on the days that their volunteer reading buddy came. They had a 5% bump in student attendance on days when their volunteers came, kinda showing that kids come to school when they know there's someone special there for them...."

"We tell some individuals you have to be very careful. You can create a more detrimental situation by volunteering and not showing up and breaking a kid's heart and being another individual that might have let them down.

"If you want to volunteer at schools there's two kinds of work you can do: Some you can drop in and we need ya. But if you're working with a kid, he needs you or she needs you consistently."


Recruiting black teachers

Gorman was asked about attracting African-American teachers. "There is something you can do to energize the minds of the students. It's not just about academics."

Gorman said he would have data in mid-October. He mentioned that CMS has increased its recruiting at historically black colleges and universities. "We've targeted economically challenged areas where there may not be many jobs locally."

Shamrock success story


A Forum participant complimented the decorum and behavior of children observed during a visit to Myers Park Traditional Elementary, then asked about progress at Shamrock Gardens Elementary where, the participant said, her neighbors are moving out rather than send their children to Shamrock.

Gorman said Shamrock is a success story, having made adequate yearly progress under No Child Left Behind and being honored for high academic growth among its students last year. "It's an example of where you've got a quality teaching staff, kids working hard and the community sending their kids to school. It's been a positive impact... There are still too many kids not on grade level at Shamrock, but."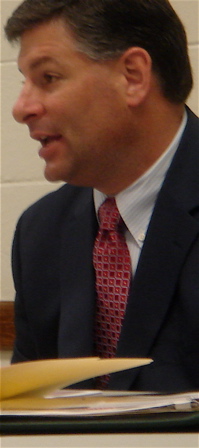 Attendance is key


Asked if elementary students should, like high school students, be asked to make up days when they were absent, Gorman said high school students do makeup days in a self-guided program, but elementary students could not. "I'm not a big fan of the make-up time," he added. "I think it is weak, in that kids don't really get to make up the academic experience. It's more just seat time, which is more quantity than quality.

"If you look at the absences of our kids, it's disheartening. At some of our schools, our average student, at Wilson Middle School last year, missed I believe it was nine days. That's 5% of the academic year gone. And that's your average kid. You know what that means: Johnny's here all the time, and Billy's gone 18 days, 10%."

Magnet update


Last spring's staff proposals to curtail magnets produced a board request, as Gorman said, that the staff "do more." But what "do more" meant varied by board member, Gorman said. And the board's "guiding principles" can be used to support or oppose most any magnet at any location. West Charlotte's open program, for example, meets the test for public interest in applying for the program, but fails the test for boosting academic achievement of its students. The Villa Heights elementary magnet is high-performing, but fails the CMS test of diversity because its students are disproportionately African-American.

"The discussion is far from over with the board," Gorman said.

Subsidized lunch audit


Gorman rehearsed the details of an audit of participants' eligibility to be in the free- or reduced-price lunch program. The audit sampled only parents near the income cutoff. Of the sample, 60% were removed from the program, either because they did not qualify or because they did not provide requested information.

Gorman said it was "very inaccurate" to extrapolate from the audit result that a similar percentage of all parents were ineligible. After some school board members requested a broader audit, Gorman said state officials wrote that they would withhold $34 million in federal lunch program funding if CMS conducts an audit that does not follow federal guidelines. But the guidelines are murky, Gorman said, and so staff has requested a letter from the U.S. Department of Agriculture that would clarify how the district may proceed.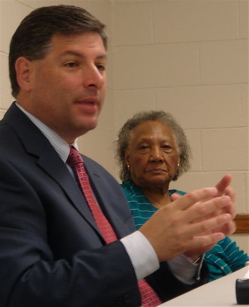 Lunch subsidy as proxy

During the debate over the audit, Gorman said, questions have been raised about whether lunch-subsidy data is a valid basis for delivering scarce school resources. Currently, the district provides extra teachers, materials and other resources to schools that have a large number of children on subsidized lunch. Gorman clearly believes that the lunch numbers are a solid predictor of academic distress.

"One of two things is happening," he said Tuesday. "Either it is a pretty good close match, or if you don't believe kids really qualify for free- or reduced-priced lunch, then the families that are mis-applying or the families that are not telling the truth happen to, at a disproportionate rate, fail EOGs and EOCs and I have a hard time personally extrapolating that fact."

"The free- or reduced-price lunch discussion is two discussions. One is: Are people accurately applying for the program? The other is: Is using that as a proxy for academic performance appropriate?... What I will tell you is, while people may not like us using free- or reduced-price lunch, it is in my mind remarkably accurate in linking free- and reduced-price lunch now with academic performance. You may not like using free- or reduced-price lunch. We're looking at other factors. But it is strangely linked and it's got this weird dynamic of people who are qualifying and some reason shouldn't still, at a disproportionate rate, are failing....

"I believe it is a highly charged topic, both related to the desire to help kids academically, and concerns about that program from a state of accuracy or fraud. And certainly I think like anything we do in Mecklenburg County, there's a fair bit of politics involved in that one."

Principal and teacher transfers into seven schools

The semester began with seven schools experiencing an infusion of new leadership. Favored principals were asked to take on turnaround assignments at low-performing schools. Staff making the move were offered higher pay and principals had the opportunity to take with them a number of support staff and teachers.

"We are off to a good start," he said. Comparisons are difficult because different combinations of staff were hired at each site. But principals at all seven told similar stories:

"The most stark difference that they experienced going to those schools was not in the teachers. It was not in the supplies from the school district. The most stark difference, in their belief, was in what they called 'the extras' ... the kinds of things that parents do typically.
"As they dug deeper, their first approach was they were going to try to make [the school] more inviting, more welcoming, get more parents involved, more volunteering.

"At Bruns [Avenue Elementary] when they held their Title One Fair to kind of kick off the year, they had 470 parents attend. So clearly the communities are coming out and they are embracing the schools. We've just got to be sure they feel welcome at the school, and that we utilize the support well.

The new art teacher at Bruns had been at Sharon and was accustomed to sending home a list of things for parents to purchase. Today at Bruns, Gorman said, parents cannot do that. So the school is "redirecting funds and also working with their community partner, AT&T, to purchase those things.

The seven Ppincipals also reported much higher percentages of new teachers on their new staffs, Gorman said.
"I intend on recommending to the board that we budget funds to expand the initiative. We did seven schools this year. I would like to see it at the minimum doubled for next year, and I'd like to see us double it again the next year, so that next year we can be at 21 and the next year we can be at over 40 of our schools.

Gorman invited the first seven principals to transfer. Since then, he's heard from some principals who volunteered to transfer. "So we are working on a cadre of individuals willing to go to some of our more challenged schools. One of our issues, though, is that we want to make sure that their student achievement data shows that they are the right person to go to that school. Volunteering alone is not enough.... You've got to be a willing participant."

Gorman noted news coverage that pointed out that some of the teachers hired by the seven principals had moved from other low-performing schools. "What our principals tried to do was bring a mix of teachers from already higher-performing schools and from lower-performing schools because they were concerned about exclusively moving teachers from high-performing schools, that they don't have experience working with kids that live in poverty."

Cost per student compared

Gorman was asked to compare CMS average costs per student with similar districts.

The current budget, he said, is just over $8,700 per student. The District of Columbia system spends just over $15,000, but Salt Lake City and some California districts laboring under tax limitations are far lower. Gorman's last district, in Tustin, Calif., spends $7,400. CMS looks to countywide districts for best comparisons, he said. Fairfax County, Va., is well over $10,000 per student, while Orlando, Fla., is much closer to CMS's $8,700.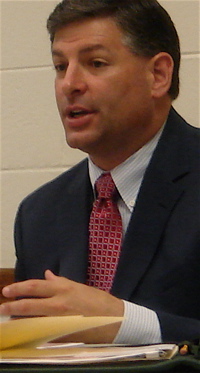 Equity Committee reports


When a questioner asserted that the Board of Education had never acted on recommendations of its own Equity Committee, Gorman said:

"I couldn't argue for a minute that the Equity report, as far as what the board does, it is minimal at best. As staff we comply with the equity mandates, or attempt to comply with that. The board does very little if anything with the equity report other than receive it.... They have a discussion. They don't typically do things with it."

Success with math


Asked about how CMS math scores rose, Gorman said that of 14 assessments for which CMS has two-year-earlier comparable data, "our kids are up in 12, level on one, and down point 4 of a percent on one.

"In math I think it's most largely attributed to good teachers particularly focusing more and more on reading and math."

Support for military families


A Forum participant who works as a family support specialist for the National Guard described the number of Charlotte-area families that will be affected by overseas deployments in the coming year. Gorman urged a CMS staffer in the room to begin conversations with the Guard about how CMS can be prepared to help the affected children.

Costs of concentrated poverty


Gorman was asked whether the children on subsidized lunch attending low-poverty schools have higher academic performance than similar students at high-poverty schools.

"In some schools, yes, in some schools no," Gorman replied.

Faith communities welcome


Asked for his reaction to an area church's detailed efforts to assist in the public schools, Gorman said, "I think we spend way too much time talking about the separation of church and state. We need to talk about the connection between faith communities and schools. We've got room for everyone. We've got room for everyone regardless of what your religious beliefs are. If you care and love kids, we need you...."


On other matters:

-- CMS will use Gates Foundation money to work with consultant ERS to review whether data other than subsidized lunch could be used to direct financial and staff resources to raise student achievement.

-- CMS opened school this fall with nearly all teacher slots filled. "We did get the benefit of the economy being really poor in other places. People have flocked to Charlotte in greater numbers."
Some teachers are being moved from school to school right now -- an annual shuffle -- to account for unanticipated enrollment fluctuations.

And, said Gorman, fewer teachers resigned last year.
"I'd love to tell you that's because we're doing a great job, but I know that one factor in that is that there is no job for them to go to. Like for young folks that came here to start their career and then decide they're going to go back home, there's no job back home to go to."

-- Asked if substitutes now must have a post-high school degree, Gorman said moving that way had been discussed but he didn't know if the decision had been made. "What I can tell you is that the pool of substitute applicants with degrees has grown. As the economy has gotten worse, the level of credentials of our applicants has increased, just like the level of folks applying to teach. We have folks coming to us that have a master's degree than ever before."

His own cartoon caption

Gorman was asked about the Observer cartoon contest that showed a Gorman figure carrying a huge book bag trying to get on a school bus. Gorman was asked how he would have captioned the cartoon.

"My caption would have been, 'Wow. Found a lot of baggage in two years."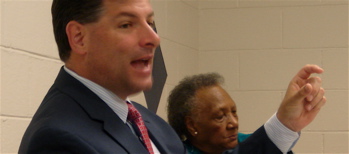 What citizens can do
Asked what Forum participants can do to support him, Gorman said: "Pay attention to what goes on. Be engaged. Be involved. Be active. Let board members know what your feelings are. Support the schools where appropriate. Volunteer in our schools. Track the information. Build a coalition to support education. We've got a whole series of things we need assistance with.

"For the structural change, it's building a coalition to move education in the direction you feel it should move in. From [an individual perspective], get involved with one kid. Help change one kid's life. We need you."


--------------------------------------------------------------------------------------------
The Forum welcomes all persons to its meetings beginning at 8 a.m. most Tuesdays of the year
at the West Charlotte Recreation Center, 2222 Kendall Drive, Charlotte, NC
down the hill from West Charlotte High School.