Promoting talk about schools that don't educate all
Leonard R. (Deacon) Jones, president of the Swann Fellowship in Charlotte, told the Forum Tuesday he is on a mission to talk with people who disagree with him.
Appearing with fellow Swann board members Richard McElrath and Mickey Aberman, Jones appealed to Forum members to read Aberman's recent paper, "Education and Poverty in Charlotte-Mecklenburg," and help the Fellowship spark a conversation about what it will take to get Charlotte-Mecklenburg Schools to educate every child put into its care.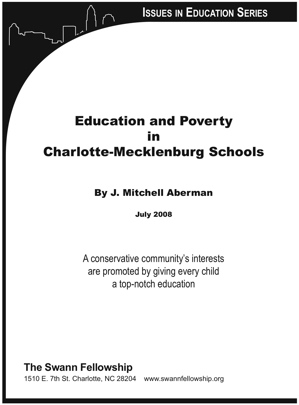 Aberman's paper may be downloaded from the Swann website by clicking on the picture at right. More information about the Fellowship's paper, and about community meetings since its July publication, can be found at the Fellowship's website, www.swannfellowship.org.
---
Red Cross seeks volunteers for possible hurricane evacuations
Sept. 3, 2008
Forum participant Pam Jefsen, CEO of the American Red Cross, Greater Carolinas chapter, writes:

"The local Red Cross is gearing up for possible evacuations from Hurricane Hanna. We would like to have additional volunteers on standby to be able to respond quickly to any size hurricane event. If you are interested in being asked to help with sheltering and feeding should the need arise, please send an e-mail to [email protected] Pam or her staff will be in touch with you and will provide a quick training if you are needed. Thanks so much."

---
--------------------------------------------------------------------------------------------
The Forum welcomes all persons to its meetings beginning at 8 a.m. most Tuesdays of the year
at the West Charlotte Recreation Center, 2222 Kendall Drive, Charlotte, NC
down the hill from West Charlotte High School.