Aug. 12, 2008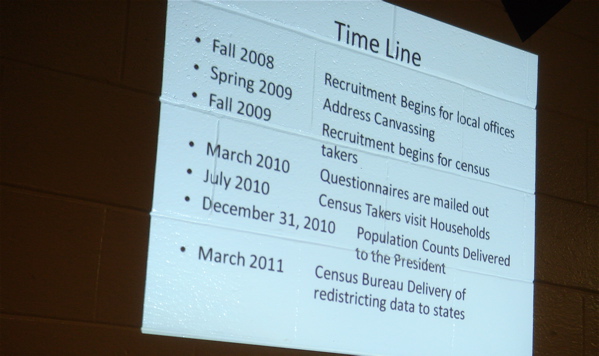 Census 2010 has already begun hiring for the count
Laura McClettie, participation specialist for the U.S. Census, addressed the Forum Tuesday. McClettie made a case that overcoming the minority undercounting traditional in the Census was important because so many federal allocations to local communities are based on population.
Her assurances that the personal data collected by the agency remains confidential did not appear to persuade a number of people in the audience.
And fear of deportation or other law enforcement action figured prominently in the questions raised from the floor. McClettie acknowledged that immigrants' fears have often led to low participation in the Census. She said the Charlotte office would be hiring a person to focus on establishing links within Charlotte's growing Hispanic community to encourage participation.
Although the Census will go to soup kitchens, people aren't counted at work, she said "The proper place to count people is where they live and sleep."
"We're just trying to make sure we count as many people as we can."
"It's very very important that the community understands," McClettie said, "that being counted is mandated by Constitution.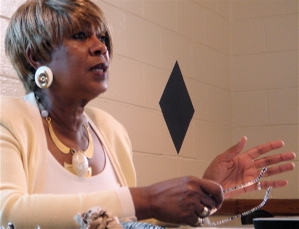 "However, because we have been undercounted, particularly in the African-American community, and the Hispanic community, and the Native American community, we are deprived of funds from the federal government. Three hundred billion dollars comes back into communities every year, and it's based on the number of people you have in your community."
McClettie said local efforts are now focused on hiring managers and creating partnerships with citizen groups. Large-scale advertising about the importance of participating in the Census will come early in 2010, she said.
One thing that may increase participation: All forms mailed out in April 2010 will be the "short" form that Census calculates will take only 10 minutes to fill out. The more daunting "long" form (48 minutes) is mailed out on a sampling basis year in and year out.
About Hispanic and black participation, McClettie said, "We need to reach the black community, so they hired me. We're getting ready to hire a Hispanic, to go into the Hispanic community. Then she's going to hire some Hispanic recruiters. They can't work unless they are documented. They have to be American citizens to work.
"But we also know, based on the dress rehearsal, that they have leaders in their community that they will listen to and they will trust. (TV Channel) Univision is what they look at all the time. So them getting a message from someone on television telling them to fill the form out because, you know, it helps you to get entrance to use, go into the hospitals, free lunch, or whatever. So we're going to have to find people they will listen to.
"It's not going to be an easy task. We feel like it's really going to be a challenge. But we're looking to hire from within their community as well, so they can work with people that trust them."
Persons being hired at the moment, McClettie, were being paid $13.75 an hour and up. Most of the jobs will end by midyear 2010.


North Carolina statistics
Population (7/07 estimate): 9,061,032
Growth, 200-2007: 12.6% (9th fastest growing in U.S.)
Housing units (7/06): 4,028,959
Largest N.C. cities (7/06)
Charlotte 630,478 (20th most populous city in nation)
Raleigh 356,321 (20th fastest-growing large city in nation, growing 25.0% from 200-2006)
Greensboro 236,865
Durham 209,009
Winston-Salem 196,990
Fayetteville 168,033
One race alone in N.C.
White 70.3%
Black 21.4%
Asian 1.8%
American Indian 1.1%
Ethnicity in N.C. (7/06)
Hispanic (can be of any race) 6.7%
Between 2000-2006, N.C. gained 218,419 people of Hispanic origin
Between 1990-2000, people of Hispanic origin increased 302,237 or 393.9%
Current survey data
N.C. median household income (2006) $42,625
U.S. (2006) $48,200
N.C. poverty rate (2006) 14.7%
U.S. (2006) 12.3%
N.C. unemployment rate (12/2007) 5.0%
U.S. (12/07) 5.0%
Consumer price index (measures the changes in prices between a current and a past point in time)
U.S. (12/07 - 12/06) +4.1%
South (12/07-12/06) +4.4%
Source: U.S. Census Bureau, 3701 Arco Corp. Dr. Ste 325 Charlotte 28273 704-315-6004 fax 704-909-6711
---
--------------------------------------------------------------------------------------------
The Forum welcomes all persons to its meetings beginning at 8 a.m. most Tuesdays of the year
at the West Charlotte Recreation Center, 2222 Kendall Drive, Charlotte, NC
down the hill from West Charlotte High School.