June 10, 2008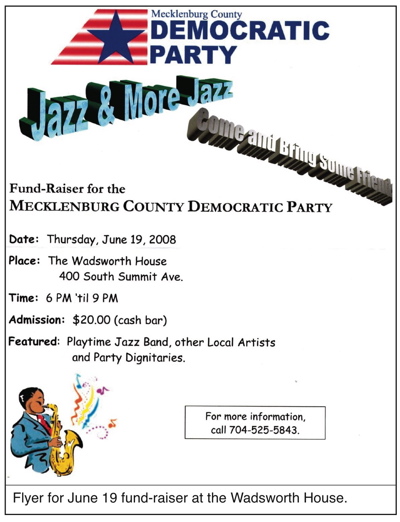 Democratic Party chair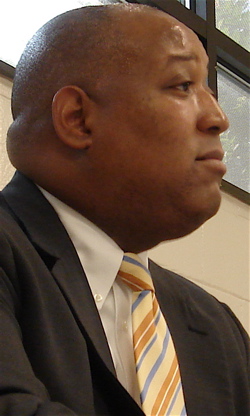 Joel Ford spoke to the Forum about his first 45 days in office and the party's plans for the current campaign season. More on this conversation will be added anon.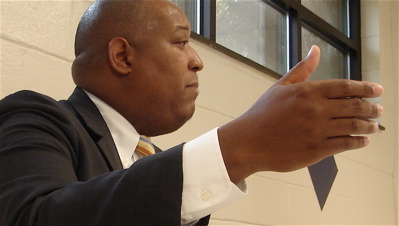 ---
John Brooks was N.C. Labor Commissioner from 1977 to 1993. This year he is in a June 24 Democratic Party runoff with Mary Fant Donnan for a chance to run against incumbent Republican labor commissioner Cherie Berry.
Brooks, a Greenville, N.C. native who was born Jan. 10 1937, jokes that he is not as old as John McCain.
Brooks told the Forum Tuesday of his background and encouraged early voting in the runoff. He said he was the only politician in N.C. history to unseat an incumbent member of N.C. Council of State, and said he would need help doing it again.
Brooks said that North Carolina needs to increase enforcement of workplace safety. If it does, on-the-job injuries will go down, which will reduce employers' worker compensation premiums. That reduction will allow employers to help finance health-care coverage. He said 75% of N.C. workers now do not have health insurance or funding for retirement.
Brooks also advocated the creation of a technology school that could offer expensive training for specialized skills that the community college system cannot now afford to provide. His examples were high crane operators and elevator mechanics.
Brooks said that when Bank of America was building its 60-story tower in Charlotte in the 1990s, it could not find North Carolinians trained in installing high-tech elevators, so it flew mechanics in from Michigan.

---
--------------------------------------------------------------------------------------------
The Forum welcomes all persons to its meetings beginning at 8 a.m. most Tuesdays of the year
at the West Charlotte Recreation Center, 2222 Kendall Drive, Charlotte, NC
down the hill from West Charlotte High School.