Harry Taylor, left, and Ross Overby, candidates in the 9th District Congress Democratic primary.
April 29, 2008
2 in contest to compete against Myrick in 9th District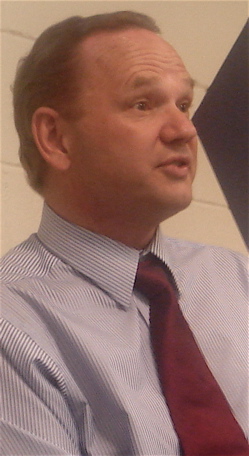 Ross Overby and Harry Taylor agree on this: There aren't as many differences between them as there are between both of them and incumbent Rep. Sue Myrick.
So they have agreed not to criticize each another.
Both think the district is winnable for Democrats this fall.
And both endorsed Barack Obama is his race against Hillary Clinton in the May 6 N.C. primary.
Overby is an environmental engineer and an Illinois native. Taylor, who told George Bush he was ashamed of the presidency when Bush was appearing at a town hall meeting at CPCC in 2006, is a commercial real estate agent and grew up in New Jersey.
Questions from the floor covered taxation, gasoline prices, preschool education, capital punishment (they're both opposed), and their own civic contributions. Neither currently holds public office.
Their websites are overby4congress.com and harrytaylorforcongress.com.
--------------------------------------------------------------------------------------------
The Forum welcomes all persons to its meetings beginning at 8 a.m. most Tuesdays of the year
at the West Charlotte Recreation Center, 2222 Kendall Drive, Charlotte, NC
down the hill from West Charlotte High School.