Tuesday Morning
Breakfast Forum
Charlotte, NC
www.tueforumclt.org
Home ● Where We Meet ● News ● Announcements ● Events ● About Us ● Contact Us ● Search ●
March 11, 2008
8th Annual Black History Concert announced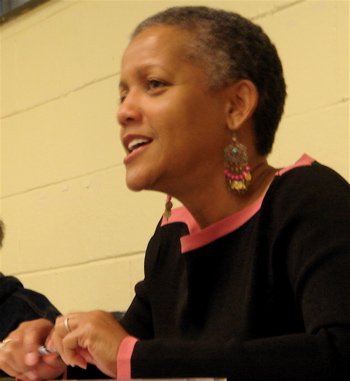 Toni Tupponce provided information about the 8th annual Black History Concert, which will be Saturday, March 28 at 6 p.m. at West Charlotte High School auditorium.
The concert features A Sign of the Times.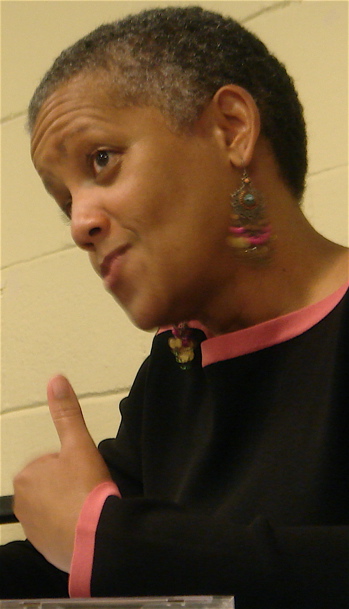 The concert is subtitied: "The Quilt: Covering Mothers, Mommies and Mamas."
Tupponce sings with A Sign of the Times. Tuesday, when asked to sing, she offered an a capella version of a song that she said would be performed March 28.
She said the song had been written for a memorial for her niece, who was murdered while her two children were a few feet away in their beds. Tupponse said the group would offer the song to "shed some light on the violence done to women."
For an audio recording of Tupponse's rendition of the song Tuesday morning, click the photo at right. The song is just over 2 minutes, and the file is large. If the sound "sputters," halt your audio player until the song fully downloads, then play the song.
The A Sign of the Times' Straight-Ahead Jazz Ensemble and GTC (Going Through Changes) will celebrate Women's History Month with a presentation at The Historic Excelsior Club, 921 Beatties Ford Rd., this Friday, March 16, from 7:30-10:30 p.m. There will be a $10 cover charge.
--------------------------------------------------------------------------------------------
The Forum welcomes all persons to its meetings beginning at 8 a.m. most Tuesdays of the year
at the West Charlotte Recreation Center, 2222 Kendall Drive, Charlotte, NC
down the hill from West Charlotte High School.