Tuesday Morning
Breakfast Forum
Charlotte, NC
www.tueforumclt.org
Home ● Where We Meet ● News ● Announcements ● Events ● About Us ● Contact Us ● Search ●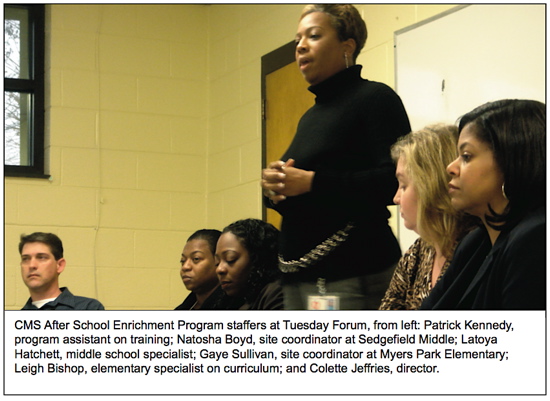 March 2, 2008
Small portion of need being met for care of children after school
The community knows the number of children at home asleep each night.
But no one seems to know how many are home alone each afternoon.
And no one is taking ownership of finding the resources to provide all children a safe environment in which to spend those afternoons.
Much is being done. Charlotte-Mecklenburg Schools has hundreds of employees taking care of thousands of children at afterschool sites. Most of the $15 million budget is from parent fees, but CMS keeps the lights and heat on and makes sure all children have a ride home.
And there are many more sites where children spend the afternoon. Most are private day-cares. Others are run by nonprofits.
But CMS After School Enrichment Program officials, speaking at the March 4 Tuesday Morning Breakfast Forum, concluded when pressed by audience members that perhaps 12% of all the at-risk children in Mecklenburg are enrolled in afterschool programs. The rest go home to grandmother, to high school sibling, to parents -- or to an empty house.
Claire Tate, the president of Partners in Out-of-School Time who was in the audience Tuesday, wrote later that the $2,160-per-school-year cost of CMS afterschool care is "a really good deal but most (low-income) families cannot afford it." Private programs tend to cost about $3,480, she wrote. Both numbers, she noted, do not cover the costs of care during the summer, roughly another $1,650 for an annual total of $5,130.
With roughly 50,000 students needing care after school, Tate calculates that the annual cost of meeting the full need would be more than $100 million.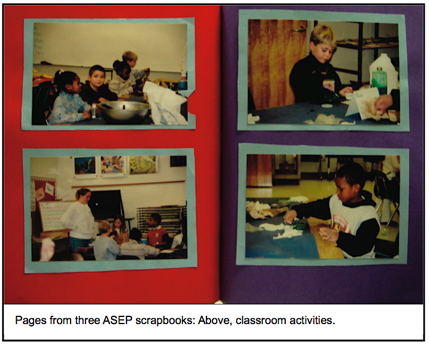 CMS Board Chair Joe White told the Forum Tuesday that the authorized funding level for federal education programs was stuck at 40% of the known need, and in a lobbying trip to Washington three weeks ago it appeared to him that in the current Congress "it is not likely to go beyond that.
"There is interest in moving more towards a universal pre-K program," White said. "Most of us sitting in this room fought to get K. But there's nothing out there that I heard discussed to start to fund afterschool programs.
"At this point when we go across the street in, what, five months now, to the county commission begging for money, it would have to be in that budget.
"And we know that, I ought not say this but I will anyway, we know that the Bill Jameses of the world are not all of a sudden going to be struck with a great light and say we're going to give the school system more money this year.
"So in order to get (afterschool programs) in there you'd have to decide what you want us to cut. Do you want us to cut one for 16 in terms of student-teacher ratio at our elementary Focus schools, Title 1 schools? It's a matter of money and priorities."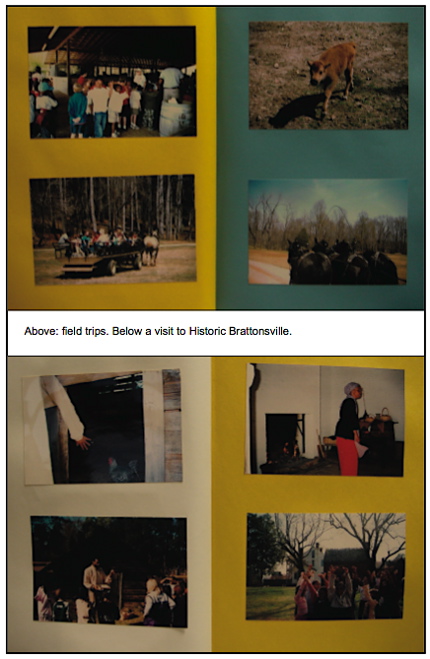 "I think it's a community issue," said CMS Assistant Supt. Barb Pellin. "We need more money to serve our at-risk children... We do look for mini-grants. We do look for other opportunities. But that is not enough to serve all the children."
About 7,000 children are on a CMS waiting list for afterschool care.
From Tuesday's Forum audience there was praise for the After School Enrichment Program staffers who spent the first part of the forum describing the activities that the programs offer children.
Elementary Specialist Leigh Bishop focused on the curriculum's "nice balance" of support for classroom work through homework hour, time to socialize, wellness programs, sports, arts and music. Myers Park Elementary Site Coordinator Gaye Sulivan noted that there is also time after the school day for children simply to be quiet alone.
Middle School Specialist Latoya Hatchett pointed to mentoring from older students, with Wilson Middle's program linked to the
West Meck High basketball team, and Johnson C. Smith University students mentoring at Spaugh and Wilson middles.
Hatchett recounted a weeklong trip involving 80 middle school students enrolled in the afterschool program. The tour visited colleges from here to Washington, D.C. There was, she said, "not one" behavior issue during the trip. "These are the kids who usually have high suspension rates," Hatchett noted. "It was an amazing experience."
Sedgefield Middle Site Coordinator Natosha Boyd said there were 44 at-risk children in tutoring programs during the afterschool hours. Suspension rates among children enrolled at Sedgefield are down 50%, and attendance is up 5%, she said.
CMS web-based information about After School Enrichment Program is here. For a list of the elementary and middle schools where ASEP operates, click here. The telephone number is 980-343-5567. The e-mail address is [email protected]
--------------------------------------------------------------------------------------------
The Forum welcomes all persons to its meetings beginning at 8 a.m. most Tuesdays of the year
at the West Charlotte Recreation Center, 2222 Kendall Drive, Charlotte, NC
down the hill from West Charlotte High School.