Home ● Where We Meet ● News ● Announcements ● Events ● About Us ● Contact Us ● Search ●
Tuesday
Morning
Breakfast
Forum
Charlotte, NC
www.tueforumclt.org
Sept. 3, 2007
Reid makes case for a November vote
to eliminate current sales tax for transit
Don Reid, co-founder of Sensible Charlotte Area Transit, was the Forum's speaker Aug. 28. In his address and in a question-and-answer session that followed, the former Charlotte City Council member made his case for support of the referendum question on the November ballot that would eliminate the current half-cent sales tax that supports transit.
Reid began by charactierizing his own group, Sensible Charlotte Area Transit or SCAT. Later he characterized the group urging a "no" vote during the referendum. After citing cost overruns and opening delays and other matters, he offered his perspective on his opponents.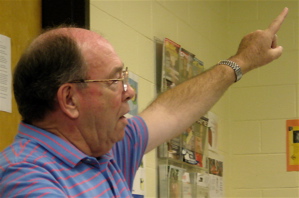 "The group that is in favor of repealing the light rail tax," Reid began, "we have a unique characteristic: We have not a single one of us that has a thing to gain by repealing or keeping the tax. We are ordinary citizens just like you. We don't work for the big banks. We do not work for Duke Power. We do not work for the uptown corporations and we have nothing to gain. We are there because we feel that the citizens of Charlotte, already the highest-taxed city in North Carolina, has embarked on a program that could potentially bankrupt our city and that is with the light rail.
"And light rail is the subject. Not transportation. We've been labeled as anti-transit. That's not true. Absolutely untrue. We believe in transit. We believe that there are some people who need transit worse than others. And we believe that our transit system today is far too expensive, and yes, it's grown but the costs of running it have tripled while the ridership has gone up about 60%.
"And all of you can see the buses. If you come around my area, around SouthPark and Rea Road and you'll see buses that are empty running all over this city. And that's why our costs are so high.
Opposed tax in 1998
"I'd like to review with you quickly because I was there, I was on the City Council in 1998 when this light rail new Charlotte transit plan was talked about and unveiled, when the one-half-cent sales tax was proposed.
"At that time, the one-half-cent sales tax was to support a $1.2 billion transit system, $1.2 billion. The cost of that transit system has grown. Everybody admits it's at least $9 billion, and there are estimates it will go even higher. It has to go higher, based on how costs have gone on the South Line and other parts of the system.
"At that time on the City Council, Mike Jackson and I voted against the half-cent sales tax simply because it was going to be used for light rail. And we did more than that. We went out ourselves and raised $5,000 and hired one of the most renowned transit experts in the country, Wendell Cox, to do an evaluation of our 2020 transit plan. Here is his evaluation. I'll give you only a couple of excerpts.... This happened in the year 2000, seven years ago:
"The South Line, this is the year 2000, has a capital cost of $227 million. 'Based on national averages it appears the project will eventually cost more than $500 million.' He was right on target.
"He's been right on target on the ridership, about the cost, about what you can expect based on what other light rail lines in the country have cost and how they've been done.
"A cost per ride of $10.76 was submitted by CATS to the Department of Transportation and that was based on a $254 million cost. So what will it be at $500 million? It could be as high as $30 per ride, per trip, per person. It could be. In fact, the chances are they will be.
'Nothing but problems' on South Line
"Now, I want to tell you about the South Line. It has had nothing but problems. And our modus operandi is to blame the contractor. Blame the people, that's what it's all been about. Today, [CATS CEO] Tober has resigned. And he is leaving and talking about the possibility the line won't open on time and looking at how we can hold the contractor responsible.
"We don't know what the costs are going to be. But I can tell you this about the costs, something that hasn't been told to you, and should be, is that currently the number that the City Council projects, and Pat Mumford's here and he can correct it but I think I'm pretty close, is about $462 million for the South Line. What they don't tell you... and I asked Curt Walton, the city manager, to give me this, is that through April CATS had spent $73.5 million on improvements along the South Line that came from other budgets. As an example, they took $50 million from the 2002 bonds and the 2004 bonds that were there for infrastructure. These bonds could have been used for building roads on this side of town, sidewalks or anything else. They put it in the South Line.
"They have not included that as a cost of the South LIne. They should. If you add that $73.5 million to the $462 million, you're well over $500 million and I don't think any reasonable person would argue other than that that should be added to the cost of the line.
"And we don't know what the cost of the line is going to be. The estimate that was made was made a few months ago, and this is only through April. So you can be sure, bet your boots, that it will never be done for $462 [million] plus $73 [million]. It won't happen. It's going to be a lot more than that.
Financing of North Line
"We do know that the North Line as proposed cannot be built. There will be no federal money for it, and I'm quoting CATS' own information. This is not coming from my conjecture. There's no federal money for the North Line. And the North Line will be built, if built at all, using property taxes. They call it TIFs: tax-increment financing. But that's nothing more than taking the property taxes that would be generated over what they say will be built up there, which is conjecture, and using that money to pay for the line.
"Now, here's what's wrong with TIFs, and here's why they are being used all over the state and why they should never have been passed to begin with: If we build a building out here on the west side, a huge project, and we take the property taxes that are generated from the project to pay for the project, who pays for the services that are provided for that project? Who pays for the extra garbage pickup, all the other things that property taxes usually pay for? I'll tell you who does: Everybody does, because they've taken that money and used it for something else.
"What TIFs does is hollow out the tax base and spread the cost over the whole population. And that's just dead wrong. And there's a limit as to what can be done.
"By the way, I have the greatest regard for Pat Mumford. I disagree with him on many things, but I do know that Pat Mumford is not dishonest. I always liked him and I still do. He just happens to be on the wrong side, but he works for Wachovia and is on City Council and that's just the way it is. But Pat is an honest guy. If you ask him, he'll give you a straight answer. And I consider Pat to be a friend. I hope that's true anyway, and I believe it.
"But it is laughable that Pat will call his organization grassroots. Here is the mayor, who works for Duke Power; Pat, who works for Wachovia. They've raised a million dollars and hired a PR firm that is nationally known, and they call themselves grassroots. We're grassroots, folks. That is not a grassroots organization....
"The information I've given you I consider to be facts. The thing that bothers me the most about the effort to retain the tax is they're not relying on facts as I see it. They're relying pretty much on a lot of threat.
"I know it's an oversimplification to say it's threats and fear and smear, but they are telling people on the west side that your bus system could be cut. They are telling the people in the suburbs and anywhere else that property taxes are going up. And sure, it could, but it doesn't have to. The false part of that is that it doesn't have to. They're using those threats to keep the tax. And for what? There's nobody on earth that says a light-rail line will do anything for congestion or pollution. No one. So why are we hell-bent on spending billions of dollars on light rail?
Reid's 30-minute commute
"This morning, for instance, I live out near, off Quail Hollow Road near Carmel Road. And I know traffic in Charlotte is a big problem, no doubt. I left my house at 20 after 7, and I was here at 10 minutes till 8. It took me 30 minutes to go from my house to here [West Charlotte Recreation Center], and that was a particular time of the day. I can tell you I could have taken a school bus and it would take me seven hours, or I could have taken, if I wanted to go light rail, I could take a bus over to the light rail line, wait for the train, take the light rail line uptown, it's only 9.6 miles, get a bus and come out here and it would take me two and a half hours at least. And that's what people are faced with, particularly on the west side because you don't live near the rail line either, and I don't. So the rail line will have nothing to do with you, will benefit you in no way and yet you're paying for it, as I am.
"Why then are we going ahead with it? Now, this is my opinion, and I think there is evidence it's true. First of all, it's all about development along the line. It's about developers in this town, and you can make a case for this, but you can't make a transportation case for it: Developers along the lines want the property and they want to develop it. And the unfortunate part is, in every situation so far across the country, developers have been subsidized in order to get the development that the system wants. A case in point is the one at Scaleybark. We were going to develop that. I don't know what the status is now, but certainly we're going to pay money to get it done.
"The South Line, by the way, started out at $227 million. In 2000 it went to $253 million. In 2003 it went to $273 million. In 2004 it went to $398 million. And by the way it was going to open as early as 2005. They've had opening dates, three different ones. Now it's at, it was $426 million in January 2005, and now it's $462 million in September 2006. That's an estimate. Never happen. Believe me, never happen. So that's what has happened. And by the way that's not an isolated case. All you have to do is go back to the Wendell Cox report of 2000 and he can document it. This has been the case with every light rail line across the country.
'It should be so insulting'
"Now here's what I want to end with. I think you're going to see the group headed by Pat and you can ask him for yourself: They're going to target the west side. They cannot win this, they cannot win this race unless the west side votes for it. And the west side has the least reason to vote for it of anyone. You are paying for it, the light-rail line will not serve you in any way at all as it won't serve me.
"And what they're doing is what they normally do. It should be so insulting. They have already insinuated that since so many members of the black community voted to put this on the ballot that there's something wrong with that. And now they're saying that you need to vote for it because we're going to give you a streetcar. A streetcar. And they don't know when. Why in heaven's name will a streetcar make any difference down Beatties Ford Road?
"I'll tell you what will make a difference over there is spending some money on infrastructure. That's what will make a difference on Beatties Ford, and this whole area. And if you think there's equity in the distribution of funds on all sides of town, come over to my area and look at the streets, and then come over to your area and look at the streets and tell me where things are better taken care of. I can tell you that.
"I know that is class warfare, but they're going to make class warfare out of it, and I'm willing to say to you, let's do it. Bring it on. I'll show you exactly what's happening on both sides of town.
"Right now we took money, we have $10 million out of stormwater for that south end South Line. We took $6.5 million out of water-sewer and utilities. And both rates were raised this year, and they spent it on the South Line. And right now, this is according to Don Lochman, my friend on City Council, there are over 1,200 cases of stormwater that need to be addressed that are backed up because we don't have the money to do it.
'Uptown crowd gets everything it wants'
"So I can tell you, in this town, I've watched. I've been there. And I've seen the uptown crowd get everything it wants. They've spent every available dollar on every toy on uptown since I've been there. They had to have the Convention Center, the Convention Center hotel. They had to have NASCAR, they're going to have the arts museum and on and on. And every single one of 'em, they have never met a projection with regard to cost. And you've paid for every one of them.
"The latest is the whitewater [center on the Catawba River]. All we heard was this was going to be the biggest moneymaker in the world. Right. Is it? No. It is not, and it won't be. I mean, I'm glad we have it. It's a beautiful facility, but when you think about it, building a whitewater facility in Charlotte would be like building a snow ski resort in Miami. It just doesn't really work. You can get the Olympic folks here. But people who want to go whitewater rafting, they can drive two hours and be in the real mountains and do it. So it is not going to make money. Everything: The baseball stadium, and I'm finished:
"The people who control this city are the Charlotte Center City Partners Board of Directors. I want to tell you who's on the Board of Directors of the Charlotte Center City Partners. Now, they've got representatives from all the big companies: Bank of America, Duke Energy, Moore & Van Allen, Charlotte Observer. Here's Ann Caukins, Charlotte Observer. She's on the board, and yet she's writing in favor of light rail. How can she and her staff be objective about writing about light rail when she's on the board of Charlotte Center City Partners?
"But here's the thing that should bother you most: Also on the board are Parks Helms, John Lassiter, the city manager, Harry Jones the county manager, Deborah Campbell who heads the planning department. So those folks get together and decide what's best for you, and by the time it gets to the county commission or City Council it's already been decided. That's exactly how the baseball stadium came about. I'm not opposed to a baseball stadium. These folks put the deal together, so of course Parks Helms takes it to the county commission, it's a done deal. John Lassiter takes it to City Council, it's a done deal.
'An unelected, imperialist board'
"So they're an unelected, imperialistic board, who are deciding everything that we need and they get exactly what they want. And that's what's behind this whole deal about light rail. There's no justification for it. The crime in some of the black communities is totally out of control, you know that.
"And by the way, when I was on the City Council, I've said this before -- I'm finished, I'm finished -- when I was on City Council there were people who came from the west side who wanted to speak to the City Council about crime. Generally speaking they were mothers and grandmothers, and they didn't ask for welfare, they didn't ask for infrastructure. All they asked for, would you please make our streets safe so our children can play outside in safety? And we have not addressed that yet. We are the 8th most dangerous city, 500,000 and above in the United States of America and we are spending our money on light rail. It makes no sense whatsoever, folks, and I hope you will vote to eliminate this tax, take back your city from the uptown crowd, and let's go back to the drawing board."
---
Excerpts from the Q&A session followed:
Asked when white conservatives who put energy into transportation would address racial problems in the city, Reid responded, "We do need to spend our money on things that will improve the community, and light rail won't do it."
Asked if a "yes" vote on the November ballot question would be a vote to repeal the tax, Reid responded, "We don't know yet what the wording will be. The Elections Board is still dabbling with that, but the bottom line is: vote to repeal the half-cent sales tax.
Larry Bumgarner, a member of SCAT, said "we need to disclose" that, contrary to what Reid said in his initial comments, one member of SCAT works for Wachovia. "But he won't make anything" from the outcome of the November referendum.
System to serve 4% of trips
Asked what percentage of commuters in Charlotte would ride the light rail, Reid said, "Based on the statistics as done by researchers and also looking around the country, except for a place like Washington and New York where everybody's going to the same place -- that totally different, don't let compare Charlotte -- we have the least density of any city in the country considering light rail -- I guess the most significant statement to make is if we continue to do what we're doing we will spend two-thirds of our entire transit budget, two-thirds of our entire transportation budget, on mass transit that will carry at the most. at the very most and I'm being generous, 3 to 4% of the trips in Mecklenburg County. And that's outrageous. So the roads, you know the roads, look at 'em. You folks have lived here a long time. I don't think I'm wrong that the words are in worse shape since I've been in Charlotte, and I've been here since 1958."
Asked if the issue is not transportation but misplaced priorities, Reid replied: "I agree with you that this whole issue is about misplaced priorities -- how you spend the money is up to all of us to decide, but we certainly have not spent -- we've spent every available dime in this city, all of the money that came in from annexation and we had a cash cow in annexation for years. We spent it all, and you can name the projects, folks, I don't have to.
"The Convention Center, the biggest empty box in town. We have to pay people to use it now. We had to have a convention center hotel. Well guess what: You've got at least $16 million, up to $20 million of your money in a hotel. Then we ran a $40 million trolley through your convention center, effectively destroying your convention center, so now we have to build another $30 or $40 million place with the NASCAR to so we can have a place for conventions, et cetera.
"It's the most stupid stuff I've ever heard. We've got a trolley line that's wasting $40 million of your dollars, $40 million, and it isn't running yet, and probably should never run. Why should we have a trolley and a light rail running on the same line? Will anybody please tell me what that's all about? Pat Mumford and his committee ought to stop the trolley, not his committee but his City Council.
"I would say to these train nuts who told us when they came to the City Council in 1995, if you guys will build the tracks, we'll pay the operations. I said that's a joke: You'll be back here in three years asking for operational money. And guess what: They are. Now you're paying for the operations. None of this makes sense in terms of priorities."
Asked about a $2 million request for security on the light rail, Reid responded that City Council had approved the request. Pat Mumford added, "It's all part of the budget.... We think security is probably pretty important for that line, so we went ahead and did that as part of the original plan."
Cuts to bus system? 'No way'
Asked about city comments that if the transit tax ends light rail would continue but other transportation spending would be cut, Reid replied, "That's ridiculous. You call your City Council reps and say, We need buses to ride to work. We need to get places and we don't have cars and you're going to cut our transit? There's no way they're going to do that.
"The South Line, I've heard Pat Mumford say they're going to continue to operate it and they should. It's almost finished. And I hope they operate it just to show you what a bad investment it's been. I hope it does operate, because if we would take a breather here, and operate the South Line for four or five years to determine who's right about this, that would be fine. But they're not. They're going full speed ahead with the North Line and using property taxes.
"Did you know today that if the Feds had to approve the South Line for money, they wouldn't do it because their guidelines have changed. We don't have enough density. We would not qualify for federal money on the South Line, today. That's how bad it is, and yet they are continuing full speed ahead. The answer is very simple.
"Here's an answer: We could right now repeal the half-cent sales tax, have the Council and CATS say we're going to stop light rail but we need the half-cent for buses and other things. Put the half cent on a ballot in the spring and vote on it again and tell the folks where we're going to spend the money -- and it could be done. The legislation, and by the way I have the legislation right here, allows that. No problem. But they don't want to do that. They want to continue this mass spending on light rail with no justification for it."
Proposal to re-authorize tax for non-light-rail priorities
When it was suggested that voters opposing the tax but favoring bus spending would be forced to trust that repeal would "call the bluff" and would not in fact lead to cuts in bus service, Reid replied, "We had a bus system before the half-cent sales tax. And the west side rides the bus more than anybody else. There's nobody out here advocating for that, and for someone to come over here and threaten you with that, you ought to run 'em out on a rail, because that will not happen.
"They need to cut some of the routes. They're riding routes all over the place and you're helping pay for it. Our bus system costs more to operate per mile than any bus system in North Carolina. Why? Why? Why did the costs go up 174%, over 200%, and ridership only 60%? Because they have empty buses running all over the place. No, that is not going to happen, beleive me.
"By the way, the legislature just allowed the counties to impose a quarter-cent tax for any purpose they want to. They just passed that legislation this year. You can impose a quarter cent. Take the quarter-cent and pay for the bus line. There are all kinds of options that they're not giving you. They're threatening you, scaring you, and hoping that, again, they can get folks who they need, and when they want something they usually come to the west side -- we need your vote here; you know, we'll give you a trolley -- but that's the way they've long operated."
Challenges to light rail in other cities
Asked if it wasn't true that 68% of the transit tax has gone to support buses, not light rail, Reid replied: "If they would agree to take the taxes that are being spent right now to pay for bus and to pay back the South Line and stop this light rail craziness for awhile, you've got the right answer. But they're not doin' it. They are going right ahead with the North Line. The university wants a line to the university area. The planning is just full speed ahead. They're using state money for the North Line. We could use any state or federal money to support things that really make sense, but we're not doing it. We're going to build light rail.
"And the only way you can stop them is to force them to use the other funds to fund the bus line, and to pay back the money. That's the only way you can stop 'em.
"The greatest threat to your bus system is continuing to through money down the light-rail deal, because there is no way they can pay for it without coming back for more taxes, sales taxes or otherwise.
"History repeats itself. In Los Angeles they were sued because a disproportionate amount of the money was being spent on light rail versus bus transit supporting low-income areas, and the low-income folks won.
"San Francisco, the same thing happened. Houston, same thing happened. Charlotte? Now the rail on Independence is in question, but the folks out there want rail. The streetcars on Beatties Ford Road are now last in line for construction, and our cost per rider is going out of sight. It's, it's about priorities. It's about using the available money to accomplish a transit purpose which, in our case, should be buses, absolutely should be buses, and stop light rail.
"Why would it make for the City Council, because of all the controversy -- and we've got document out the, that you wouldn't believe, showing supporting what I'm saying -- why wouldn't it be sensible to say, OK, let's stop building light rail. Let's finish the South Line. Let's continue funding buses, and let's see if the South Line really produces ridership, and let's see what the costs are. Why would that not be a reasonable thing to do? It would be reasonable, but they're not doing it.
"The folks in our city who run our city want light rail uptown. They want to subsidize, they don't want to build more parking decks uptown, they don't want the people who work there to have to pay $300 a month for a parking space, and so that's part of it right there. And of course you're paying for it all.
Asked if buses on the west side were running empy, Reid acknowledged that they are not, but added that commutes to uptown "represents a fairly small percentage of the workers in Charlotte. There are just as many people who work in the university [area], there are just as many people who work off I-77. Ballantyne is growing like crazy. We are not Washington, D.C., where everybody goes to Washington. You're right: You're supporting 16% of the workers with all this money. That's who you're supporting uptown with this light rail.
Citizens unable to hold elected officials accountable
It was suggested that the west side could not afford to risk the lost of bus and police services with a transit tax repeal, and that conservatives oppose to the tax should instead use their energy to change the elected and apointed officials who control how the tax proceeds are being spent, Reid said, "Here would be my answer to that:
"If we could hold them accountable, which we can't, then you can hold your folks accountable when they threaten to take away your bus line, and you can't either. The fact is we're control. This city has the biggest --you and I are like backwash at the beach. They control the big issues uptown. They do what they want to, and now it's light rail. I can tell you this, and I have nothing to gain from this: They are not going to cut the police in this town. They are not going to cut the bus system for those people who need to ride the bus. That would be, you talk about political disaster for them, that would be political disaster.
"There's plenty of money to do what i talked about doing without any of that going on. Plenty of money.
A questioner pointed out that east side bus routes carry more people than west side routes; and that there are more black people living on the east side than on the west side. "I need to go to the east side," Reid quipped.
The questioner also suggested that the quarter-cent tax authorization was approved by the legislature solely for the purpose of helping counties with their Medicaid and Medicare expenses. Reid's response:
"I could be wrong, and I'm certainly not an expert on all things. I truly believe the one-quarter cent can be used for anything we want to use it for in the county of Mecklenburg. I could be wrong, but I think that's possible. I don't think they limited it to health care."
Asked when white conservatives would deal with the disproportionate poverty among African Americans, Reid replied, "Have you ever voted for a white conservative?
"I'm head of the white conservative club, and there are only three of us left. The rest have been co-opted. I mean, you take the Republicans on City Council. Ask them. Are they white conservatives? I haven't seen anything conservative about 'em. But I don't know the answer to your question...."
Asked if he wanted other SCAT members to field any of the questions, Reid replied: "We have a very loosely jointed group of people. We do not have an organization, nor have we hired [inaudible]. We have a very loosely formed committee. [Former county commissioner Jim] Puckett and I are co-chairs, and when we get together it's not the same group every time." Puckett was invited to address the group:
Jim Puckett addresses group
"I am co-chair of this," Puckett began. "I was against the sales tax back in '98. I was one year into service on the Board of Education. At that time I said, if we're going to have a half-cent sales tax, it ought to go to schools, not to building a transportation system. We need to work on improving our transportation system but that didn't happen.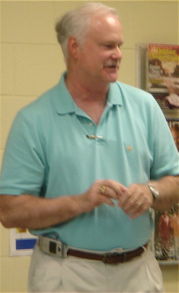 "There are those who today will say, if you take this tax away, you can't re-allocate it for schools. That's true, but I tell you what, folks: The public can and must get priorities set.... If the tax goes away, there's only so much money you can wring out of this community. I continue to say, nine years later, if we're going to spend $50 or $50 million a year, we ought to be taking care of the school system.
"A one-cent sales tax would have built all the schools we need and sunsetted in seven years. So you can re-allocate. It's not a direct linkage, but you can. If we're going to spend $10 billion dollars, we ought to be spending it on something other than just this.
"We have spent 68% on buses. Part of that's because there wasn't any rail, there wasn't any light rail to spend the first few years. You're taking in $55 million a year, and they haven't driven the first spike into the ground, so they re-did the bus system. That's a bonus: The entire region helped the City of Charlotte rebuild its bus system. Those facilities are in place now. They're not going to go away. The beautiful place out on South Tryon isn't going to go away. The park-and-ride lots aren't going away. They're there. We paid for that.
"I don't hear people saying 65% of the money is going to be on buses always going forward. Maybe it is. I'm hearing what's already spent. I want to hear what's going forward.
"Your bus system's at risk because, just like Mr. Reid said, it was the NAACP that sued the City of Los Angeles because all of the rail system sucked the money out of the bus system. When you have a multi-billion-dollar mortgage, you've got to pay that first. Services get cut. Think about it.
"Second part of this is, Will they take your bus system away? I don't know. I will tell you this: When I sat on county commission, and we talked about setting priorities, and we said one of the priorities was we might have to shut down Gatling Juvenile Center, on Monday night before a Tuesday vote, the sheriff found enough money to keep that open. When we said we might have to close the libraries on Sunday, Monday night the library board found the money and kept the libraries open. If you're going to allow your elected officials to tell you, if you don't do something they're going to cut your core services and you roll over for that, then you deserve whatever you get. That's just the fact. They're not going to.
Put it back on the ballot
"And the other thing they're not going to tell you is, they can put this back on the ballot. The county commission has the authority. If you repeal this tax because you don't think this is the best priority for the money, the county commission can put it back on the ballot for the primary May 2008 with a redefined system that pays for buses, that helps with any number of other transportation issues.... That's what you do: You start with better priorities. When the federal government won't fund your program, you ought to pay attention to that.
"And all of the North Line -- this isn't about the South Line; the South Line's built and is going to run -- it's a good thing or a bad thing.... The North Line is going to take 4,600 people on it. That's what the Feds say. Six hundred of them are already riding the buses. Six hundred come off the buses and get on the rail. And they're going to give away tens of millions of dollars in taxes to build those developments. Now, we don't even know what's going to be in those developments. We don't know if those are the jobs we're going to have, but we are committed to doing that.
"So there are options. Don't let your elected officials lead you by the hand and tell you they know best, and that if you don't do what they say, then you're in dire need. Get out there and make them do what you want to do, but there most assuredly are options. Do you know what? There was a bus system here before the tax. There will be a bus system after the tax."
Broad support for a bus system
Asked if the citizens would pay whether the tax was retained or repealed, Puckett replied: "My guess is the city wants a bus system. And if you want a bus system, back in '98 we spent $25 million a year on buses. So somebody is going to pay for a bus system, you're right. The question is whether you're going to pay $10 billion for a system that has buses and trains, or something less than that for a bus system, and free up that economic power to do other things. So yeah, you're going to pay one way or the other. Or, if this community decides it doesn't want buses at all, then I guess you could make that option and you won't pay for them. But I think we all agree we've got to have buses.
"My employees don't have automobiles. They ride, many of them ride buses. Many of them I go pick up. Some of them I provide vehicles for. I understand. I live in Huntersville. My office is in Pineville. I work in the only industrial area in Mecklenburg County. I understand buses. But I also understand that if you ride around Charlotte, as much as you need 'em, you tell me that every bus is full all the time. And the answer to that is no. Most of the the those great big buses have one or two people on 'em, and if you have to reduce the size and the routes, maybe that's the one you start with. You might have to get three or four people on that bus instead of one or two.
Reid was asked why it would be wrong for voters to rescind their 1998 approval of the transit tax. His response: "You'd better be careful. Remember, we had a referendum on the arena, right? 57% of the people on all sides of town said don't tear down our beautiful Coliseum on Tyvola and don't build an arena uptown. And guess what: The City Council, and Pat was on this council, went ahead and did it anyway. And we said don't do those arts projects uptown and spend that money on other priorities. They did it anyway.
"So right now the only way you can stop these folks is take their money away from them. That's the only way you can do it. If you aren't willing to take that little risk, then they're going right ahead. There's nothing wrong with preserving the corridors. There's nothing wrong with doing that, using the money to preserve the corridors, so that in the future we could determine whether light rail works.
"But we've got a good example right now -- 9.7 miles. We can get a good indication over a period of three or four years whether that's a good investment or not. But once you've got the tracks laid and all the money spent, you've got billions of dollars. Let me tell you: I don't even fathom $12 billion. That's beyond my comprehension.
'
Follow the money'
"But if you'll follow the money, see who's going to get a piece of that pie and you'll find out who's promotin' this thing. If you find out who gave Pat McCrory $500,000 for his campaign -- same people, the same crowd, I'm telling ya. They want that big, and it won't be $12 billion, it'll be $30 billiion before it's over with. $12, $15 billion spread around to the corporate community and developers, I'm telling you, that's what it's all about."
A questioner suggested that if Reid while he was on City Council had equalized services on all sides of town, then people on the west side would not now be in the position of having to protect the transit tax so that what core services they now receive will not be cut after a tax repeal. Reid responded:
"If the greatest threat to your basic services, to a lessening of basic services, or to the council adding more money to basic services, the greatest threat is to spend $12 billion, much of which goes to light rail. That money could be spent, folks, on doing the very things you're talking about. If you aren't willing to hold your folks accountable, then go along with them and get what you want.
"Look: I get nothing out of this. I've spent a lot of time and effort into it, and I'm doing it because I think it's the right thing to do. If you folks want to vote to continue the sales tax, go right ahead and watch this thing get totally out of hand. The greatest threat to your property taxes in the future, to your bus system in the future, is to spend 12 billion bucks on a system that does nothing for transportation. Instead it sucks every dime out of this county. That's the greatest threat. And I'm not threatening you with it, because I'm on your side."

--------------------------------------------------------------------------------------------
The Forum welcomes all persons to its meetings beginning at 8 a.m. most Tuesdays of the year
at the West Charlotte Recreation Center, 2222 Kendall Drive, Charlotte, NC
down the hill from West Charlotte High School.