Home ● Where We Meet ● News ● Announcements ● Events ● About Us ● Contact Us ● Search ●
Tuesday
Morning
Breakfast
Forum
Charlotte, NC
www.tueforumclt.org
Aug. 14, 2007
The Dance
Commissioners chair reprises her jig,
but has a partner this time around
Forum regular Vernon Herron Tuesday noted the presence of Mecklenburg Commissioners Chair Jennifer Roberts.
"When the bond issue passed before the commission, Jennifer got up and did a jig. I wonder if I may ask her to do that again?"
"Will you dance with me," Roberts asked. "Yes," came the reply, so the two took a twirl at the West Charlotte Recreation Center to the enthusiastic applause of the group.
In reporting on the July 10 commissioners meeting, during which a $516 million school construction and renovation bond proposal was approved, The Charlotte Observer reported:
"The unanimous vote appeared to catch Roberts by surprise. She made good on what she said was a promise: to dance a jig if the board came together on a figure. She did, rising and twisting to laughter and applause."
---
Tuesday's open forum discussion focused generally on citizen engagement. Two high points were offered by elected officials.
Trent Merchant, a Charlotte native and current at-large member of the school board, issued a call for citizen efforts to register more residents to vote in November. In doing so, he recalled a personal experience that taught him the power of citizen activism.
Later, county commissioners chair Jennifer Roberts, who also grew up in the Charlotte area, made a plea for support of the school bonds on the November ballot.
---
First, Merchant, who was responding to a comment about how officials built a basketball arena even after the voters had rejected the idea in a referendum.
"All I can say as an elected official is what I've told some of you: I can spend all day, I can work all day, all week trying to make the past right -- and I'll never do it. I can't. So what I try to do is take care of the present, and the future, and do my best at that. That's a bit of a punt of an answer, but it's the truth. From what I can tell, the way that the arena referendum was set up to be a nonbinding referendum? If you're looking for guidance from the voters, follow that guidance.

"I think, though, that the reason we have these endless debates, even after referendums are approved or defeated, goes back to voter turnout.
"From what I've seen, the turnout in an off year is somewhere between 18 to 20 percent among registered voters. But then you have to think: Among registered voters. There's a ton of people who aren't registered.
"I went out knocking on doors Sunday, meeting people and asking, well, do you know who I am? No, nobody's heard of me. Are you planning to vote? They're not registered. We're getting very few people that are speaking with votes.
"The best thing that could happen, and I would be pleased and satisfied, is if we could get huge -- meaning what? 30 percent? -- turnout this November.... We need a big turnout so we can put these discussions to bed so we can say, you know what, the people actually did speak. There actually was a mandate this time.
"If you look at Mecklenburg County, 800,000 people, then who is registered, then who actually votes, it's about four of us in this room, and that's a disgrace....
"It is so frustrating to see that people are not exercising their right to vote. They are exercising their right to run their mouth, but they're not exercising their right to vote.
"And we who show up at 8 a.m. to discuss important issues should take it beyond these walls, and make sure that our neighbors are actually registered to vote.
"I was introduced to this when I was 17 years old, in the 1988 presidential primary. I would be 18 by November, so I could vote in the primary, and I could work. So I got the best introduction possible: the Jesse Jackson campaign. Because we were out registering people to vote, driving people to the polls, not accepting any excuse not to participate. And it showed me, when we won in Charlotte and surprised everybody, how powerful that is.
"Imagine what would happen if we took some of that energy we're spending on hot air and passed out voter registration forms, pushed our neighbors to go register, drove them to the polls that day, called our friends at church and said, do you need a ride? Whatever it takes: That's democracy, in my mind."
---
Now Roberts, who was sitting in the back of the room but was asked to address the group by presider Malachi Greene:
"We're talking about schools, and I want to say a few things about the different issues that are at stake here.
"Operating budget is certainly different from capital budget. We worry about the disparity in achievement. We worry about the resegregation of our schools. Those are tied to the operating budget. And those discussions will continue and they are ongoing and there are a lot of things that this school board and this superintendent are doing that are positive. There are things that we [county commissioners] are doing that look at the whole picture.
"The county is health and human services, health education and welfare. It's not just the education system. It's pre-K. It's the healthiness of our kids. It is the mental health of our grown-ups. It's getting people off substance abuse. It is having safe family and home environments.
"Park and recreation: The reason you guys are so great is because it is a positive way to hit all of those things. You keep our streets safe because you give our kids positive things to do that are not getting them in trouble. You keep people healthy so they're out of the emergency rooms, because obesity is a huge problem here. And respiratory illnesses and other things that if you keep people exercising they don't have to worry about. You keep families together because they recreate together, do positive things. In fact, we have seven Park & Rec employees who are in school full-time. We have that much of a collaboration that's growing all the time, and getting better in every way.
"And we've got schools where, as soon as the kids go home, the community comes in and uses those gyms and those fields.... So we're looking at the whole approach.
"Certainly the achievement gap is part of that. We've got some middle school afterschool programs that are just starting, that are going to give some of that positive time, positive role models to some of those kids who really need that. That's the environment we're dealing with all the time.
"The facility question is important in a number of ways. And we know that the achievement, even at the schools that have 36 trailers, achievement is often pretty good, relative to schools in the inner city that are in impoverished areas that are not doing as well. But one of our big problems is teacher retention and recruitment. If you are going to a school every day where kids can't eat in the cafeteria, where they eat in the classroom, you have no teacher lounge anymore, the art teacher is rolling around the hallways with a cart, how happy are you going to be about your work environment? We have teachers leaving all the time because, like, I can't put up with this anymore.
"So your physical environment -- the big green movement, with natural lighting and skylights: Not only is it more economically efficient, but it is also humanly better. It keeps people happier in their workplace.
"All of these things are tied to achievement because they're tied to things that keeps people there. And the students learn better there.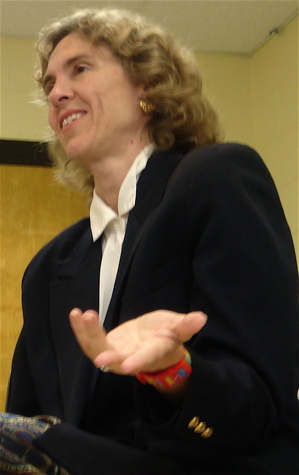 "Part of the bond package is science labs for Garinger. If you don't have any science equipment, if you don't have the place you can wash out your beakers and all that, how can you learn science? You can't watch a video -- which is what some of our kids have to do if they don't have a science lab. Science is all about experience.
"So there are actual academic aspects of this bond package, but more than that, the environment is incredibly important. A lot of schools are getting renovations and additions. We're also relieving overcrowding in the interior of the district.
"You know what this bond vote boils down to? Do we care about education? Are we really serious about supporting the infrastructure -- that one piece of education, one part, only one part, but a huge part. You've got to have the infrastructure, just like you've got to have roads and bridges and streetlights and schools and public places and park and recreation. We need to have schools for our community.
"What happened last time, when it was voted down: We came around with COPs, sure (certificates of participation, a form of debt not submitted for voter approval). But we took a YEAR to do that. We missed a whole year of issuing bonds to build schools....
"We need to be opening five schools a year just to keep pace with growth, but we're behind. We should really be opening, like, eight schools. And because we missed a year, we're behind. We're behind from being behind. And in the end that does not serve the community.
"We know it's $500 million, and that's only a start on $2.5 billion that we need. So whether this passes or not, yeah, we're going to build some schools. But it won't happen as fast... and we're going to lose more students from the school system.
"All the counties around us are dealing with the same issue. I have talked to commissioners in Gaston, in Union, in York, in Cabarrus. Cabarrus has an $8,000 per house impact fee that Raleigh let them levy, to help build schools. They are all bursting at the seams. It's not just Charlotte-Mecklenburg. And I think one of them [Union County] has a $500 million need over the next couple of years.
"So it's going to continue. We need to show that we support education infrastructure, and we need to get this over so we can move on to other operating needs we have. And I'm going to be the same as Trent: I'm going to be out there talking about how much we need these bonds."
--------------------------------------------------------------------------------------------
The Forum welcomes all persons to its meetings beginning at 8 a.m. most Tuesdays of the year
at the West Charlotte Recreation Center, 2222 Kendall Drive, Charlotte, NC
down the hill from West Charlotte High School.