Home ● Where We Meet ● News ● Announcements ● Events ● About Us ● Contact Us ● Search ●
Tuesday
Morning
Breakfast
Forum
Charlotte, NC
www.tueforumclt.org
July 10, 2007
Transit tax repeal prospects assessed
Two Charlotte City Council members Tuesday sketched a gloomy picture of the prospects for retaining a sales tax that finances large portions of the community's mass transit.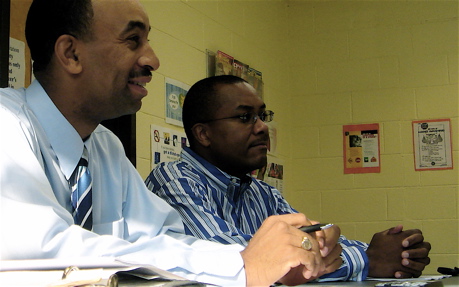 But both District 2 member James Mitchell (at left in picture) and District 4 member Michael Barnes appealed to listeners at the Tuesday Morning Breakfast Forum to help them identify how and where to provide voters with the facts they need to assess the transit question on the November ballot.
In a referendum, voters will decide whether or not to repeal the half-cent sales tax imposed on Mecklenburg retail sales in the late 1990s.
City figures for the 2009 fiscal year show that 68% of the tax's proceeds go to support bus operations. But school board at-large member Trent Merchant noted Tuesday that light-rail opponents "have made this an argument over a choo-choo train... it is a much bigger deal than a choo-choo train. Has anybody thought as far as what would happen if the people who ride the bus didn't show up [at work] that day?"
Mitchell opened the session by releasing a city-prepared fact sheet (see below) on CATS ridership and rider demographics.
"We get a lot of feedback about the empty buses riding around," Barnes said. "It's like the roads. None of our roads are full ALL the time."
"The public sector has a role to play in people's lives," Mitchell said. "Police is one, and public transportation would definitely be another."
Public pulse on issue today
Asked about public attitudes today on the transit tax repeal, Mitchell said south Charlotte favors repeal, while east and west Charlotte oppose repeal. "That is the early data we get."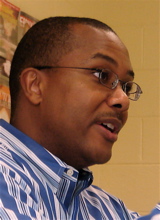 Added Barnes, "Both the school bonds and that tax may be going down in flames.
"West Charlotte says the tax isn't going to do anything for me -- the streetcar isn't coming for 20 years, so why should I support it; the schools aren't going to be built here so why should I support it?
"South Charlotte says we're fine, the rail isn't coming down here so why should we support it; and our schools are almost private anyway so we don't need any more.
"East Charlotte says you're not bringing rail down [U.S.] 74 so why should we support it, and you're not building schools over here.
"This is perception, and I hope that the school board and some other folks will start helping folks understand what that school bond money will do for the whole city....
"On the north side, in my area and part of Councilman Mitchell's area, people are saying well, we don't believe schools are coming in here and we're not going to get relief so why should we support the school bonds; and we're not sure about this rail thing.
"When you get to the northern part of my district, the University City area, people in that area, especially those who are familiar with the university and how it's being integrated into the community, are much more supportive of the tax.
"But beyond that I think it's got some serious issues. That's why I'm saying this Chamber effort has to be strong.... We have to let people know what they're going to get out of the transit system and the school bonds."

Before the sales tax
Asked where bus funding came from before the half-cent sales tax, Barnes said funding was much lower.
"It didn't exist, and that's why the buses were dilapidated, there were very few routes, there weren't any bus shelters, there weren't any real decent stops."
Mitchell added that of the $463 million spent so far on the South light rail line, $200 million was federal money, $107 million state funds, with the $156 million remainder from transit tax proceeds.
"If, in fact, the tax fails this fall, and the council is forced to come up with additional ways to pay for the system, like through an increase in the property tax, people are going to say, you're doing what you did with the arena. We said no, and you're still doing it. There's a tremendous amount of frustration and anger throughout the city.... We're in a pickle."

Black share in boom
Asked how much African-Americans business owners were participating in the economic development along the South rail line, Mitchell said he did not have information yet on minority participation in South line developments. Overall, he said, property taxes collected along the line rose from $600,000 prior to 2000 to $7,000,000 this year.

Black share in contracts
Asked about the level of participation by minority contractors in CATS construction, both Barnes and Mitchell said they did not have full data, but were dissatisfied with what appeared to be a low level.
Large municipal projects "rarely if ever involve minority businesses to any substantial degree," Barnes said. "There are a lot of folks who want to participate in economic development... but there doesn't seem to be many avenues to open those doors. I think it's going to take some wholesale changes among city staff and their perspective on the need to include minority businesses in large-scale contracts.
"There is literally billions of dollars being made in projects the city is a part of, and minority participation in those contracts is always miniscule."
Former City Council member Malachi Greene, the son of a black contractor, said "systematic exclusion," both legal and social, "destroyed the capacity of black businesses in the construction industry to participate at the mainstream level. I'll just say that. We can talk about it later."
---
CATS Transit Facts
July 9, 2007
(prepared by city staff; distributed by Council member James Mitchell)

CATS customer demographics:
African American: 66%
Caucasian: 28%
Other: 6%
Primary rider: 36% of all riders are African American female
Secondary rider: 30% of all riders are African American male

Top ridership routes:

Rt. 9 Central Avenue: 1,460,069
Rt. 11 North Tryon: 1,187,644
Rt. 7 Beatties Ford Road: 1,008,628
Rt. 12 South Blvd.: 788,928
Rt. 86 Gold Rush: 774,113
Rt. 24 Windsong-Arrowood: 717,397
Rt. 27 Monroe Road: 701,270
Rt. 10 West Blvd.: 638,252
Rt. 16 South Tryon: 611,998
Rt. 8 Tuckaseegee Road: 598,797
Rt. 84 Gold Rush: 596,201
Rt. 23 Shamrock Drive: 550,074

Community circulators: 60% are female; 75% are African American

Rider demographics:
Average age: 37.4
Female: 52%
Full-time employed: 83%
Do NOT have a driver's license: 45%

Income: 74% of customers earn $40,000 or less
Income of customers on local routes: $20,870
Income of customers on express routes: $54,940

Hospitality and Tourism is CATS' biggest single pass buyer at $20,000 per month

Rider survey
72% use CATS to go to work
7% use CATS to go to school
21% use CATS for medical, family visits, entertainment trips, etc.
66% have been riding for a year or more
74% live close enoguh to walk to the nearest bus stop (usually .25 mile)
74% will make a transfer to another CATS route each workday
79% say they probably to definitely will continue to ride CATS
98% say that CATS is valuable to extremely valuable to the region
96% say that CATS is valuable to extremely valuable to them personally
71% believe CATS provides them with easy access to things they need in their everyday life, such as work, daycare and shopping
80% believe CATS is important because it provides transportation for people with disabilities
75% believe CATS provides equal service to all customers
74% believe CATS saves them money
--------------------------------------------------------------------------------------------
The Forum welcomes all persons to its meetings beginning at 8 a.m. most Tuesdays of the year
at the West Charlotte Recreation Center, 2222 Kendall Drive, Charlotte, NC
down the hill from West Charlotte High School.