Home ● Where We Meet ● News ● Announcements ● Events ● About Us ● Contact Us ● Search ●
Tuesday
Morning
Breakfast
Forum
Charlotte, NC
www.tueforumclt.org
June 5, 2007
Provider ready with services for disabled
Consultant Kellie Anderson Tuesday asked Forum members for help identifying young people with disabilities who could benefit from job placement services financed by a federally financed program.
The Projects With Industry services are designed for persons age 16 to 22 identified by school systems or Vocational Rehabilitation as disabled. School students who have had Individualized Education Plans or IEPs qualify for services.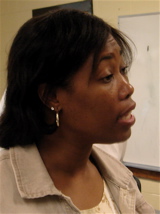 Anderson said the program now serves 22 students at two charter schools in Mecklenburg, Crossroads and Kennedy. Under provisions of the grant, the program needs to serve a total of 132 students within a three-year period. That period is about half over. Anderson said the program did not yet serve any students from Charlotte-Mecklenburg Schools.
Anderson said her job-placement and counseling services are free to schools, and to the employer who may qualify for tax credits for hiring individuals with disabilities.
Anderson gave two examples of young persons served:
-- "I have one who wants to work on cars. We don't tell him he can't, but because of his cognitive function he really can't. So what we've done is we've set him up with a mechanic, who has him come in and make sure the tools are in the right place, make sure that the cans are set up in the right place. And he's just fine with that. It doesn't phase him a bit. He is just as happy as he can be. So what we're doing is giving them the belief that they can do better."
-- "I have one child now who, all he wants to do is sweep floors, because cognitively that's all he can do. But he says, 'I'll be the best floor sweeper. I just want to sweep floors.' We don't change his mindset on what he wants to do. We just enhance it. You want to sweep floors? That's fine. We're just going to tell you you've got to be to work on time, you've got to check in, be polite, you've got to dress in a certain manner. So we give them the tools to be good at what they want to be good at."
The Projects With Industry program also has a parent-education component of the project. "When parents become empowered, they empower their children," Anderson said.
Anderson said the federal grant was obtained by Lianda Resource Solutions Inc. of Winston-Salem.
Persons wishing to volunteer or with leads on how to expand the program to serve more young people may reach Anderson at 704-965-4765 or [email protected]


--------------------------------------------------------------------------------------------
The Forum welcomes all persons to its meetings beginning at 8 a.m. most Tuesdays of the year
at the West Charlotte Recreation Center, 2222 Kendall Drive, Charlotte, NC
down the hill from West Charlotte High School.