Home ● Where We Meet ● News ● Announcements ● Events ● About Us ● Contact Us ● Search ●
Tuesday
Morning
Breakfast
Forum
Charlotte, NC
www.tueforumclt.org
May 30, 2007
Middle school afterschool programs explored
Claire Tate, president of Partners in Out-of-School Time, a Charlotte nonprofit, Tuesday outlined a pilot program to broaden afterschool program opportunities for CMS middle school students.
This month, city and county officials recommended public funding for the pilots, which CMS says would serve about 100 students each at Coulwood, Albemarle Road and Quail Hollow Middle Schools beginning this fall. Information on the program is at the POST website, www.postcarolinas.org.
About 40% of the total budget is to be raised from companies, foundations and individuals. Tate said POST expected to have that money raised by July 1.
Several participants said they supported the programs because parents who cannot afford current $3,300-per-year programs need access to the $5-per-semester programs POST plans.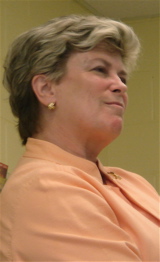 But there were many questions. Some wondered whether the new programs would be financed at the expense of long-successful afterschool programs in Charlotte's poor neighborhoods. Others asserted that African-Americans had not been included in planning the programs. Others challenged public monies going to pay POST salaries. Others questioned Supt. Peter Gorman's legal right to use CMS in-kind services like facility space and bus transportation for a program that the school board has never been asked to support. Tate's support of heterogeneity in CMS school programs was questioned.
The elephant in the room was ongoing community mistrust -- between whites and blacks, between rich and poor, between those with clout and those without. By the end of the meeting, there was a call to have a broad community discussion of the elephant.
Presider Sarah Stevenson said she would invite school board member Vilma Leake to address the Forum later on some of the issues she raised Tuesday.
- - - - - -
Tate said she had been running POST for six years.
"Our vision is that all of the young people in this community who are school-age, kindergarten through 12th grade, would have safe, nurturing, enriching opportunities when school is closed. So out-of-school time means after school and summer."
After polling Forum participants about their lives as school students, Tate said a principal told her recently, "All the parents are working. We've been talking about latchkey kids, we know about that, children who go home and they do the right thing. But he said, 'We've got students in this school who are locked out. Their parents don't let them in when they're not there. So until 6 o'clock in the afternoon they are on the street."
"This is the atmosphere that we have been interested in at Partners in Out-of-School Time for the last six years. We know that most all the parents are working, regardless of whether kids have one or two parents, how many they got, all the parents are working. There are not as many people in the neighborhoods. There are not all those eyes on the kids in lots of neighborhoods as there were. And we see bad things that are happening to kids.
"When we started into this we said, well, we just need more afterschool programs. So we looked around, and somebody says who's going to pay for those afterschool programs? And the first thing we found out was that our school system has an afterschool program at every single elementary school. They're OK. They're licensed, they are a good, safe place for kids to be. But you have to pay, and it's not cheap.
"And you look around the community, there are afterschool programs, great ones, in all of our neighborhoods, run by our churches, our neighborhood institutions. But for the most part, not all but for the most part, parents have to pay." Tate said the average cost of afterschool care in Mecklenburg is $3,300 a year or about $72 a week for the school year. Many parents can't pay, she said.
"Those are the kids, for the most part, who are home alone.... We are blessed, there are some free afterschool programs, but there are not many. That's basically why POST got started, because there are lots of kids out there who need good, safe places to be and there are not enough of those places.
"One of the things we did when we started, we said we're concerned about all these kids, kindergarten through 12th grade. I'm a mom. My children, thank you God, are 24 and 27 and both have jobs and nobody's been to jail. And I don't say that lightly, because we certainly had our scrapes. Children who are normal get around in this community and they don't all do what they're supposed to do all the time. What we've tried to do for six years is create a network of folk who are connected around the desire to (A) have more and better places for kids to be; (B) to provide assistance, training and technical assistance, where grants might be, etc., to programs that are trying to get going; and (C) to provide information broadly across the community about where programs are, and where training and technical assistance might be.
"When we first started this, there were no folks in this community who were paid to provide technical assistance to everybody across the community. So the first thing we did is we hired a schoolage worker. POST paid for it and the person was on the staff of Child Care Resources, and that operated for about three years. Then Child Care Resources was able to get some state funding, so now they've got the two schoolage workers and that's great. So they, Child Care Resources, serves families with children birth through 12. So Child Care Resources has folks who can go around and help with afterschool programs up to the age of 12. But still there was nobody for the older kids. So what POST has done is focused its work on the older kids.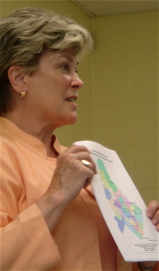 "Since we started, people have been coming to me and saying, Claire, these middle school kids, they're too big for child care, their parents think they're too big, they certainly think they're too big, but they're not old enough to get a job.... What we have looked around to see what would be possible to expand afterschool care programs for middle school kids. The first thing we did last year was, while Frances Haithcock was interim superintendent, went in and talked to her about a program that we had seen in Boston that was trying to expand into North Carolina. It had some funding from national foundations, the Edna McConnell Clark Foundation for one, that had given money to this program to expand into other places. And they had a really good track record, 10 years of a really good track record for kids. The good track record means the middle school kids were going on to high school, graduating from high school, staying out of trouble and doing well.
"This program was called Citizen School. So when we talked to Dr. Haithcock she said yes I would like to know more about that program. So when we brought them in, the folks from Boston came down and met with Dr. Haithcock and several members of her senior staff. At the end of that time she said, I would like to see this program in two of our schools. So POST's job as an intermediary, and remember I haven't said anything about running programs for kids; we work in partnership with the people who do, what we did is help Citizen Schools and the school system develop a partnership and connect with the community, and now that program is operating at Martin Luther King Jr. Middle School and at Eastway Middle School four afternoons a week, and it's fabulous. They each serve about 100 kids.
"Let me tell you the kind of program, because we've been talking about middle school kids. And you all know what middle school kids are like. You're sort of half little, half big. They think they know everything, but then they follow a lot of other people too? Well, the one thing about middle school kids that we do know is they vote with their feet. Anybody ever had a program with middle school kids and they didn't show up, or they didn't stay long? They scampered off somewhere else? Well, part of what Citizen Schools has learned through the years is what kind of program it takes for kids to be engaged.
"So Citizens Schools first of all is free. That's the first thing we knew, that the folks don't have the $3,300 a year, and the kids certainly don't. And so it's free. The school system has provided space for it. The program has a full-time site director who is there as part of the school community. In fact, the site director at Martin Luther King is Eric Turner. You might know him. His dad is Mike Turner. So Eric is site director full time, 12 months a year.
"These kids, what they do, first of all, they have a great staff who are cool, fun folks to be with, that's the first thing for kids, but they're smart and caring and hopeful. They have very high standards for these young people. Four afternoons a week... the kids are having a snack, very important. They've got a staff of caring adults, so the ratio is one adult to 10 kids, so small groups, not larger groups like they've got at lots of places. They have homework assistance, they have tutoring, some from the people in their school, some from others. Then what they do that the kids really love is they have what are called internships. So two afternoons a week, the children do different things. See I still call them children. They sign up for internships like they sign up for classes at school, so on Tuesday afternoons they've got one and on Thursday afternoons they've got another. So if you were to go over to one of these two middle schools after school... first I saw a group of kids who were doing forensic exploration like CSI. They had a fellow from the community who is teaching them how to do the forensics.
"There was another group of kids that were doing wrestling. They had learned to wrestle. They had another group of students who were learning how to develop a restaurant. They had gone out to visit a restaurant, they were writing a business plan, and they were going to prepare the food for the end-of-session program. Another group of young people over at Eastway did a fabulous mural that's in the school. It is just absolutely beautiful. At each school there are young people who are working with volunteers who are doing a Junior Achievement course My Company. So they are learning financial skills. I've just scratched the surface. Kids have learned the Red Cross, first aid, CPR and they are first responders in their school, art courses. I'm giving you a sampling.
"What is important to me about this kind of program is for young people it's more time with caring adults, it's assistance with their homework, it's introducing them to careers they might not know about, it's talking about college and their future academic aspirations. It's a connection with their families because twice a year there are programs where their families come in, and every week parents get a call from one of the people in the afterschool program, telling how they're doing. So, again, the young people are having great experiences, and they're also learning 21st century skills.
"One of the things that keeps coming in my mail and my e-mail is the fact that our world has changed so rapidly and it's continuing to, and our young people need skills that a lot of us don't have if they're going to acquire and keep jobs. And in 21st century skills one of the first things they need to do is to be able to stand up and speak well and communicate with adults and other people. So part of what goes on in this afterschool program is that young people from the very beginning learn to stand up and speak and make presentations. Their teachers have told me that after a week they can see a difference in these young people. But they're also working on computers, etc.
"I tell you that as background, because Citizen Schools really struck a chord with a lot of people. It did with the school system as well as other volunteers in the community. Then what came to POST was, how can we have more of these?
"So when Dr. Gorman came to town I sat down with him and he said yes, we need middle school programs for all of our kids. We only have a few programs now at CMS. There are several that are run by federal grant. They're called ACE, and then at a few other middle schools that are based on parent fees. But we have 32 middle schools, and only 11 of them have any kind of program at all. So Dr. Gorman said yes, we need afterschool programs in our middle schools. I will put this in our strategic plan. And then we started to develop a partnership of how could this operate? The school system said that they would provide the facilities, and snack and transportation. And they said they like the model of Citizen Schools that had a youth-serving organization with a strong track record coming in and running a program in the school. But the school system can't be all things to everybody, and they would be happy to partner, if there were a method to ensure that this was a good program. So what they asked us to do is to develop the community standards and create a screening process for who would come in there. So POST has had a process with our partners from across the community to come together and said, what are the standards that we want to see for middle school programs? We love Citizen Schools, but there are some other things that we want too. For instance, Citizen Schools runs four afternoons a week. What we heard across this community was, no ma'am, we need programs Monday through Friday. So we changed the standards so there is a community standard for middle school programs that everybody agreed to.
"The people who helped us develop this program are folks from the school system and the community and our community college, who work with young people, and they said this is what all young people need. So that's how we created Middle School Matters.
"We have an application that is on the POST website [www postcarolinas.org] that is mailed or given to anybody who wants it. And right now organizations are writing applications for these programs. Oops, I forgot a major step:
"The school system selected what would be the first three sites, because what we all thought was that we should start with three sites, and that hopefully the city would fund one, and the county would fund one and the private community would fund one, that they could be in different parts of the community, and that would be a really good pilot phase. So the school system selected Coulwood, Albemarle Road and Quail Hollow Middle School as the first sites. Each of these schools has more than 50% free and reduced lunch. The principals were thrilled. They said we have hundreds of kids who would like this program. The principals very enthusiastically offered space in their schools for the programs to operate, they've each got about 150 laptop computers that they would love for the young people to be involved with in the afternoon. The organizations came together, as I said, and are writing applications right now.
"The way the process will work is that by July 1st, three organizations, two or three, will be selected to run these programs. And the selection committee is a group we call Middle School Matters. The city will appoint a person to be on the committee. The county will. The school system will. The Foundation for the Carolinas and the Chamber of Commerce will each appoint a person to be on the committee. I will also be on the committee as the chair of this, and Jerry Fox, our former county manager, chairs the POST board and he will be on the committee.
"We will read these applications and select which organizations will run the programs. And these organizations will be given the money to run the program. And what we will do as POST is we are running a very rigorous evaluation across these programs. We are purchasing new computers for each of the programs. We are providing training and technical assistance from our partners across the country and across the state.
"We are developing a lot of 21st century content, which just isn't there right now. We're working with the North Carolina Department of Public Instruction. Our State Board of Education has a new bold statement as of last summer talking about 'future-ready kids' -- this is the 21st century that we want our kids to know. So we are writing curriculum and will provide training to help these nonprofits, and we're doing it in partnership with the school system.
"So the short version is that what I've talked about, and I'll give you a packet now, it's called Middle School Matter, and it is a project to ensure that hundreds, 300 we hope the first year, of our young people have extended learning opportunities to improve their academic achievement, their social and personal skills, and connect them to opportunities for careers and college.
"This project falls directly in line with the reports and the requests of the United Agenda for Children, the Homicide Task Force, the Youth Risk Behavior Survey as well as the State Board of Education's Future-Ready Kids and our own school system's strategic plan.
"This packet of information tells about Middle School Matters, and I would love to answer questions...."
Tate was asked if Middle School Matters would divert public money used to support existing afterschool programs like the Gethsemane Enrichment Program.
"It does not affect them at all," Tate replied. "In the city budget there is $1.2 million that is in Neighborhood Development, and that is what funds the Greater Enrichment Program. And every year for the past five years, part of my job has been to come down to talk to the City Council to keep funding these programs. They are important for kids. Those are still in there... Greater Enrichment, YWCA, Bethlehem Center, St. Paul's Baptist Church, the Belmont afterschool program, and funds for 100 kids to go to the school system's ASEP, After School Enrichment Program, free. That money is still there. The money that we requested that's in the school system budget is $282,000, and that is in the police budget. "
Tate was asked about her support for heterogeneous grouping of students. She replied, "I'm totally opposed to homogeneous grouping, and one of the things that's been a principle of Middle School Matters is that these projects are not for 'those' kids, whoever you call those kids -- rich kids, poor kids, white kids, black kids. These programs are designed so they would be a fun, interesting learning place for all kids. They are not supposed to be limited to any one group. What is required is that the programs demonstrate that they are culturally competent, that they really know who the students are in the school, and that they devise a program for those students. I'll give you an example: The people who are applying for this have gone out and met with the principals. Quail Hollow Middle School is a very interesting school. It's one of our most diverse schools in an organized way. I'm not saying it right. It's approximately one-third white, one-third black, one-third Hispanic/Latino. And so the principal out there says, this school really celebrates that strong diversity, and what were we going to do to make sure that all of the different elements of that school felt included in the afterschool and had things in it that they wanted to attend. That's an example.
Tate was asked about a county commissioner's complaint that POST was using funding from outside the school system's budget that other groups cannot get.
"We have not received any funding from the school system, never a cent, so I don't understand the question'" Tate said. "We applied, just like any organization can do, we applied to the city and the county through their outside agency budget, and our other grants are from individuals and foundations, so I'm puzzled. I don't even know what the question is."
Tate was asked how Supt. Peter Gorman judged her proposal more worthy than others. The questioner also suggested that the nonprofits selected to run the programs would have little control because POST will control content of the programs.
"I think the superintendent was interested for two reasons," Tate said. "Number One, he knew that we had brought Citizen Schools to town, and that was operating successfully in those middle schools. And the second was, quite frankly, we said going to go out and raise the money for the programs. What the last five superintendents have said to me is there are so many who walk in and want the school system to give them money to operate their program, when the school system struggles, and [school board District 2 member Vilma Leake] is here and can speak to that, the school system has such a huge budget, and they're trying to get more money to do their basic job, so I think the superintendent appreciated, number one, the credentials that we brought from our years of experience, the work we have done across the state and in the community improving the quality of afterschool programs, and second, that we were going to raise project funding to help support what was going on in schools.
"We publicized in our POSTings e-mail things that come out twice a month that there would be an RFP [request for proposals] and any not-for-profit 501(c)(3) in Mecklenburg County can apply. There is in this packet toward the end there is a flyer. It is not too late. Applications are due June 15th. Anyone who is a 501(c)(3) can apply for this.
Tate was asked to name the members of the POST board.
"Jerry Fox, our former county manager, is chairman of our board. Pam Syfert is on the board as a representative of the city. Harry Jones has asked that Janice Allen Jackson be on our board as a representative of the county. Lisa Stickley, assistant superintendent for middle schools, is on the board as a representative of the school system. Stoney Sellars. Peter Sidebottom. Sarah Shifflett. Jessica Schorr Saxe. Frances Haithcock. I'm not doing my board justice because I'm blanking on the rest. DeVane Tidwell. Jeff Brown. I know I've left some people off. Does that help?"
[Others listed on the POST web site as board members are Ann Caulkins, Jenny Meiselman, Decker Ngongang, Greg Ross, Cecil Smith, Danette Smith, Laura Smith and Wanda Toler.]
School board member Vilma Leake asked how much would be spent per student, and suggested that whatever the public support already pledged, it was too much.
Tate reviewed the budget, noting that of the $282,204 city grant, $206,000 would go directly to one of the program providers. The remaining $76,204 will support technology, evaluation, "and will go to POST for training, technical assistance... practice development." The county was asked for another $282,204, but Manager Harry Jones only included $200,000 in his budget proposal. All of the county money, Tate said, would go to a program provider.
Leake said that Friendship Missionary Baptist Church Senior Minister Clifford Jones, when he started a Saturday math program for young people, sought support from POST and was turned down. Tate replied, "Dr. Jones has never come to me and asked for money. POST does not have a fund. We do not fund afterschool programs. This is the first time we have raised money for it. I had a two-hour meeting with Dr. Waller. In fact, she was coming on my board until they decided to start the school. We have shared resources back and forth, so I am really not aware -- Dr. Jones has never asked for money, and we certainly have never denied it."
Leake also suggested it was inappropriate for the private POST board to control who receives public funds. Later, she added, "The school board has never been asked to support this. So what Dr. Gorman has said to you is out of order, because that is out of the budget. And here we're runnin' around trying to support a budget that we thought was going to the classroom and to children, and the school system has had afterschool programs. So you can't say we haven't done it, but the avenue has been to cut back so that other agencies, you could come in and scoop up those funds to do your program."
Tate replied: " My understanding is that with the Citizen Schools programs, that the principals at those schools have used their Title 1 money, and that's at the principal's discretion as I understand it, to enable those children to have a ride home, so they could be there for that very fine program. This was in the way of a partnership. I am not privileged to see the school system budget but I do know their afterschool programs are is it, Dr. Leake, an enterprise budget? Is that what it's called? It has to break even?"
A questioner asserted that POST was a white organization trying to make decisions on how African-American children should be educated, that white groups had shown little concern for educating black children, and that black groups that know how to do so were unable to get similar funding.
Tate replied: "I'm not sure why you're calling my group a white group. I am white and I can't help that. My board is not majority white, and I would invite you to visit the Citizens Schools program because I think every single staff member at most of those schools is either Afrian-American or Hispanic/Latino. And what we have told the organizations that are applying is they must be predominantly African-American and must have folks who speak Spanish or they're not going to get the grants.... The people in our organization are not all white. I do know that all of our children, regardless of their color or their background, need to (A) graduate from high school; (B) be prepared to have a job in the future. And what we have done, the very format of this program, the underpinning, the most important part, is this Framework for a 21st century learning. This is what our kids are going to be doing in this program. They will come in the afternoon, and if they are in a jazz band, or if they doing knitting for the needy, which is what a sister program out of town is doing, regardless of what they are doing, they will learn to make an oral presentation, which they will do. They will learn to create a written presentation. And probably every one of them will be working on a computer and make their own CD or DVD, where they collect music, art, photographs and everything, just like they will need to do in the world in which they will work. They also will have community exploration, and understand the richness of what's around them in this community, and they will have people who will be very closely hearing about them and in contact with them who will say, 'Sarah, how was your report card? I'm not sure this math is where it should be.' And they're going to be talking with Sarah, and with her family, to work with her to see that not only does she do better on the next report card and end-of-grade test, but that she as a middle school student is thinking very strongly about where she's going to go to high school and what she's going to do after she graduates. And this will be with all sorts of kids."
Tate was asked about a 1996 letter in which she was "opposed to advanced students being in classes with AG students and that all the students get a quality education along with your child ... that you didn't want children from different backgrounds to be in the classes with your own children...."
Tate said about the letter, "This was to take out all the AG and AP courses, this is what this is about. And I was opposed to that, and I think our superintendents since then have really increased the number of AG and AP courses 'cause they knew it was for children. Yes, I was opposed to taking out all the AP and AG courses.... This was not about the color, this was about course content, and I know what has gone on since then is that our superintendents have worked very hard to increase the number of African American students who were taking the AG and AP courses because they knew it was a higher standard. I was never opposed to who was in the course. I just didn't want the course to go away, which is what this letter says."
A questioner asserted that "the very apex of Citizen Schools is run by a white man with a white dictate and direction and no self-empowerment."
"What we are confusing," Tate replied, "is two different programs here, and it is so hard, the names are so much the same, and thank you for helping me know that. Communities in Schools used to be called Cities in Schools, and that is a dropout prevention program. What I am talking about... is Citizens Schools. That is an afterschool program for middle school students. What my goal for these young people, if every one is successful, then every child, if I could wave a magic wand, every child would be eligible to get a full scholarship to any of the universities in this state based on academic merit. That is what I want: each one of them to want to go to college, and you have the grades and the community service and recommendations as fine citizens so that they would be eligible to get a scholarship to UNCC, Johnson C. Smith, Davidson, wherever, because they were the finest young people in this community. As far as I know, that's what everybody in my family has worked for for a long time, it is for all students to have access to a fine education and certainly to graduate from high school and to have scholarships so that if they didn't have the funds to go to college that there would be some scholarship money available for them."
A questioner asked who Tate's contacts were who might speak for children in poverty, and who among those who have long been trying to find funding for such programs have been included in POST efforts. "We are left out. We have many ideas as to what would work well for poor children," the questioner commented. Tate replied:
"Anybody who's ever come and wanted to participate with POST to be a part of our steering committee or to participate with use has been welcome and included. We have a very wide distribution of mailing and e-mail, and we wecome everybody to participate. For instance, First Baptist West is a part of our steering committee. They've said we want to connect. Greater Enrichment."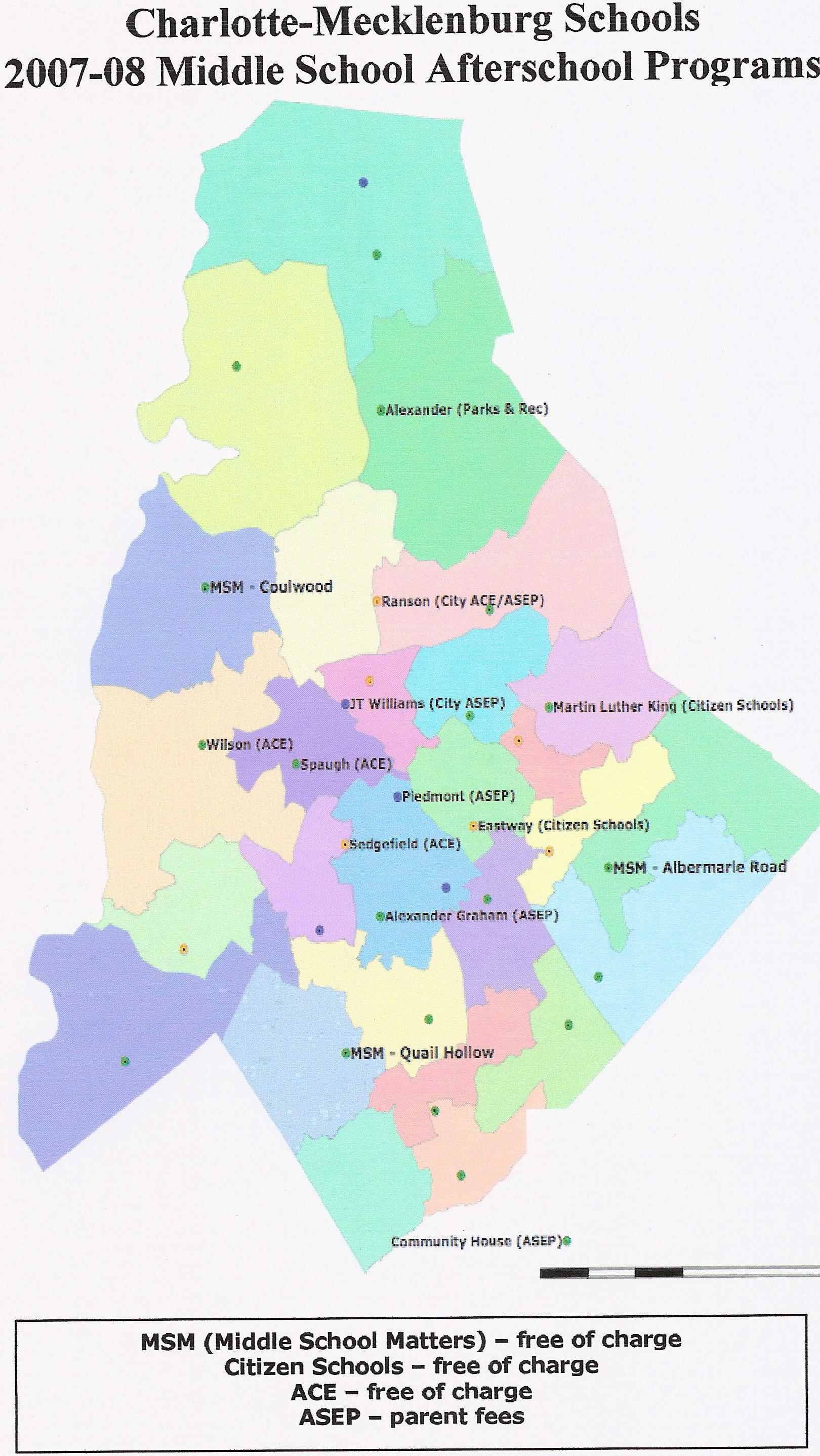 Asked to clarify the locations of POST projects next school year, Tate pointed to the map at right. "The point I want to make is the other programs on here that are also free, like Citizen Schools, you see where that is, Martin Luther King and Eastway, and then the ACE programs. These are funded with a federal grant, so these are currently operating this year and next year. These are also free to families and children. And the intention is that all children who go to middle school would have an opportunity to stay after school in a program. When you don't see one on here, that means there is not an afterschool program at that middle school."
Asked how fund-raising toward its $424,783 goal was going, ($142,579 from foundations, $141,102 from corporations and $141,102 from individuals), Tate replied, "We have indications of strong support in all areas. I don't know what to tell you. Have we raised all the money? No. Do we think we will have raised all the money by July 1? Yes. We have a number of private foundations and individuals who have committed. There are some corporate foundations and others that have said, they intend to make us a grant but their decisions framework is in June so I don't have the official paperwork."
Vilma Leake again raised the issue of CMS costs for staffing, food and busing. "That concerns me because I worry about Dr. Wood's program. I worrry about the program over at Friendship, or any other agency who is competitive, not being able to be competitive in the process, and turning those funds over to Foundation for the Carolinas. It worries me about the cost per student and no data on your success yet. There's not data.... Those are the kinds of thing that bother me -- and the school board not making the decision but the superintendent. The school board did not sit down with you. And going back again, [former CMS Supt.] Dr. Pughsley did not approve of it and did not support it. As you stated, [interim Supt. Frances] Haithcock and Gorman. That worries me."
"Just to be clear about this," Tate replied, "this project started last year when Dr. Haithcock was superintendent, and now under Dr. Gorman. Dr. Pughsley has not been with the school system since we started doing this, that's number one.... I have spoken with all the superintendents, but I've never discussed this with any but the last two because it didn't exist. This program will receive no direct funds from the school system. They certainly won't go to the Foundation for the Carolinas."
"But the buses, and the food, and the use of the facilities," Leake shot back. "The taxpayers pay the light bill and upkeep of the facilities, so that's part of the in-kind that you get."
"Actually," Tate responded, "that funding will go to the children who will take advantage of that, and I know each of you would love to see, I think, each of you would be happy to know that 300 middle school kids have an opportunity next year that they don't currently have, an opportunity to learn, and grow, and think about college and careers, and have more caring adults in their life. All of the public fundiing, that's where it's going. The in-kind from the school system is going to get kids home only when parents can't pick them up. Do you know about folks who can't drive over to the school at 6 o'clock in the afternoon because (A) maybe they don't have a car or (B) maybe they're at work? So that's what those buses will be for -- just like they take kids home from football and band practice. The snack, obviously the kids need that. And so this is where the funding will be going."
Asked what evaluation tools would be used and how program success would be defined, Tate responded:
"We have partnered with the National Institute of Out-Of-School Time with a process that's been used for six years in Massachusetts with their 21st Century programs as well as their others, and now is part of a national project, and it is in two parts. There's an observation tool, so somebody will go and physically sit and observe in the different classrooms, just like they do for child-care licensing. They see what's going on and check off, are we doing these things? There's also a written survey that will be done with the afterschool teachers as well as the schoolteachers. I'm getting to what their measuring, I'm going to give you the items. So there's the observation, the survey of the teachers. The survey of the afterschool staff. There will also be, we will have grades and end-of-test scores. And the most important measure that we will have every day is attendance, because national research shows that young people who participate 75% of the time show gains from programs. Young people who participate less than that, you can't guarantee they're going to be doing anything well. So we will combine all of those. It will be totally public and transparent. In fact, it will be a Web-based system, so we will see how the young people are doing. Is that enough? It's a tested method that I'd be happy to share with you later."
A questioner suggested that mainline Charlotte organizations like United Agenda for Children ask African-Americans for their ideas, but then African-Americans are not invited to participate in implementing those ideas. Tate responded:
"I did not run United Agenda. I wasn't on the steering committee, and I share your concern with folks who were not invited back in. I just can't speak to that. If you would like to be on the steering committee of POST, we meet quarterly. I would be very happy for you to be there. We are also part of the Mayor's Mentoring Alliance, as you are, and attend all of those meetings and share what's going on. That's all I can say."
A participant in the Forum pointed out that Tate had been instrumental in the creation of the Lakewood Preschool Cooperative. That program is still operating after 10 years.
When a participant suggested that funding go to indigenous ideas for helping African-American children, and not be invested in importing programs from Boston, Tate responded:
"I want to make it clear that community-based organizations will receive virtually all of the public funds. The organizations who have expressed an interest in this are the YMCA, the Boys and Girls Clubs, Athletes Running for Youth, Citizen Schools, several churches, and I'm not doing them credit by not [remembering] their name, but any 501(c)(3) is eligible to have this. As I said, no decision has been made as to who's going to run these programs. Our information is open. My contact information is on here. Anybody who wants to serve on our steering committee and help us develop things like this I would welcome. I was asked about what specific evaluation we're using. Another thing we are using, I am on the state Child Care Commission. That sets the licensing rules for facilities in state of North Carolina. So part of what we will be doing is we will be using the same assessment for these middle school afterschool programs that we use for programs across the state. The school system has felt it's very important that its afterschool programs be licensed. These will be assessed with local, North Carolina instruments and, again, I welcome any partnership with folks who want to work with us.
"Let me say one more thing I forgot to mention. When an organization, for instance the YMCA, Mr. Maurice Hikes is who I've met with around this, money will go to, let's just say it's the YMCA, and probably connecting with their McCrorey Branch, which is what they wanted to do, they will be contracting with other people in the community to provide services whether it is the different things I've mentioned, music, art, et cetera, athletics, public speaking, whatever it is. So there is further opportunity for partnerships, which they will all make available and we will communicate. And anybody who has a project that you would like to do with kids, and I think it needs to be one afternoon for about 10 weeks, not just a field trip. I met last week with Mr. Reggie McCafee who you probably know was the first African-American to break the four-minute mile, he's a former cross-country runner, just retired from Xerox: He's starting a wonderful middle-school cross-country program. So that's an example of somebody who came and met with me and said how can I connect? So we are connecting him, and his program will probably be funded, there are layers of this, through the YMCA or whoever is running the program."
Asked what was behind her clout in being able to raise money and get things done in this community, Tate replied:
"I was born in Columbus, Georgia. I married a fellow whose name is John Tate, who grew up in this community. He's a banker. He was on our Board of Education for eight years, worked very hard to maintain an integrated school system, I might add. He's now on the State Board of Education. My mother and father-in-law and stepmother-in-law have all been involved in the community, doing what I think are good things for kids. I know Queen knew my mother-in-law Dolly Tate, who started Teen-Age Parent Services. My father-in-law has been active with the North Carolina School of Social Work. I mean, I don't have any clout. There are two things: One, I know a lot of people, and number two, I'm not afraid to ask somebody to do something on behalf of kids. And that's what I've learned from my family. And I love talking about Lakewood Prechool, because we started that and 700 sets of hands helped build that little preschool that's in its 10th year of operation, that is for children free of charge. And you know what? They start school ready. So that's all I do. I spend my time. I taught sixth grade. When we first moved here I taught computer science at Central Piedmont, and then I was privileged to be able to stay home while my children were growing up, and I was very involved in their schools. As I said our daughter graduated from West Charlotte. I started several preschools, as well as a new foundation called the Women's Impact Fund."
When a participant suggested that the morning's Forum showed how much Charlotte-Mecklenburg needs a full discussion of the lack of community trust, Tate responded:
"I would love to be part of that discussion because I don't understand the distrust. I don't understand why some of you don't want this program for kids. And I would be very happy to have a conversation about that."
A participant said white folks get the money and black folks get the services, and poor services at that. Added another participant, when whites run the programs and then the money is spent, the black community is left without experienced leadership. Tate responded that there were three full-time POST: one white, one African-Amercan, one Hispanic/Latino. "If that doesn't bring credibility for a diverse program in Mecklenburg County -- these other people are excellent. They're hired as consultants. They can't help they're white. Almost everybody to a person who attended when we developed POST standards, it was 80% African-American and 20% white. And I'll be happy to give you a list of who those people are."
Internationally known child education consultant Dr. Thomas Moore observed that the first job he has ever received from CMS will occur this week. The more education he got, he said, the less Charlotte people would call on him. "This is the experience of the African-American professional. This is not about blaming. This is about having a real conversation" and focusing on not today's program, but what what will sustain African-American children "throughout their lives.... A lot of what we're saying is, come back, let's continue the conversation so that you'll understand what we mean by mistrust, because I see the mistrust, and I know it is breaking our community. And we're going to find out, one day we're going to turn to each other, and what we're going to find is so many nontrusting people that we have something real good... but we want to sustain it, we want to have something that is going to last."
--------------------------------------------------------------------------------------------
The Forum welcomes all persons to its meetings beginning at 8 a.m. most Tuesdays of the year
at the West Charlotte Recreation Center, 2222 Kendall Drive, Charlotte, NC
down the hill from West Charlotte High School.