Home ● Where We Meet ● News ● Announcements ● Events ● About Us ● Contact Us ● Search ●
Tuesday
Morning
Breakfast
Forum
Charlotte, NC
www.tueforumclt.org
May 1, 2007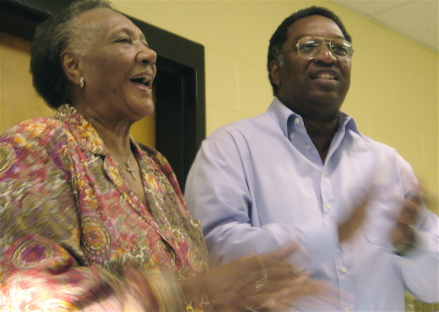 No bushel over 'This Little Light'
Tuesday's Forum had no speaker. So there were many speakers.
More about all those speakers in a little bit. But first, the Forum began with a song.
Forum co-founder Sarah Stevenson teamed up with nationally known baritone and childhood educator Thomas Moore for a sprited rendition of "This Little Light of Mine."
As participants followed along, Moore offered some new lyrics appropriate for a forum dedicated to public affairs.
To listen to the 2-minute audio file, click on the picture at right. The file is 5mg, and takes a little while to download.If the audio starts and then "sputters," put the player on "pause" until the file fully downloads, then play.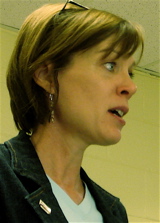 Volunteers sought for Freedom Schools
Ingrid Johnson of Charlotte's Freedom Schools outlined plans for the summer programs for at-risk youth in Charlotte. The nationally acclaimed program will operate at four sites this year, and at a CMS school for the first time. The sites are Highland Renaissance Elementary, Seigle Avenue Presbyterian's Hope Buildiong, First Presbyterian, and Myers Park United Methodist.
Assessing CMS plans for a bond issue
Richard McElrath reported on the final package of construction and renovation programs that won approval of the CMS school board last week. He said he had not yet obtained the details he said he needs before deciding whether he will support or oppose a fall bond issue. The bond request next goes to the Board of County Commissioners, which must act if the proposal is to reach the November ballot.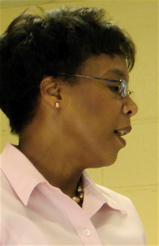 Criticism of Charlotte's black leadership
Judge Yvonne Mims Evans read from an e-mail sent to a variety of elected African-American leaders in which the author charged that those leaders are not being vocal in raising issues confronting minorities in Charlotte.
The e-mail read in part:
"It appears as if the Black/Minority Leaders in Charlotte are AFRAID to speak up and do something about the GREAT DISPARITIES among the races in this City. Why? What are you afraid of? ... Is it YOUR posture that if you DON't do or say anything that these problems will just dissipate or evaporate into thin air?? STOP DREAMING! PLEASE!!!...
"There are TOO many Apartment communities (Property Managers) on Park road that are practicing Blatant, Open Housing Discrimination....
"Do something to help stop Employment Discrimination where many Employers are performing extensive background checks on Minority Applicatnts in order NOT to thire them. Yet when Caucasian Applicants are found to have disparaging information on their background Checks, the are STILL offered Employment by these SAME companies...."
"As a Minority Citizen in this City you have two options: 1) Leave and move to another city OR 2) Just 'Shut Up', ignore the Problems/Disparities and try to make the best of it....
"THIS CITY CANNOT/WILL NOT CONTINUE TO SUCCEED OR PROSPER IF WE DON'T DEAL 'HEAD ON' with correcting these racial issues...."
Evans said she did not know how to respond.
School board member George Dunlap said he had talked to writer. He described her as a young woman. The e-mail said she had previously lived in New York and Atlanta. Dunlap said he believed her only sources of information about public affairs and the actions of black elected leaders in Charlotte were the white-owned media. He recounted a recent experience with the Charlotte Observer to suggest that the Observer's coverage frequently belittles the leadership contributions of African-Americans.
A spirited conversation ensued. Dunlap said he would try to reach the writer of the e-mail to invite her to attend the Forum next week.
--------------------------------------------------------------------------------------------
The Forum welcomes all persons to its meetings beginning at 8 a.m. most Tuesdays of the year
at the West Charlotte Recreation Center, 2222 Kendall Drive, Charlotte, NC
down the hill from West Charlotte High School.