Home ● Where We Meet ● News ● Announcements ● Events ● About Us ● Contact Us ● Search ●
Tuesday
Morning
Breakfast
Forum
Charlotte, NC
www.tueforumclt.org
April 3, 2007
New parks leader introduces himself
The new director of Mecklenburg's park and recreation department said Tuesday he is considering rotating staff less often. Jim Garges, addressing the Tuesday Morning Breakfast Forum, also said he had launched an extensive planning effort to understand community needs both for recreation programming and for park facilities.
Garges on Jan. 31 succeeded Wayne Westin, who retired. By the end of April, Garges said, he would have examined every park and recreation facility in Mecklenburg, as well as some of the department's undeveloped land.
The community has never had a master plan for its recreation programs, Garges said. And the facilities plan dates from 1989.
In his first appearance at the Forum, Garges shared many stories about Cincinnati, the Ohio city where he spent the most recent six years as parks director. A truncated biography is below.
His review of every-three-year staff transfers is discussed below. The policy review may heal some wounds in neighborhoods where, several months ago, recreation center staff with successful programs and useful mentoring relationships with neighborhood children were uprooted, severing ties and endangering programs. Garges said he may move to a five-year rotation.
Excerpts from Garges' comments:
"Let me tell you a little story about Cincinnati. I think it's reflective of my philosophy. When I came there I think we had done a fairly good job in Cincinnati of building new things. And it's great to do new stuff. That's wonderful to build new rec centers. But unfortunately, it was at the expense of a lot of existing rec centers and existing parks.
"What I saw was we had not done a good job, quite frankly, of taking care of what we have. I always told folks, are you going to go out and put a new addition on your house, or are you going to fix the roof first? Well, you're going to fix that roof -- and then you're going to talk about a new addition.
"The philosophy that I have is we've got to take care of what we have first, whether it's a small park, a larger park, an existing recreation center. Then we've always got to look for new opportunities to do things in our community. But you've got to make sure you take care of things first.
"I spent a lot of time in [Cincinnati] neighborhoods. We had 52 neighborhood associations in Cincinnati, 52 meetings, and one of the things I did was make sure we had a representative from the recreation department at every one of those 52 meetings to make sure we had a good connection with the community. I spent a lot of time out in the community just like I'm doing here today and I really appreciate this opportunity to get out and really meet folk. So when you hear something or you need something you've got a face so when you call somebody on the phone you kind of know who that person is and we can really build up a relationship.
"My mission here is to get out as much as I can. By the end of the month I'll have gone through every facility that we have here, and some of the undeveloped land, to get a flavor of what's really going on.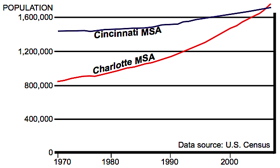 "When I went out and looked at our [Cincinnati] neighborhood parks, they were not in good shape. Most of the playground equipment really needed to be replaced. Many of the recreation sites had really not been maintained. And I said, don't people complain? Don't you hear anything? And we really didn't hear a lot of complaints. What I came to get a sense of is that folk in the neighborhoods said, Number One, either I've called and nobody's done anything, so I've given up; or, this is all I deserve and I'm not going to say anything. Both of those things are bad. And I think in some kinds of neighborhoods these kinds of things can happen.
"So my philosophy was, we're going to make sure every neighborhood park, every recreation center we have, regardless of whether we hear anything or not from anybody, is going to be a place of pride in that particular neighborhood. And that's the same philosophy I'm trying to bring here, whether it's a small neighborhood park in Charlotte, whether it's a larger park up Mecklenburg County, down Mecklenburg County, any piece of property where we have a facility, really has to be a place that we can be proud of....
"There's no way that local government, county government, can supply everything that's need for the recreation and park department. But if you partner with organizations you can get it done.
"Look at the programs: Do we have a good program base for all ages? The other side of it is that facility side: Do we have the places, and in those places do we have the things, that people need? Is the recreation equipment up to date? Does the facility look sharp? Are the gyms air-conditioned so we can get year-round use?
"Do we need new facilities? Yes. But are those new facilities going to come at the expense of taking care of what we have? There has to be good balance, and I think we can do that here.
"We had a presentation on Revolution Park and that sounds really exciting. I know a lot of these things take a lot more time than we think. And I know Revolution was supposed to start a year ago, and it looks exactly the same, but the pool's gone, i guess. But things are happening and will be moving along. I think the Revolution project is very unique in the fact that it will really be a special facility for the Police Athletic League to come in, we'll do some things with the golf course, then we'll be able to have the boxing program there. Kind of a different kind of recreation center, which I really think is nice.
"Clanton Park is getting some things done, so we're excited about that. And the Southwest SportsPlex is going to be coming online....
"If you ever have comments or concerns, certainly talk to the staff here, but don't hesitate to give me a call [704-336-3854]. We're very excited to be here. Our children are kind of out of the house. They're in Nashville, Tenn., so not too far away, and we're trying to sell our house in Cincinnati and come down here. If anyone wants a vacation home in Cincinnati I can sell it to you."
Asked about serving all neighborhoods: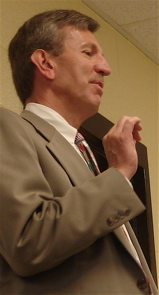 "The key is that in every neighborhood, regardless of where it is, you have to provide that service.... In Cincinnati, I talked to the mayor. I had been there about three months and we finished an infrastructure review. And I said, do you realize that we have a $100 million backlog in deferred maintenance in this town? On one side of town -- it's not black and white in Cincinnati, there are a lot of mixed neighborhoods, which is a very good thing, diverse neighborhoods -- but we were on what many folk would consider the white side of town getting ready to build this $5 million rec center, and I could take you over to the other side of town, in a really challenged neighborhood, and that recreation center was a dump. And I said to the mayor, how are we going to justify this, if we don't take care of this at the same time? And he said, what did you give me this $100 million backlog for? Are you trying to embarrass me? And I said no, you need to understand, if we get $5 million, $8 million, $10 million, where we have to spend it, in the priorities, and we've got to make sure that there's balance. I think he believed that. The only sad comment that he made, that really kind of disappointed me: He said, those folks don't even vote for me. And I said to myself, well, you're the mayor, and it doesn't really make any difference now who voted for you. You represent everybody. Our job in recreation and parks is represent everybody. The other thing that's important is that we have to have a diverse staff. We should work very hard to reflect what the neighborhood and community looks like. So from a staffing perspective, how we manage, how we do programs, we have to make sure that there's no lines.
"When I left Cincinnati, that rec center that was a dump and every other one that was a dump was completely renovated....
"I grew up in South Bend [Indiana]. I love the urban setting I'm in. I like the idea that we have nature preserves out in the county. But that's one of the reasons I came here, to try and make sure I could continue to do some of the things I think are important, for everybody."
Asked about repeated cuts to summer programs for youth:
"You've got to pay attention to everything we do in recreation. You can't just be a park person all the time. You can't be just a recreation center person all the time. You've got to pay attention to everything. That's why we're doing this program master plan. And I can tell you a couple things we are doing:
"We're getting ready to bring back some summer playgrounds. We started a mobile playground in Cincinnati... just like the ice cream wagon: You put a bunch of stuff in the van, you get a couple leaders and you go out to a neighborhood and you open it up and you have fun with kids.
"Children, I think, need a basic opportunity, and it's difficult today to do this. The old summer playground program that I grew up with... I'd go down to the playground site and I'd play there all day. You'd do the popsicle sticks -- remember the popsicle sticks? -- make a lanyard, there was the person you played baseball with? Well, that program in a lot of communities isn't around anymore. A couple reasons for it: They moved everybody inside. Kids have lost this connection with the outside. The other issue that has happened in urban areas is: I'm a parent. I don't feel I can let you, my little child, walk that half-mile or mile down to the playground site. Thai a real issue in the urban environment. The park is still there just like when we grew up. And you can bring a person there to provide a program. But are the parents going to let their children get down to the playground?... We've got to think really carefully about that: How are we going to bring back some of these root-type programs, make them safe, make the families feel safe. That's a difficult one.
"The mobile playground helps, because you can go down to the end of a cul-de-sac, for instance, and whoop, kids just come out...."
Asked about his plans for existing parks:
"Some physical things still need to be done at parks. No matter how good of a job you do there's always more you can do in a park, whether it's a new addition to a park, or making sure a park is clean and trimmed. Generally, from a maintenance standpoint, I think we're pretty good. I think there are some parks I've seen that need a little more attention.
"In the master plan, we'll be taking a look at are there some areas that are underserved.... Are there spots where we need parks that we don't have them. There really are some areas like that that we've got to pay attention to.
"From the programming standpoint, I think we've got to focus on youth programming. We need to do a better job on senior programming....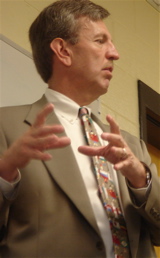 "In terms of the neighborhoods that I've been in, every young person quite frankly is at risk. I don't care where they are. It's not a neighborhood at-risk issue. We've got lots of young people and need to make sure they have opportunities available to them for before- and after-school care.
"The other issue when we deal with young people is we have to pay attention to both the mental side of youth development and the physical side of youth development. Coaching programs, athletic programs, opportunities to get kids outside, making sure that we have a mentoring relationship for young people is very important because then, I think, you can really help a child overall to become a more responsible teenager, a more responsible adult.
"I also think it's important that we're a provider for young people for jobs. I know youth unemployment was a big, big issue in Cincinnati. And kids, you know, they want a little pocket change. So what we did in Cincinnati is we had what we called the Youth Recreation Employment Corps. And that's where we took a young person from this neighborhood to work with a community center youth director. We paid the minimum wage for a 10-week period, and it was a mentoring relationship with that staff person, and it was a learning experience. We gave them how to fill out a resume, we gave them classes. But this type of program for young people I think is very critical. So we're going to try to pull together the monies to do these types of employment programs.
"We also had a Green Team program. We have 150 kids during the summer that we hired just to do outside park work. You couldn't run a power tool, but you were trimming hedges and you were helping pick up trash. The kids had a job. They learned how important it was to come to work on time, to be dressed sharp, do a good job. And our theory was if we got those young persons excited about parks and recreation at that 15-, 16-, 17-year-old age, maybe they would come back.... So that connection through young people with recreation and park work I think is important. A lot of parents, they don't think, I want my son or daughter to grow up and be a parks and rec person. I don't think so. They want 'em to be an engineer. They want 'em to be a doctor. Not everybody's gonna be. But there are great jobs for young people to work inside and outside. We're going to try to connect with these kids....
Asked about why parks officials are transferred when they've been effective and built rapport with neighborhood children:
"There's a lot of different systems you can put in place. Programming in the center, the success of that, is due in large part to the staff in the field, working here, for sure. Number one, they've got to be trained, give them all the tools, that's all great, but a lot of it gets down to, is the person here in the center doing the job or not doing the job? And then you look at the person and say, gosh, you're really doing a great job. Some day they could be a supervisor. If we give them opportunity for experience in another area they could even grow more. Well, then you take 'em out of the home and you take them over to a new area and that transition can really be difficult for the individual. It can be difficult for the neighborhood. And I've done a lot of that over the years and every time we've moved somebody it has not been without pain.
"It's a real tough issue. There's no real right answer. I think what we're doing here, we're rotating every three years and we're talking about going to every five. The reason for that is to give people opportunity to grow in another area. But the answer to your question really is: How do we keep a good program? We love the person that was here and we're sad to see them go, but if they're in a new area that's better for them, that's wonderful BUT what about me? What about my center programming? We've got to make sure the new person that comes in here has the skills and abilities to do the job. And sometimes not everybody is successful in every area. And if they're not for whatever reason, we've got to continue to try to make shifts and give them tools....
If you are a director in a center like this, you are a mentor for young people. You are a friend of the seniors who come in. You are a part of the community. We have to hire people that have that mentality, who want to be that kind of person. That's number one. So if you do a good job of bringing folk into the department with that attitude, in theory you can move them. But if I lose my mentor as a young person because you're way across the county that's a tough thing.... There's no good answer, you have to hire right, train right and be sensitive to what's going on in a particular neighborhood.
Asked what promises of support he extracted when he was a candidate for the Mecklenburg job:
"I can tell you nobody promised me diddley. I hope my honeymoon lasts for a couple of years. You probably know this, but in city management form of government in local government, the county system here has had a great reputation across the country for a long time. I was very very impressed with the professionalism that I've seen at the county level, certainly in Harry Jones and a lot of his staff [but also] from department to department.
"A little bit different in Cincinnati. Here I don't hear people saying, gee, how many more years do you have left before you can retire -- which is what i constantly heard in Cincinnati. Or, what are you smiling about today. I think people that are working here enjoy what they're doing. They like being a part of this community. They like being part of the government. My point to Mr. Jones and the staff and some of the commissioners I've met is that we're going good from a resource standpoint but we're not where we really need to be from an operational dollars standpoint. We don't have quite the level of resources that we need to do the job. Now, we could be doing a lot less, and I've lived on a lot less than we have here, but we've got to do a good job of explaining why we need a little bit more and what we're going to do with it. So I've spent a lot of time, both on the capital side and on the operating side talking with the people that really help you do that, and I think I've gotten good support so far. People are willing to help.
"Elected officials are very supporting of recreation and park services. That's a good thing. Jennifer Roberts, if you haven't met her, if you ask a parks and rec question, she will tell you why it's important, and she doesn't have to have it written out. And that's a good thing. And there are several other commissioners if not all of them that have been very supportive. We are going to do a lot of great things here in Parks and Recreation because we have good community support, and we have quality elected leaders. Then on the professional side we've got a good group of people that are really trying to help everybody. I'm just happy to be here and very encouraged to be a part of it.
"One other Cincinnati thing: One of the first days I walked in the job down there and went into our office, a really nice office, and the first door on the right was the Office of Municipal Investigation. I said, oh jeez, do we have to have an office, a police state to watch us folks? Holy smoke, what did I get into? That eventually went away but.
"It's a real nice feel here, very professional feel. I'm not knocking Cincinnati. I loved it, got a lot of great things done there, but it was a very challenged environment politically. City Council members constantly fighting with one another. I would never recommend that city to a city manager that wants to work there. It's a difficult environment to work in. And your shelf life there is about three years. They chew you up, spit you out, and if you last longer than that, you know, there's some reason for it and it's probably not a good one. It's a very difficult environment, then, to move ahead as a community. When everybody's bickering at the elected level, you're not going to be moving forward as a community. I don't sense that here. And that's a good thing.
Asked his views on arts education within the parks program:
"One of the first groups I met with were the Arts and Science [Council] folks to talk about how do we make sure we're connected with recreation and what arts are doing. Arts and recreation are a very important part of youth programming, adult programming and senior programming. In Cincinnati we had a very rich arts program. When I was in Kettering as a parks and rec director, we had a very active arts center there and won numerous national awards for art programming. So if we don't have it here, we need to get more of it. And I don't know what we have in terms of the arts yet.... I've been a big proponent and advocate for arts for a long long time, and I think it's a great opportunity for us to do more here in Cincinnati or, not Cincinnati but here in Charlotte, with a lot of the organizations that exist."
Short biography
2001-2007 Director, Cincinnati Recreation Commission, Cincinnati, Ohio.
1986-2001 Director of Parks, Kettering, Ohio.
1983-1986 Superintendent and then Deputy Director of Parks and Recreation, Topeka, Kansas.
1979-1983 Director, Delaware Department of Parks and Recreation.
Adjunct professor at Ohio Wesleyan University, Washburn University, and the University of Dayton.
BS and MA in recreation and park administration, Indiana University, 1974 and 1978.
-- www.tamu.edu

--------------------------------------------------------------------------------------------
The Forum welcomes all persons to its meetings beginning at 8 a.m. most Tuesdays of the year
at the West Charlotte Recreation Center, 2222 Kendall Drive, Charlotte, NC
down the hill from West Charlotte High School.