Home ● Where We Meet ● News ● Announcements ● Events ● About Us ● Contact Us ● Search ●
Tuesday
Morning
Breakfast
Forum
Charlotte, NC
www.tueforumclt.org

Capturing memories
of uptown's Brooklyn
Four people representing the Charlotte Cultural History Project addressed the Forum on Tuesday, Jan. 30. Above, from left, are James Ross, Barbara Ferguson, Pam Meister and Karen Flint.
The project, a collaboration of activists, archivists and researchers, will attempt to unearth the oral history that could illuminate the historical record of Charlotte's use of urban renewal to remove the Brooklyn neighborhood during the 1960s.
James Ross explained some of that history Tuesday morning. Below is a transcript of part of what he said to the Forum: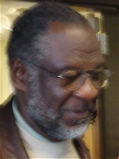 Brooklyn was a special place for me," said Ross, a resident of Griertown (now Grier Heights) out in what was then the country.
"Coming in to Brooklyn to see sidewalks and movie theaters - I tell folk that after riding the No. 6 bus that came up East Trade, we'd have to get off at Trade and Brevard and then walk up Brevard Street to Brooklyn. And when I would get up to about Second and Brevard and make a left onto Second Street, you're talking in the early '40s and the '50s, literally I felt like I stepped out of segregation and into freedom.
"Because when you got onto Second Street, you were in Brooklyn and it was black-owned and black-controlled and everybody you saw, the drug store, the theater, the library, everything was black. It was literally a feeling of stepping out of something into something. So I have a passion and a feeling about Brooklyn.I can talk for the next three hours about Brooklyn.
"I can tell you what it smelled like, what it sounded like, the feelings about it. It was a fascinating place to me. In fact, Brooklyn was the only urban neighborhood that's ever been in Charlotte. It was right downtown Charlotte and contained everything -- colleges, high school, ice houses, juke joints, cockfighting, horseshoe places, all the churches, all the large churches in Charlotte. It was just a fascinating place....
All of the churches -- Friendship, Ebenezer, House of Prayer, all these churches were uprooted and moved from Brooklyn. And then the people....
"I was a college student when urban renewal first started and Eugene Randall was hired as the urban relocation head. And he hired a bunch of us college students to go into the homes in Brooklyn to interview these folks. And the idea was, how many bedrooms do you want? And we went in as college students all excited to get this information.
"It was all a sham. There was no intention of building any housing. But they ran this trick of interviewing all these folk. I have a sense of guilt from going in and encouraging these people to share their hopes and aspirations to put on the paper, hoping that they were going to get something. There are thousands and thousands of little stories about folks who were uprooted and died because of this.
"I think we have to as a community ... pull some things together, spiritual things together and apologize and recognize what we did, and then move from there....
"We had stuff that we said. Brooklyn had some of the worst slums in the history of mankind. Talk about the Third World: There was housing built on stilts, literally over creeks, in Brooklyn. But it also had some of the nicest homes in Charlotte. So it wasn't just about slums, it was a complete community.
"We need to really understand what we did when we tore down Brooklyn, and to recognize and admit what we did...
Urban renewal destroyed flexibility in housing in this community. We destroyed over 2,000 housing units and didn't build one -- until Judge McMillan said, don't tear down another one until you build some, and that's when we went to First Ward and did some funny business in Earle Village, but we never replaced [the Brooklyn housing units]. Fairview Homes was a temporary place. Folks stopped there and went on. Double Oaks was private, but folks stopped and went on. When Brooklyn dumped all of those folk into a place like that there was no place to go on, because the market became saturated, and we're still suffering from that.
"So now, when you try to get some flexibility in terms of housing, again, urban renewal eliminated flexibility in housing.
"It also started something called blockbusting. Blockbusting was not an issue in Charlotte until urban renewal. And all at once places like Smallwood, Seiversville, Clanton Park, Hidden Valley -- these were all European-American communities. And then when Brooklyn put all these folks on the market then some unscrupulous folks started something called blockbusting. You had red-lining before that, but you didn't have blockbusting because you never had a large enough group of folks to make blockbusting feasible. But when Brooklyn came, boom!"
---
After the Forum, panelist Karen Flint wrote, "I am forwarding a description of the Brooklyn Oral History Project which also lists the website of the project. Some 30 people have been interviewed thus far. I would be very interested to get feedback and to hear what Brooklyn-related topics you think need to be covered. Also I would be most grateful for any suggestions you may have for possible interviewees."
Flint, interim co-director of public history at the UNCC Department of history, can be reached at [email protected] and at 704-687-4631.
The description of the project sent by Flint is as follows:
"The Brooklyn Neighborhood Oral History Project"
http://www.history.uncc.edu/publichistory/pages/oralhist/brooklyn/index.htm

"The goals of this oral history project are to examine the social, cultural, and economic implications of urban renewal in Charlotte, N.C. with particular emphasis on this policy's impact upon the former Brooklyn community. The project seeks to understand who was harmed, who benefited and the possible process of negotiation and protest that accompanied the removal of the Brooklyn community between 1960 and 1977.
"We are seeking to interview persons who lived, attended school, or recreated in the neighborhood from 1950 to 1977, as well as those involved in instigating and negotiating urban renewal of Brooklyn, such as city councilors, urban planners, and local leaders.
"Your participation can help to preserve this important part of Charlotte history for a new generation of Charlotteans and for its many transplants. The Brooklyn story not only adds a rich dimension to Charlotte history, but may provide valuable lessons regarding the impact of eminent domain and urban renewal. Some topics of interest: include
"1) the landscape of Brooklyn, what did the buildings look like, what establishments were frequented, where did neighborhood boundaries begin and end?
"2) the personal impact of urban renewal;
"3) where did people move after urban renewal—did they become subject to urban renewal again? How did they integrate into new neighborhoods?
"4) the impact on African-American businesses before and after removal and how consumption patterns may have changed, i.e. funeral homes, stores, and recreation;
"5) the survival or destruction of churches and their congregations and neighborhoods;
"6) race relations before, during, and after removal;
"7) decisions regarding preservation, what was saved? what was leveled and why?
"8) the impact on Second Ward High School and Carver College, on its students, instructors, and alumni; and
"9) the process of negotiation and protest between the Brooklyn neighborhood and Charlotte's city planners and politicians.
"What will happen to the interviews? All interviews will be audio recorded after which an audio file and transcript of the interview will be archived at University of North Carolina, Charlotte in the J. Murrey Atkins Library as part of the New South Voices project, and made available in a searchable format on the website. A class website (see address above) will include all interviews, a biographic portrait of interviewees, and the greater historical context of the Brooklyn Story.
"Who are we? Nine eager graduate students trained in oral history are working under the supervision of Dr. Karen Flint, Assistant Professor of History. If you have any questions, concerns or would like to participate in this project please feel free to contact her at (704) 687 4631 or by email at [email protected]

--------------------------------------------------------------------------------------------
The Forum welcomes all persons to its meetings beginning at 8 a.m. most Tuesdays of the year
at the West Charlotte Recreation Center, 2222 Kendall Drive, Charlotte, NC
down the hill from West Charlotte High School.